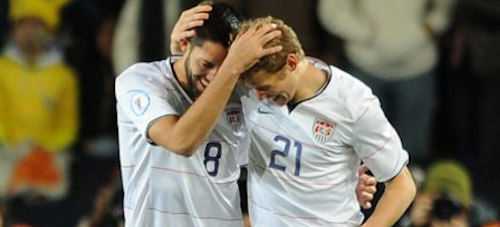 By Michael Lewis – NEW YORK, NY (Jan 27, 2010) US Soccer Players — Like it or not, there are no quick cures or fixes in international soccer. You can't make a trade with another country, sending two top-flight defenders for an attacking midfielder. You can't pick up a high-scoring forward on the free-agent market.
Sure, you might be able to find a naturalized citizen from the Netherlands or Germany to shore up your midfield or defense. But that type of acquisition is for the short term, not for the long term. Like it or not, it comes down to evolution, not revolution.
If you want to achieve something great, make sure you and the people around you, especially the soccer fans of your country are patient and have some time, lots of time, sometimes several decades. It also takes money, passion, talent, desire, hard work, and qualified people.
Which brings us to Project 2010, a 1998 report that looked at what the United States had to build and accomplish to win the World Cup by this year.
Of course, the chances of the US winning it all in South Africa in June and July is a long shot. Just reaching the semifinals would be considered an enormous achievement in itself. So, if you want to get technical, if the USA fails to take the victory lap at Soccer City in Johannesburg On July 11th, Project 2010 would be considered a failure.
Let's face it. Who in their right mind would think the US would be in a position to win it all?
"I don't think at any point we cleared any shelve space at Soccer House for a trophy," US Soccer president Sunil Gulati said recently. "I think you have to aim for the top. and that's what we're going to do. In some sense, that's what our players do every time they step onto the field."
Some 12 years ago US Soccer (with a capital S) commissioned Carlos Queiroz, the current Portugal national coach, to take a no-holds barred look at US soccer (with a small s), from soup to nuts on what worked and what needed to be improved. The idea, Gulati said, was born a day after the 1994 World Cup in a discussion among then US Soccer president Alan Rothenberg, then general secretary Hank Steinbrecher, and Gulati. "Kind of a what's next moment from Alan," Gulati said. "We started talking about an ultimate goal — to be playing a big game in a World Cup."
Queiroz had a unique perspective.
"He gave us an independent look at the landscape here with a third-party point of view," Gualti said. "He knew some things about the US He coached here in 1996 [with the MetroStars]. He's multi-lingual, had been heavily involved in youth player development in Portugal, had coached at the professional level in Portugal and Japan and the U.S. We had a very experienced guy to look at the overall landscape and give us some views, some reflections.
"I don't think there were a lot of specific things that we said, 'OK, we'll take these 20 things and implement them.' It was really a long-term view and what he thought were deficiencies and where we might be able to improve. And in that sense, Project 2010 has really been a vision and goal that has been filled in along the way with any series of quantifiable actions."
Queiroz produced a 113-page report, an encompassing and ambitious plan for American soccer into the next century. It made the front page of USA TODAY.
"The document is different from the perception," Gulati said. "You probably had certain people saying, 'The Americans are crazy.' You had other people saying, 'Absolutely, think big.' "
Thinking big, indeed. The cover of Queiroz's report described the enormity of the task at hand. It featured a picture of an astronaut on the moon hold the World Cup trophy in one hand and an American flat in the other with a soccer ball at his feet. Queiroz likened the US winning the World cup to putting a man on the moon (his report was entitled, "We Can Fly").
"It is a tall order, to be sure," wrote Queiroz, who co-authored the report with University of Hartford men's coach Dan Gaspar. "But through frank evaluation, careful planning and a commitment to changing the goal of goal making Project 2010 a reality is certainly within reach.
"As Americans you live in a land rich with human resources and unlimited potential, where hopes and dreams frequently come true. During the years leading up to 2010, you have every opportunity to put the infrastructure in place to create an environment where the sport can move forward in a meaningful way."
Queiroz added:"In my country we have the saying, 'Don't put all your eggs in one basket.' But this is what the United States does when it invest time, energy and money into the preparation of the youth national teams, but does nothing to improve the competitive system that provides for player development."
So, has US Soccer followed Project 2010 and implemented Queiroz's recommendations? Well, yes and no. US Soccer has considered the document as a vision for the future, not necessarily for specific short-term goals.
"You make changes along the way," Gulati said. "When we started thinking about all this, we didn't have a professional league. now, MLS is now been around for 14 years. You react to circumstances, new information, new facts, new landscape."
Querioz's blue print for change included revamping the youth player coaching and development system (which would have trashed the Olympic Development Program), the establishment of a technical department, establishing a network of 99 coaches at the national, regional and state levels, upgrading coach education and the establishment of an Under-19 national league, among other recommendations.
Some of those recommendations have been used in programs. One turned into US Developmental Academy, instituted in 2007. The USDA has players training and playing at the Under-16 and U-18 levels with clubs with regionally and playing for a national title every year.
"We didn't talk about something like the Developmental Academy in 1998," Gualti said. "Was that all part of the vision? It was a commitment to player development and excellence, Putting yourself eventually in the position to compete at the highest level and eventually to win the World Cup. There were no two ways around it on the Men's side. We already had done it on the Women's side."
So was the concept for the Academy talked about for years?
"I don't think there are too many brand new ideas in the game that nobody has ever thought about," Gualti said. "People have talked about a lot of different things. But the implementation and the real focus on something like we have set up with the Developmental Academy was pretty short term in terms of the planning stages and kind of learning along the way. We started off really well and we made some improvements. The real proof of how we're doing is that we're going to start to see better players coming out of it and that's some time away."
To appreciate where the US has been and from where it has come, this year marks the 20th anniversary since the Americans qualified for their first World Cup in 40 years in what is considered one of the weakest regions in the World. The US has risen to the top of CONCACAF, qualifying for six consecutive World Cups, established a league, and has dozens of players in Europe – many in first division leagues.
Some impressive steps… up a long, long ladder.
Gulati, who is well grounded, is looking at the long term. He has likened the USA's progress as halftime of a 50-year program. It started with those enormous crowds that watched the soccer tournament at the 1984 Olympics (which helped the US bid for the 1994 World Cup).
"In the last 25 years, the progress we have made is extraordinary," he said in 2009. "We still have a long way to go to get to where we would like to be."
Gulati relayed a story from last summer, when the US lost to Brazil in the FIFA Confederations Cup final in South Africa, 3-2, after enjoying a rather improbable 2-0 halftime advantage.
"I had a terrific email last summer and for sure, the Confederations Cup is not the same as the World Cup," he said recently. "Realizing what our ups and downs were in the Confederations Cup . . . somebody who was referring to 2010: 'You came dangerously close to having rename Project 2010.' "
Like it or not, it's about setting your goals high and being patient, a trait for which Americans aren't necessarily noted.
Just remember this: only seven countries have won the World Cup since the greatest show on earth was instituted in 1930 (Brazil, Italy, Germany, Argentina, Uruguay, England and France won it). Some great soccer countries that produced some of the all-time greats such as the Netherlands, Spain and Portugal have never won it.
The US would love to join that winner's circle.
"We aim high and we'll keep working towards that goal," Gulati said.
Hmmm. Anyone for Project 2034?
Michael Lewis covers soccer for the New York Daily News, MLSnet, and BigAppleSoccer.com. He can be reached at SoccerWriter516@aol.com