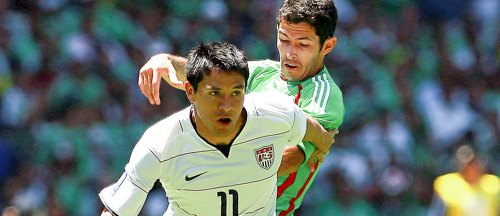 By Clemente Lisi – NEW YORK, NY (Feb 18, 2010) US Soccer Players — Brian Ching has often found himself in the position of being a veteran on a US team dominated by young MLS-based players. Indeed, Ching's status as a team veteran during this month's US training camp is in his stats. A member of the 2006 US World Cup team, the Houston Dynamo striker leads the roster in caps (43) and goals (10).
The 32-year-old Ching, the first native-born Hawaiian to ever play for the National Team, was not a member of last year's Confederations Cup squad, but did play very well at the Gold Cup despite the US's loss to Mexico in the final. With the US still looking for their go-to strike partnership, every game between now and the World Cup roster announcement is an opportunity.
With a week to go before the US plays El Salvador in Tampa, I spoke with Ching about what he needs to do over the next few months to play at the World Cup, his National Team highlights, and what he does when he's not kicking a ball.
You've been called up for next week's El Salvador friendly. Is this game your chance to show that you belong on the final squad headed to South Africa?
Anytime you suit up for the National Team, it is a chance to show the coach that you belong on the National team. So yes, I think this is game and all the games this year are really important as far as trying to get a spot on the World Cup roster.
The US did not play very well against Honduras last month in its last match. What do you think was the team's biggest problem in that game?
Well, when you have to play a man down for 75 minutes against any team it is going to be difficult. Then on top of that you have a team that has only played with each other for two weeks, so the chemistry might not be there. Also, they are playing a good opponent that has played a lot of games together.
You think you have a chance to be a starter at the World Cup?
Yes.
You are friends with Charlie. How is he doing?
We all hope that Charlie returns back to the field and in form before the World Cup. I have heard that he is doing extremely well and is excited about the prospects of getting back on the field. I would love to see him on the roster.
Let's talk about the Houston Dynamo. What are the chances Houston can win it all this season?
We always feel that we have a chance to win it all. That is our club's mentality and the reason that we have been successful for so long. If you look at the number of good players we have lost — or let leave — over the course of the past eight years you could field an All-Star team.
After a breakout season for country and club, Stuart Holden left for England, signing with Bolton in the Premier League. How tough will it be for Houston to adjust without him in the midfield?
Yes, it will take some getting used to because we don't have a player like Stu to fill into that role. We do have players that can play that position, but they are different and therefore we will have to get used to playing a little differently without him.
Have you ever had any thought about leaving Major League Soccer to play abroad?
In the beginning of my career all I thought about was playing in MLS and making a name for myself. Once I have achieved that goal the thought of going overseas had occurred to me. However, there has never been the right situation for me. Having said that, I am happy with playing in MLS and of the way things have gone.
You earned your first US cap against Wales in 2003 during a friendly in San Jose. What do you remember most from that game?
For me it was a great experience. Having played that game in San Jose while I was playing for San Jose at the time really helped me feel comfortable because it felt like a home game. Also, I didn't put a whole lot of stake in that game because it was fortunate that we had a bye week for the Earthquakes or else I don't think I would have been called in.
What is your fondest memory of playing with the US?
I have a couple of great memories with the US. The first would have to be my first goal against Jamaica on the road to tie the game. That was being able to achieve a childhood goal of scoring for the US. The next memory is being at the World Cup game against Italy standing on the field and singing the national anthem with the team and all the US fans. That moment gave me chills up and down my spine because I was so proud to be wearing the US jersey.
Fans always wonder what players do off the field. Finish this sentence: When you're not playing soccer, you are…?
Surfing, fishing, doing crosswords and hanging out with friends.
Clemente Lisi is the author of "A History of the World Cup: 1930-2006." Contact him at: CAL4477@yahoo.com. Follow him on Twitter at: twitter.com/ClementeLisi