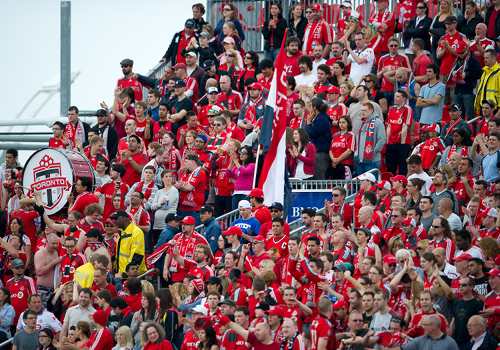 By Michael Lewis – NEW YORK, NY (May 25, 2010) US Soccer Players — Build it and they will come. Man, have we heard that phrase so many times the past two decades? Actually, it's 'build it and he will come,' but we're splitting hairs in this column.
So are people coming to MLS soccer-specific stadiums?
Well, they are and they aren't. Of course, they are coming. People are watching the games. But are they coming in droves? Are they filling up every stadium or at least getting near capacity?
No and that's a big resounding no.
Not of one soccer-specific stadiums is being filled to capacity this season. The best is Toronto FC which is filling BMO Field to 91.7 percent capacity. Next is Real Salt Lake at 77.3. At the bottom of the barrel are FC Dallas at an embarrassing 45.6 percent and Chivas USA (53.7).
Yours truly has covered the Red Bulls from Day One in 1996 and has witnessed all of the ups and downs of the franchise that started out called the New York/New Jersey MetroStars. With a new stadium, you would have thought that soccer fans would be flocking to it to watch an improved team open a fabulous facility that is the envy of the League.
Except it hasn't worked out that way. After five MLS home games, the Red Bulls are averaging 16,740. That certainly is an encouraging and superb increase of 55 percent over the same period last year, the largest jump in the League. But in many ways that is a disappointing number when you consider the mega-population of New York/New Jersey area and the many soccer fans who live there. There has been only one sellout (25,000) – the grand opening match between the Red Bulls and Santos (Brazil) on March 20th. The Red Bulls' season opener vs. Chicago crew 24,572 and it has been a struggle to reach 18,000 since.
Has there been too much soccer?
Red Bull Arena has hosted 10 soccer games – five MLS matches, two US Open Cup play-in games (with a third slated for Wednesday) and three international friendlies. Before the World Cup break in June, a dozen games will have been played in 77 days at RBA.
"I think we're asking a lot from our core season ticket holders with our firendlies and we understand that," Red Bulls managing director Erik Stover said. "Not that we don't want them to come, but we understand if having five friendlies, whatever, we end up with, is asking too much of them. We get that."
The Red Bulls decided to play international clubs with potentially thousands of followers in the adjacent ethnic populations. Italian giants Juventus, which the Red Bulls defeated Sunday, 3-1, and Cruzeiro of Brazil on June 18th.
"What we're trying to do, particularly with Juventus and Cruzeiro is opening this club up to people who we know are passionate about this sport and in this market who don't know a lot about the stadium and don't know a lot about our club in particular," Stover said.
Many Red Bulls fans have been frustrated by the slow game-day traffic around the stadium in Harrison, NJ and the fact adjacent parking is at a premium. Some fans have stayed away or might not have attended as many games as they have planned.
The Red Bulls also might have put many of their resources into building and promoting the stadium's opening. For example, old advertisements touting the opening of the RBA in March were seen as recently as last week in midtown Manhattan and on I-78 in New Jersey. They went over one of their budgets and could not advertise in some places they had done in the past. Whether it will hurt them in the long run, it remains to be seen.
As for the rest of the League along with the Red Bulls, here are some trends for why teams are falling short of the mark in those new stadiums:
Poor marketing
Some teams just don't get it to begin with or fail to put in the work to see it through. You have to research and know your market and learn the proper buttons to push. If a team is not pushing any, they cannot expect a return. That old adage, "You have to spend money to make money," is never more appropriate in sports marketing.
Advertising, or the lack of
Unfortunately, it is somewhat impossible to see how much advertising all 16 teams are doing at a particular moment. But some teams don't do enough, whether it is budgetary reasons or philosophical or some other reason. That much is obvious.
The novelty wears off
This has happened in baseball. The Cleveland Indians, Toronto Blue Jays, and Baltimore Orioles opened state-of-the-art stadiums years ago and fans flocked to games, which were sold out not for weeks, but for years. But after years of having mediocre teams, they don't draw like they once did. Some MLS teams are already working through this. The Columbus Crew, which gave us the very first soccer-specific stadium in 1999, and FC Dallas are perfect examples. Even though the Crew won the 2008 MLS Cup, had the best record last season and is undefeated this year (6-0-2) the team continues to struggle to fill Columbus Crew Soccer Stadium after four games.
The R word
Let's face it, there are some greater forces that are out of our control, such as the economy. And if one or both parents are out of jobs, it is much more important to find way to pay the mortgage and/or rent and to feed their family than to attend sporting events on a regular basis. No easy solution here. Just pray that the economy improves – quickly – for everyone's sake.
The W word
That's weather, another factor that teams cannot change. You certainly can't blame anyone for staying away on a blustery day or during a torrential rain storm. But what is a team's excuse when you see the sun's ray reflect off of empty sections and seats on a beautiful day?
The Y word
For years we have been hearing how millions of children play the sport. And for years we have seen how so few attend games on a regular basis. Plus, too many games are scheduled for Saturday and Sunday afternoons, when many youth clubs play. It's difficult enough for a team when a game is played in the afternoon because of the league's TV contract, but they should not force afternoon games down anyone's throats. It might be conducive for newspaper's deadlines, but there is less atmosphere at day games.
The team's performance
Also known as the P word, this is the most damning reason why fans stay away. You don't win and fans don't come in. All the marketing and special nights in the world cannot make up for a woeful product on the field. Sure, a giveaway or a David Beckham appearance will bring in a big crowd once in a while. But without a winning team, at least one that records W's at home, clubs are in deep trouble.
Teams have to find a way to create a stronger bond between themselves and their supporters so when there is a recession on the field – ie. a poor season or two – fans won't stay away in droves. For the most part, teams go in cycles. There will be ups and there will be downs for every side.
Creating those bonds is not easy, especially with the adult attention deficit syndrome creeping into more and more of our society today. But that's any team's challenge, whether it be MLS, Major League Baseball or NBA. No one cannot afford to leave even one fan, including potential ones, or leave any stone unturned when it comes to attracting larger crowds.
Saying that, give major props to Toronto soccer fans, who keep filling up most of BMO Field, despite having three consecutive playoff-less seasons. How long will they be patient, especially when the novelty wears off?
We'll see.
Michael Lewis covers soccer for the New York Daily News and BigAppleSoccer.com. He can be reached at SoccerWriter516@aol.com.