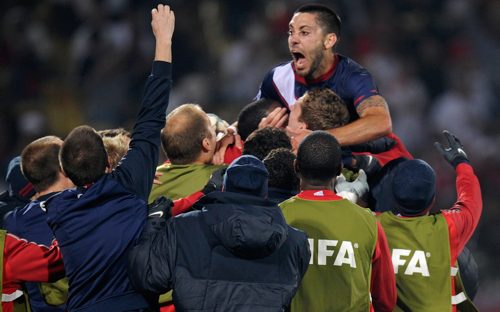 By Clemente Lisi – NEW YORK, NY (Jun 14, 2010) US Soccer Players — World Cup fever has taken over America. The tournament may just be days old, but the excitement among American fans has already hit a climax. Helping to fuel the passion have been public gatherings, where throngs of fans of all nationalities have come together in a festive atmosphere to root for their favorite country.
Though not a new phenomenon in South America, Africa and Europe, American TV viewers are fairly new to the sport and the habit of watching in groups. With ESPN and Spanish-language network Univision broadcasting all 64 games live and cities across the fruited plain accommodating fans in public plazas, people don't need to fly 17 hours to South Africa to soak in the pageantry that is the World Cup.
Viewing parties will take place all over the country – from San Francisco to Washington, DC, and dozens of cities in between – as the World Cup reaches a fever pitch. With matches on during work hours, however, many fans will have to get creative. Dducking out of their offices to take two-hour lunch breaks or secretly watching on their computers.
"Some of my colleagues and I plan to walk out whenever we can and go to a nearby bar for meetings," said John Larsen, who works as an accountant in New York City. "Other times, I'll have to watch on the computer or keep track of what's going on with my phone."
This past weekend, however, allowed fans the time to take in games without having to worry about work. Gone are the days of empty bars and movie theaters where matches aired on closed-circuit screens. These days, flag-clad people decked out in face paint watched on jumbo monitors setup on city streets. Even MLS teams have gotten in on the act by allowing fans to come see games at their stadiums while the League takes a two-week break for the duration of the tournament's first round.
In the melting pot that is New York, home to immigrants from around the globe, the World Cup has always been a special event. This year, it has grown even larger in popularity. Fans are getting their Cup fill at Puma City NY. Aside from showing games on a giant screen in a beer garden setting during the day at the mouth of the East River, the place will also host youth clinics between games and African-themed music and dancing at night.
Across the river in Brooklyn, nearly 300 flag-waving fans packed a closed-off street near the bar Woodwork to watch the nerve-wracking US-England game. Clint Dempsey's goal – following England goalkeeper David Green's flub – set off loud cheers as the US managed a 1-1 draw. All part of a party that started in the afternoon and lasted well into the night. A few even blew vuvuzelas – those irritating South African horns that have made stadium crowds sound like a hornet's nest buzzing through your TV – just to enliven the mood a little further.
The game was also played on four of the largest digital billboards in Times Square– one of 11 matches that will be shown over the next month – as part of a marketing campaign sponsored Visa called "Go Fans." Locals and tourists alike wandered around the closed streets to watch.
"Our aim with 'Go Fans' was to capture the unique passion of soccer fans and provide them an outlet to express their nationalistic pride," said Antonio Lucio, Visa's chief marketing officer.
Across the Hudson River in Harrison, NJ, the New York Red Bulls hosted fans, for free, at the team's new arena to watch the US-England match from inside the stadium's two large video boards. Nearly 800 fans showed up. The team will also show the Group G clash between Brazil and Portugal on June 25th to accommodate Brazilian and Portuguese immigrants who live in nearby Newark and the traditionally ethnic enclave known as The Ironbound. An even bigger crowd is expected that day.
"It is absolutely incredible to watch and cheer on the US along with hundreds of other fans in the same place," said Pete Santos, 41, who was born in Brazil. "This reminds me of watching the World Cup when I was a kid in Brazil. It really looks like Americans finally understand the passion that is soccer and the World Cup."
Clemente Lisi is the author of "A History of the World Cup: 1930-2006." His new book "The US Women's Soccer Team: An American Success Story" will be available in June. Contact him at: CAL4477@yahoo.com. Follow him on Twitter at: twitter.com/ClementeLisi