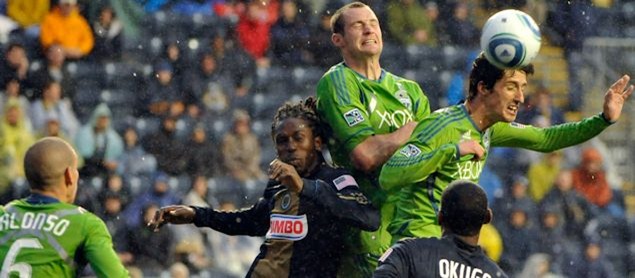 By Clemente Lisi – NEW YORK, NY (Oct 24, 2011) US Soccer Players – When it comes to national television ratings, American soccer fans already know that Major League Soccer lags far behind this country's established sports leagues.  MLS has long talked about a broader footprint, but even with 19 teams next season there are areas of the USA and Canada where the League has no presence. 
Yet there's no doubt MLS is growing locally.  Expansion teams have set a new standard, with the average attendance pushing up League-wide.  How that translates into local television ratings isn't just a more flattering way to look at MLS, it's also arguably more accurate.  After all, we know MLS has no teams south of Washington, DC and east of Dallas so why would we expect high ratings for MLS games? 
Seattle, as one would expect, is the biggest local market for the League. Not only did the team attract record MLS attendances, they also drew large numbers of TV viewers. The Pacific Northwest rivalry with the inclusion of expansion sides like the Portland Timbers and Vancouver Whitecaps proved to be a catalyst for growth. One has to wonder why these markets weren't added to the League years ago.
At the same time, the Sounders have also done a phenomenal job promoting the team over the past few years and harnessing the hunger Seattle residents have for pro sports. NBC affiliate KING-5 and sister station KONG 6-16, which air Sounders games in the Seattle-Tacoma area, averaged a 3.0 rating for games, which is equal to 56,242 households.
Seattle's TV drawing power has been astonishing. For example, ESPN2 earned roughly the same numbers of national viewers for a Northwest showdown between the Sounders and Portland as the one between marquee squads in large media markets like Los Angeles and New York. That is a testament to the drawing power of a market like Seattle.  To break it down, the May 14th Sounders-Timbers game in Seattle earned a 0.2 national rating and 328,000 viewers on ESPN2. A week earlier, the May 7th Red Bulls-Galaxy match at The Home Depot Center drew a similar 0.2 on the same cable network.
In Portland, meanwhile, Timbers fans not only showed up for the team's home opener on April 14th at JELD-WEN Field, many watched from home. Portland's 2.8 rating was the highest in the nation for the ESPN2 broadcast of the Timbers clash against the Chicago Fire. By contrast, the rating in Chicago was a dismal 0.3. The game's overall national rating was 0.2, which roughly translated into 183,000 households and 214,000 viewers nationally – typical for MLS broadcasts this season and over the past few years.
The Nielsen numbers, however, only tell part of the story. Overall, soccer has demonstrated that it can draw impressive ratings for big-time tournaments like the World Cup and UEFA Champions League final. MLS has been a different story. Last year's MLS Cup final between the Colorado Rapids and FC Dallas drew just 748,000 thousand viewers for a 0.4 rating – down 44% from the 2009 final featuring Real Salt Lake and a Galaxy team that included David Beckham and Landon Donovan. The lack of star power in the 2010 final and no strong local market to draw viewers from resulted in a ratings disaster for the League. It also didn't help that the game was up against NBC's Sunday Night Football.
The achievements of Seattle aside, the biggest local ratings success story has occurred in Philadelphia. Last year, for instance, the Union averaged a 0.5 Nielsen rating for the team's first three local broadcasts on ABC affiliate 6abc. In its first three local broadcasts this season (two on 6abc and one on The Comcast Network), the Union averaged twice as many viewers. For reference, a 1.0 rating equals approximately 30,000 households.
"TV ratings are a key measure of success in this business so we're thrilled with the early returns," said Union executive vice president Dave Rowan. "Our fans who watched last year are tuning in more frequently, and we're also seeing a new audience enter the fold. The market has demonstrated considerable demand to watch Union matches and we're appreciative of the support."
In the team's home opener against Vancouver on March 26th at PPL Park, the Union drew a 0.9 overnight rating on 6abc and a 1.4 in the much-coveted 18-to-34 year-old male demographic that advertisers like to court. Asked about the Union's success on the field this season after making the playoffs, MLS Commissioner Don Garber said: "I am more pleased with how they are doing off the field. That stadium [PPL Park] was a risk in terms of where the location is, but they are selling out. They have lots of sponsors and are relevant in their community."
While these TV ratings appear low at first glance (particularly when compared to other "major" sports), they don't take into account fans that watch the game on a computer, phone or anyone who packed into a bar, a popular weekly ritual for many soccer fans. Garber added that Union telecasts on local broadcast partners 6abc and Comcast SportsNet, available in parts of Pennsylvania and Delaware, are among the top three in the League – behind only Seattle and Los Angeles – and represent a "great story" for MLS.
"Their local TV ratings are among the highest of any other MLS team in the country," he told reporters during halftime of the recent USA-Ecuador friendly at Red Bull Arena.  "I think it isn't just a wonderful asset for the city of Philadelphia and Chester, but a great story for us as a League."
With that in mind, though a NY-LA MLS Cup final might be the bigger draw nationally, locally it's a Sounders-Union showdown that could set a new ratings standard. 
Clemente Lisi is a New York-based writer. Contact him at: CAL4477@yahoo.com. Follow him on Twitter at: http://twitter.com/ClementeLisi