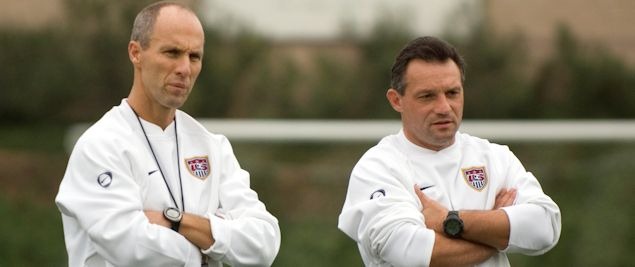 By Charles Boehm – WASHINGTON, DC (July 25, 2012) US Soccer Players — We learn in grade school in this country that one of our government's great strengths is its basis on "laws, not men." In the United States, the political focus is on the system. It's a hedge against a cult of personality. Based on our increasingly sophisticated, yet still strange, relationship with top coaches, it would seem that the American soccer nation is still making up its mind on which is the better choice.
Consider the employment arc of the elite soccer coach in this country. They pay their dues, climb the ranks, find success, and become the leader everyone wants working for their team. Only it often doesn't last. The fit isn't right, things don't go as planned, or attention spans – whether those of players, fans, or even executives – wane. When a change is made, the coach is left to rebuild his reputation.
Some, like Bruce Arena, Sigi Schmid, Bob Bradley and Thomas Rongen, doggedly re-enter the process and climb back to the top. Others dress their wounds differently and try new directions or roles: Curt Onalfo, Dave Sarachan, Tom Soehn and John Ellinger come to mind.
Are they fired because they're not good enough at the job, or did they just find themselves in the wrong place at the wrong time? Schmid, if you'll remember, was actually dismissed while his LA Galaxy sat atop the MLS standings in 2004. The club nonetheless felt no qualms about publicly saying they wanted "a more entertaining and attractive product on the field."
That's the stuff of nightmares for coaches, where not even tangible success is enough to make the difference. Enough clubs and countries view their coaches as expendable middle-management to suggest a trend. Historically, it's different in England and a few other places where the cult of the manager still has influence. Yet even there, the devotion can't be taken for granted. Coaches become vagabonds, shopping their ideas from job to job, trying to find that elusive fit. Meanwhile, some of their colleagues are allowed to keep their jobs even when things go badly wrong.
For American soccer, this leaves us caught between two systems. Think of it as an awkward adolescent phase when it comes to those overseas influences, somewhere between insecure imitation and bold breakaway. In Major League Soccer and at National Team level, growth has generally strengthened institutions and deepened the coaching pool. Yet, the importance of results has also risen alongside a knowledgeable fan base well aware of how things are done elsewhere.
This creates a push/pull between coach and expectations. That's nothing new, of course, but we've seen enough examples of coaches cut down to size in this country to suggest it's worth discussing.
The latest example is Peter Nowak's abrupt exit from the Philadelphia Union last month. Things got a whole lot uglier this week when the former MLS Cup-winning coach and US National Team assistant sued the club for wrongful termination and unpaid severance. That brought to light a series of allegations and friction points that showed us just how badly the relationship between coach and front office had broken down.
Just three years ago, the expansion club was widely praised for signing Nowak, "a man with championship experience and a gritty style perfectly-suited for his new home," as veteran journalist Ives Galarcep wrote at the time.
Nowak had won an MLS Cup and a Supporters' Shield with DC United, his first-ever coaching gig, before he led the US Under-23 team (featuring Michael Bradley, Freddy Adu, Stuart Holden and Jozy Altidore) to a thrilling but ultimately unsuccessful run at the Beijing Summer Olympics in 2008 and helped Bradley guide the senior squad to sustained success.
As with the cases of Soehn at DC United and John Spencer in Portland, Nowak was seen as the perfect hire by a club grateful to have secured his services. He also looked like as valid a long-range candidate for the National Team job as anyone.
But when results wobbled, fans soured and "the wine didn't taste so good," in the memorable words of Union CEO Nick Sakiewicz. Nowak was shown the door and, for the moment at least, the coaching credentials he built over several years have taken a hit. He's hardly the first. The New York Red Bulls have fired a former, and then future US National Team coach in their pursuit of a certain style of soccer.
Those same sidelines Nowak roamed at PPL Park will provide us with another example of this phenomenon during the MLS All-Star Game: Chelsea's interim-turned-permanent manager Roberto Di Matteo, the man who took over a struggling club in midseason and ended up winning the Champions League.
Tagged as a rising star in the trade, Di Matteo guided West Bromwich Albion into the English Premier League in his first season at the helm. He was gone less than a year later when West Brom decided the Premier League might not match with his skills. It seems laughable to suggest that someone deemed insufficient at a provincial club would be the ideal man for London's Chelsea, but that's the reality of the situation. Di Matteo has seized the chance that fate offered him and is now riding the arc of a coaching career anyone in the business would envy.
A year ago this Sunday, the US Soccer Federation announced the hiring of Jurgen Klinsmann. Though his role includes influencing the broader scope of elite player development in American soccer, he's still a head coach dependent on results. He has ample experience here. Hired at Germany's prestige club, Bayern Munich, Klinsmann went from heralded to reviled over the course of a season. At club level, his success as Germany's National Team coach eventually counted for very little, as he became another coach caught between visions of the future and immediate success.
For Klinsmann, it took the better part of a year to get his US team to games that count. Like every other coach, his win record becomes the most meaningful metric. With it, comes the same pressure that goes hand-in-hand with style and scope. Even with the commitment shown by US Soccer in hiring Klinsmann and giving him such a broad sphere of influence, it remains far from certain that his tenure will inspire us towards a more advanced take on the coaching carousel.
---
Charles Boehm is a Washington, DC-based writer and the editor of The Soccer Wire. Contact him at:cboehm@thesoccerwire.com. Follow him on Twitter at: http://twitter.com/cboehm.
More from Charles Boehm: