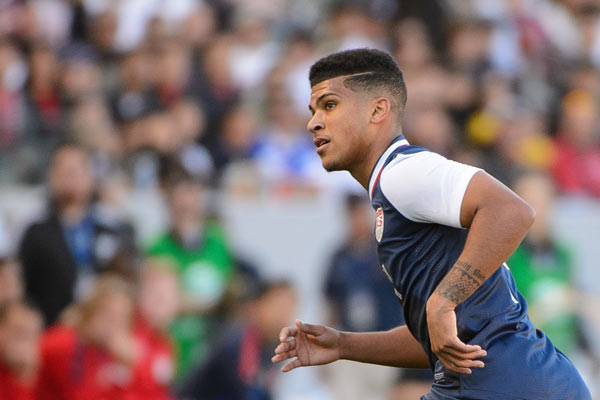 DeAndre Yedlin is a member of the USMNT 2014 World Cup squad.
DeAndre Yedlin is a product of the Seattle soccer scene, signing with his hometown MLS club in 2013 and making his USMNT debut a year later. Yedlin went to college at soccer power Akron, leaving early for MLS. Under a change in rules, the Seattle Sounders were able to claim Yedlin as a Homegrown Player, bypassing the SuperDraft. Yedlin made the MLS All-Star Team as a rookie, playing in 31 MLS games for Seattle in 2013. On Feb 1, 2014 he made his USMNT debut in a friendly against Korea.
DeAndre Yedlin USMNT Experience
2015: Started against Chile on Jan 28 and Panama on Feb 8. Subbed on in the second-half against Denmark on Mar 25 and Switzerland on Mar 31. Started against Mexico on Apr 15. Subbed on against the Netherlands on Jun 5 and against Germany on Jun 10. Started against Guatemala on Jul 3. Started against Honduras to open Group A play in the 2015 Gold Cup on Jul 7. Subbed on for the second-half against Panama on Jul 13 and against Cuba in the quarterfinals on Jul 18. Subbed on in the second-half against Jamaica on Jul 22 and Panama on Jul 25. Started the Sep 5 friendly against Peru and the Sep 8 friendly against Brazil.
2014: Called into the January USMNT camp that also included a training stint in Sao Paulo, Brazil. Debuted against Korea as a late substitute on Feb 1. Subbed on against Mexico on Apr 3rd. Named to the final World Cup roster. Started against Azerbaijan on May 28th. Subbed on against Turkey on June 1st. Subbed on against Portugal in a World Cup Group G game on June 22nd and against Germany on June 26th. Subbed on against Belgium on July 1st in the Round of 16. Started against Ecuador on Oct 10 and subbed on in the second-half against Honduras on Oct 14. Started against Colombia on Nov 14. Yedlin won the 2014 US Soccer Young Male Athlete of the Year award.
DeAndre Yedlin Professional Experience
2015-16: Joined Sunderland on loan for the Premier League season.
2014: Signed with Spurs on Aug 13. Loaned back to Seattle for the rest of the 2014 season. Won the 2014 US Open Cup and Supporters' Shield with Seattle before officially moving to the Premier League in January 2015.
2013: Signed with the Seattle Sounders as the club's first Homegrown Player, immediately cracking the lineup and becoming an All-Star in his first MLS season. Played in 31 games with the Sounders.
High School and College: Played two seasons at the University of Akron. Played for the Olympic Premier Development program in Washington.