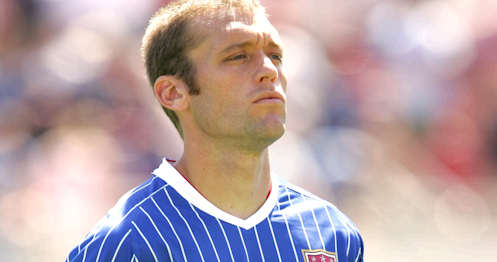 By Graig Carbino - ALBANY, NY (Aug 8, 2008) USSoccerPlayers – I recently had the opportunity to chat with one of the soccer communities most well respected writers. He also has is own radio show and has dabbled in modeling during his spare time. Oh yeah, he's also a player. No not that kind of player. I mean he plays, as in kicks and heads and scores (goals that is).
Who is this multitasking American hero you ask? He happens to be none other than current Kansas City Wizard captain Jimmy Conrad. We spoke about everything from soccer to music to politics. Things got a little weird and there were even a few strange pauses but we laughed our way through it and made, what I think, are some really nice breakthroughs. Or something.
USSoccerPlayers: How are things going in Kansas City so far this season?
Conrad: I'd say we are a little bit behind where we want to be. I can name three games off the top of my head where we should have had the full three points and tied each game. If we even win two of those three I think everyone – players, coaches, the front office, and the fans – would be feeling a lot better about our season. Of course, playing out the "what if" scenarios doesn't get us anywhere either. This league is a grind and every year it always comes down to the last ten games and if we can play to our potential during that portion of the season we'll be fine.
USSoccerPlayers: What is it like playing soccer in a minor league baseball stadium?
Conrad: The configuration of the field is always going to be tricky in a baseball stadium but I think our guys have done a great job setting up an environment that is fun to play in and fun to watch. I wish the field was a little bigger in length and width but other than that I think it's a great place to play.
USSoccerPlayers: Can you talk a little about your All-Star game experience in Toronto?
Conrad: The thing with the MLS All-Star game is that it is always a blur. As a player the league has you scheduled to do so many appearances and you feel like you're running all over the place that you almost forget that you are there for a game! In regards to said game, I thought we were the better team on the night and for me personally, it was an honor to captain the team. 
USSoccerPlayers: Do you see yourself getting back into the National Team picture again?
Conrad: That is a question for Bob, but I'm always ready if they need me.
USSoccerPlayers: Bigger Thrill: Scoring against Mexico in Glendale, AZ or your first World Cup start against Ghana?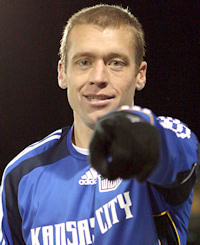 Conrad: Ooh, good one. As much as scoring against Mexico was a big moment for me personally, playing against Ghana with a second round berth at stake in the World Cup is what it is all about. I mean, starting a World Cup game with the last four years of qualifying and hard work riding on it, can it get any better?
USSoccerPlayers: Surely it cannot. Bigger Thrill: Writing for ESPN.com or talking to Sean Wheelock?
Conrad: Another good one. I'm going to say writing for ESPN.com because it gives me an outlet to brainwash America's youth. Though, if you would've asked: "writing for ESPN.com or seeing Sean Wheelock nude?" that would have made it a little tougher.
USSoccerPlayers: Ok (awkward pause)…moving on. How are things between you and Clint Dempsey these days?
Conrad: Fine. I haven't talked to him in awhile but everything was smoothed out a long time ago over the broken jaw stuff and I would like to thank Greg Lalas for blowing it of proportion. The whole situation went to 11 when he got himself involved to stoke the controversy fire. Anyway, I always enjoy having Clint on my team because of his incredible desire to win and I'm excited to watch his continued success overseas and with the National Team.
USSoccerPlayers: I have never been the biggest fan of Indie rock. Please state it's case for a spot in my iPod.
Conrad: It's the antidote for everything else you have in your iPod. Indie rock comes in all shapes and sizes and when you're done listening to music made by a computer or synthesizers it will help you cure anything in your life that ails you. Also, if you listen to country, I can't help you.
USSoccerPlayers: I am proud to say that country hasn't made it into the mix just yet. If you could, please take us through a typical day in the life of Jimmy Conrad.
Conrad: A lot of "why me?" and "what did I do to deserve this?" because I'll be honest, it's tough to be this good looking.
USSoccerPlayers: True or False. You would much rather be remembered for your looks than your play on the field?
Conrad: It's true I'll be remembered for both.
USSoccerPlayers: How so?
Conrad: Because I'm notorious for making monkey faces in any action shot taken of me and I'm purposely trying to avoid this question.
USSoccerPlayers: Ok, last one. Do your best Obama and convince us that KC can win the Cup this season.
Conrad: KC is going to win the Cup this season because it is a change you can believe in.  I have often said that this season is a defining moment in our league's history.  On major issues like expansion and the designated player rule, the decisions we make in November at MLS Cup and over the next few years will shape a generation, if not a century.  I'm getting sidetracked because I'm very good at being a politician but KC winning the Cup is what you should expect.  And if you're willing to stand with me and work with me and vote for me, then my team will not just win the Cup, we will win the CONCACAF Champions League, and then you, my teammates, and I together will change this league and change this world.  Thank you.
USSoccerPlayers: Thanks again Jimmy.
Conrad: No problem.