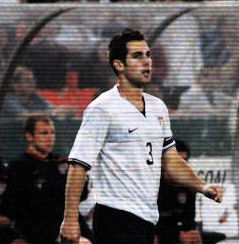 With Carlos Bocanegra in place as the regular National Team captain during the Bob Bradley era, we look back at the players who wore the armband from the 80's up to France '98. 
Prior to the Bruce Arena era records are a little more difficult to find regarding captains. Oftentimes, decisions on who would captain wouldn't be made until just prior to the game. As Alexi Lalas said, "Especially in the nineties, it seemed that we all wore the armband at least once."
Eric Wynalda recalled that, "At different times, on different trips, several players have had the honor. I know that I was captain for the trip to China in '97 (two games total). I also know that John Harkes, Marcello Balboa, Mike Windischman, Hugo Perez, David Vanole, Tony Meola, Thomas Dooley, Jeff Agoos, Tab Ramos and Kasey Keller have also captained the side. When we would take a team on a foreign tour we would name a captain for the whole trip. We took a lot of trips in the 90's.  Obviously, before my time, was Ricky Davis and Kevin Crow. They were of the late 80's era."
Tab Ramos remembers others, "Rick Davis pre-1989, Mike Windischmann 1989-90, Peter Vermes in 1991, myself for Copa America 1993, Tony Meola World Cup '94, Marcelo Balboa Copa America '95, John Harkes '97, Thomas Dooley '98. Marcelo Balboa recalls many of the same names as Ramos, like Mike Windischmann, Tony Meola, Marcelo Balboa, and Thomas Dooley.
Michael Windischmann says: "Ricky Davis was captain for the National Team in 1985 and 1986, and then on March 6, 1987 I was named captain until Sept. 16 1990 for all of the Olympics, World Cup Qualifiers and friendlies that I played in. Ricky Davis was captain of the 1988 Olympics, but I was the captain for the qualifiers in between those."
From Kasey Keller: "Myself, Friedel, Claudio (of course), Jeff Agoos, Landon. I'm not sure who else has been captain when the players are almost all from MLS."
From Jeff Agoos: "Peter Vermes, Thomas Dooley, Tony Meola, John Harkes, Brad Friedel, Kasey Keller."
Again, Alexi Lalas: "Myself, Bruce Murray, Paul Caligiuri, Fernando Clavijo, Brian Quinn, Hugo Perez, John Doyle and Eric Eichman."
From Paul Caligiuri: "Rick Davis, Mike Windischmann, Paul Caligiuri, Marcelo Balboa, Tony Meola, John Harkes, and Thomas Dooley."
Finally, former US National Team head coach Steve Sampson says: "I basically had two captains during my tenure. They were John Harkes and Thomas Dooley."

* A version of this article originally ran on November 2nd, 2004.