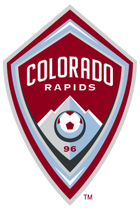 By L.E. Eisenmenger – BOSTON, MA (Sep 2, 2009) USSoccerPlayers — In a move towards Major League Soccer developing its own talent, the League now requires clubs to create youth programs.  That includes fully subsidized Under-16 and Under-18 Developmental Academy teams for each club.  How the individual clubs choose to implement that system is up to them. 
Taking into consideration the difference from market to market, MLS has made the academy program autonomous within wide guidelines.  That has led to differences in how MLS clubs run their academies. 
With the Colorado Rapids, the academy system has become a priority.  Their model takes into account the population spread in the region.  With a thinner market spread across a broad geographic area, the Rapids created alliances with area clubs to help them develop players until they're age appropriate for the geographically distant Rapids developmental academy teams.

Former US National Team midfielder and MLS veteran Paul Bravo is technical director of the Colorado Rapids.  In addition to scouting and managing players and the salary cap, he oversees the Rapids youth development programs. Bravo explained their program and their innovative alliance with existing clubs.  The concept is simple: align a wider web of players in the Rapids' curriculum, keeps those clubs best players on track and on board, raises the overall level, and identify top players.  In the world of youth soccer, making it work can get complicated.
LE: Explain how the Colorado Alliance works in the community with other pay-to-play clubs.
Bravo: We've created an alliance for three clubs: the Boulder County Forest Soccer Club, the Colorado Storm Soccer Club, and Pride Soccer Club out of Colorado Springs. Those relationships are two-fold. There's a business element to it that helps us at the gate and gets those clubs integrated with what we're doing here on a first team level and all the way down.
And then there's a technical side to it. We've gone to these clubs or these clubs have come to us and we've created a working relationship to benefit their own soccer development so we share curriculum, we share coaching resources, we give their membership direct access to our academy when they come age appropriate –  the 16s and 18s. That helps them keep their players intact because in youth soccer, there's a huge recruiting element to it.
We have two other development academy teams in our area, Colorado Rush and Real Colorado, and those clubs go into clubs that don't have access to the Academy and start stealing their players at 11, 12, and 13, so they're taking away membership and most of the time it's their best players.
We've created this alliance to work with (alliance clubs) so they keep their best players. We don't feel it's necessary for a U-11 player from Fort Collins or from Colorado Springs to be driving three hours on the road total to get to practice. We think those players should be staying within their own communities, working within their own clubs to develop. We can help them by providing curriculum and direction so those kids when they're age appropriate have a chance to play in the academy and maybe one day, play for our first team.
It's unique in that we're trying to create these partnerships and relationships within our own community. I don't think there are many clubs that have this in place, in fact I don't think there are any.
LE: If those pay-to-play clubs produce really sharp players, you're likely to recruit them, but there's no transfer fee. Should there be?
Bravo: You do have tie-in from those clubs. There's no transfer fee because they're amateur clubs and you can't even ask for training compensation nowadays as an amateur club. There are a lot of rules on the FIFA level that preclude amateur clubs being able to ask for money.
The big thing for those clubs is being able to offer their players something that no other club in the state can offer, and that's a direct line into a pro club. Let's say we have a player that comes through our system from those clubs, it's pride from those clubs to be able to share those players and we do it through information that we put out on our websites. There is no monetary benefit from those clubs.
LE: But there's a lot of hours invested in youth player development and wouldn't a transfer fee like the UEFA youth transfer fee schedule encourage outside clubs to develop players more than just winning games?
Bravo: Those laws are typically set up for professional clubs so it would be very difficult because they're a not for profit organization, and do it under a tax status of non-profit organizations. Most of them, all of them are. Even our club is set up as not-for-profit, our Development Academy is a not-for-profit arm of our professional club.
LE: So, where's the incentive for these clubs to develop players and not just rank high in the table then?

Bravo: We're very active in that. We're dedicating time and resources and our curriculum and our coaches. It's not easy. If you look at the Rush and Real here, who put a lot of time and effort into it, they go out and they cherry pick players off of other clubs who don't have access to the academy. So you have this circle of life in youth soccer. We reinvest time and resources back into the alliances. Those coaches are getting coaching from our first team coaches, our technical director and our staff. We're driving down to Colorado Springs to do training sessions, we're driving out to Boulder to do training sessions, we're at all their events so it's not just a relationship on a piece of paper.
We're reinvesting the business element. They buy season tickets from us and have a way of fund raising as a part of this ticket element and the money that we get back we dedicate a portion of that to hire staff so we can invest that back into the clubs by giving them time and man-hours.
A lot of clubs are trying to get results first and foremost, and second they're trying to get their kids noticed for the college game.  Player development in this country is changing and it's changing almost monthly and this allows us to stay on top. Ultimately our goal is to try and find players here in Colorado that inspire to be pros and then we create an environment for them and if we do a good job of that, hopefully we can promote players into our first team.
L.E. Eisenmenger writes for a variety of outlets including covering Boston soccer for The Examiner.  Contact her at eisenmenger@soccerlens.com.