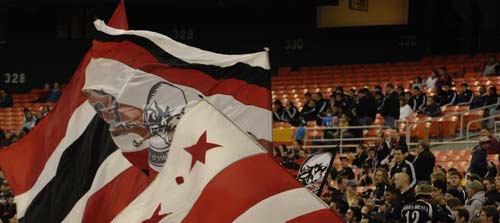 By L.E. Eisenmenger – BOSTON, MA (Oct 19, 2009) USSoccerPlayers — In August, Major League Soccer ticket sales dipped over 4% overall and dropped double digits up to 34% for six franchises while nationwide sales for international matches skyrocketed. That should be enough of an indication that MLS needs to rethink what marketing to adults means.
The biggest challenge MLS faces is the diversity of soccer fans in this country. There are US national team fans, Premier League and European fans, MLS fans, WPS fans, South and Central American soccer fans, USL fans, college soccer fans, and youth soccer fans.  Many of these people disregard other leagues.  Some are openly contemptuous.
Initially, MLS targeted youth markets, assuming young players would grow into adult ticket buyers.  This has proven not to be the case.

Television promotions and broadcasts have grown in presentation and in volume, but it's the exceptions that give MLS a unique stadium atmosphere.  It's no coincidence that most are expansion teams, with older clubs seeing declines in attendance and general appeal.
MLS clubs are re-imagining their marketing plans, trying to attract adults.  More often than not they follow an established template, such as that of the National Football League, the 'classic rock' of American pro sports. For MLS, this can come off feeling and looking like a cheap imitation. 
American football is a different game with a different mentality and different fans, so MLS needs to use different strategies and build on the collective strength of diverse American soccer fans to creative a successful, unique atmosphere. American football is an American-grown male-played sport. Soccer is an international sport carried through generations of diverse immigrants and also played by 15 million US females, and those are two good reasons MLS can sell tickets and succeed.
Given the crash and burn of the print media industry, MLS went in-house online to create low-budget news, interviews, video promotions, and fan boards. They developed MLSnet into a fairly accessible statistics and sanitized news source. But in the process of creating a communications product, they lost track of their very specific audience.
Simply put, they often deal with college-educated and media-saturated fans born and raised in the wiles of marketing. These fans have seen oil companies promote the environment, fast food joints claim health benefits, and watch celebrities propping up products nobody should want, much less need.
American soccer's target audience is smarter and savvier than the people trying to sell to them, and MLS can use that to their advantage. MLS commissioner Don Garber is on the right track with his blog and twitter feed. MLS and their clubs need to open the discussion about the growth of the league to the public and attract fans with increased transparency. Growth, change, and possibility are what MLS is all about.  These are big picture topics and often the message behind powerful advertising campaigns.
Money is interesting. Policy is interesting. Conversation is interesting.  Being talked at is not. MLS doesn't even need to reveal dollars and deals, but it can raise its profile by making business and growth a public matter, opening up discussions about the choices and outcomes they face. When people/consumers are faced with controversy, as small as one product vs another, they make a decision.
The critical moment in advertising and sales occurs when the customer makes a decision. They commit to that decision, defend it, invest in it, and often affiliate with a tribe. The greatest challenge in MLS is affiliation, within the current power structures of the sport and with both the general sports fan and the genuine soccer fans.  The risk is alienation.  When it works, it creates a culture.
For MLS, this culture should include convincing people that they're putting money into  the product by spending on talent.  The games should be presented in an atmosphere that speaks to soccer in the contemporary era and as a unique experience.  MLS doesn't have to be like anything else, and it would be far better off putting that into practice. 
High quality players, teams, and games satisfy the various tribes of fans. Guillermo Barros Schelloto, Cuauhtemoc Blanco, or Landon Donovan don't need the sideshow to get their game over.  It's right there in front of the audience. 
Rather than make the major and minor league moves that risk alienating a soccer-specific audience, make the experience about the game. Copying what other North American leagues are doing doesn't work for those leagues, not really.  Everything gets turned into a trend and is eventually pushed aside for whatever is next.  Sports marketing becomes about product rather than the event. 
Soccer in America can be different. After all, this game is about character.
L.E. Eisenmenger writes for a variety of outlets including covering Boston soccer for The Examiner.  Contact her at eisenmenger@soccerlens.com.