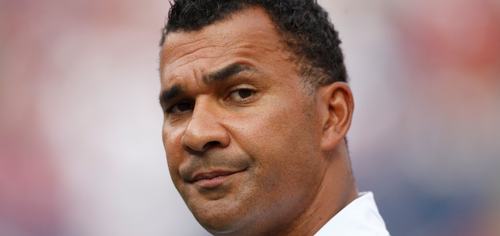 By Michael Lewis – NEW YORK, NY (Dec 29, 2009) USSoccerPlayers — The Major League Soccer landscape is littered with foreign coaches who have yet to deliver on a consistent basis. So, why does new New York Red Bulls sporting director and general manager Erik Soler reportedly want to hire someone from Europe?
With the Red Bulls set to open up their jewel of a soccer stadium, Red Bull Arena, in Harrison, NJ in 2010, they want to make as big a splash as possible. And why not with a big name coach?
Before going any further, we should define a foreign coach, as it pertains to MLS. A foreign coach is someone who has little or no MLS experience or a coaching background in the United States.  That exempts the likes of Steve Nicol, who was an assistant coach with the New England Revolution and with the A-League Boston Bulldogs before he took on the head coaching role, and Philadelphia Union coach Peter Nowak, who was a standout player with the Chicago Fire.
In the cases of Nicol and Nowak were already around the League long enough to understand the psyche of American players and the complicated rules and regulations of MLS, which are unlike any other league in the World.  Nicol's teams have been to three MLS Cup finals and he is the longest tenured coach with one club (since 2002) in the league's 14-year history. Nowak's DC United side won the league crown in 2004 before he left to join the US National Team staff. 
Someday there will be a major breakthrough for a foreign coach without that background. Someone from Europe or South America will break the .500 barrier, will go deep in the playoffs on a consistent basis, bring home the Philip F. Anschutz trophy as well.  Even if the League's history suggests otherwise.
The failures are across many nationalities: English, Dutch, Portuguese, Brazilian, Italian, Serbian, and Northern Irish.  Their total record? It's a rather sorry 136-204-41, a .411 winning percentage, never finishing above .500 in a full season, never getting out of the first round of the playoffs (in three tries) and no MLS Cup titles.
Here is a quick look at a dozen foreign coaches in MLS:
Frank Stapleton, New England Revolution (1996)
The former Ireland international (20 goals in 71 appearances) was brought in to lead the Revs after a stint with Bradford City in England (1991-1994). His Irish background was thought to be a perfect fit with Boston's Irish community. But it was far from perfect for the League, as New England finished at 15-17 and last-place in the Eastern Conference. He was given the pink slip after only one season. Thomas Rongen replaced Stapleton.
Bobby Houghton, Colorado Rapids (1996)
He did coach the Toronto Blizzard of the old North American Soccer League from 1982-84, but as we have all found out, that league was light years away from MLS. Houghton, an Englishman who guided Malmo (Sweden) to the 1979 European Cup final, did not enjoy the same success in the United States. His Rapids went 11-20 in the League's inaugural season. He was sacked with a game remaining (Roy Wegerle coached the final game, a 1-0 defeat).  Glenn Myernick took over for Houghton.  He is currently India's National Team coach.
Carlos Queiroz, New York/New Jersey MetroStars (1996)
Actually, Queiroz didn't fare poorly at all.  The Portugal native became the first foreign-born coach to register a .500 record (12-12), turning around a disastrous start under Eddie Firmani. Queiroz tightened up a defensive sieve and made the team much more competitive. In fact, the MetroStars took DC United to three games in their Eastern Conference semifinals series. However, Grampus Eight (Japan) offered the current Portugal National Team coach millions compared to the MetroStars' $500,000 annual salary (an excellent amount in those days) and he bolted for the Far East. Carlos Alberto Parreira succeeded Queiroz.
Carlos Alberto Parreira, New York/New Jersey MetroStars (1997)
Parreira discovered it was easier to guide Brazil to its fourth World Cup title, and first in 24 years in 1994, than the MetroStars to the MLS playoffs. He made a lot of wrong player personnel decisions, including bringing in defensive players from a country best known for its attacking flair and 1994 World Cup hero Branco, who turned into a bad seed by seeing red cards three times in only 11 matches. Not surprisingly, the Metros finished at 13-19. Parreira wasn't fired. He left on his own accord, taking a $3 million offer to coach Saudi Arabia in the 1998 World Cup. Alfonso Mondelo replaced Parreira.
Walter Zenga, New England Revolution (1998-1999)
Zenga, who has been linked by La Gazzetta dello Sport to the Red Bulls, was a disaster during his tenure with New England. He took over for the fired Thomas Rongen late in the 1998 season and guided the team to a 3-3 mark. Things went from bad to worse the next season as the Revs dipped to 10-20. And even worse, Zenga had the audacity to demand to negotiate for a new contract while the team was fighting for its playoff lives. He was given his walking papers and was replaced by Nicol on an interim basis before Fernando Clavijo took over fulltime. Since New England, the 49-year-old Zenga has averaged almost a team a year as a coach, directing Brera (Italy), National Bucharest (Romania), Steaua Bucharest (Romania), Red Star Belgrade (Serbia), Gaziantepspor (Turkey), Al Ain FC (United Arab Emirates, Dinamo Bucharest (Romania), Catania (Italy) and most recently Palermo (Italy). He was fired 13 games into the season on November 23rd. That's nine clubs in five countries in 10 years.
Ivo Wortmann, Miami Fusion (1998-2000)
Just because you're a Brazilian doesn't mean you will have the answers for a struggling team. Wortmann inherited a horrible team from Carlos Cordoba. He guided the Fusion to an encouraging 7-6 record the rest of the 1998 season and into the playoffs. Ditto for 1999, although the team finished at 13-19 and was eliminated by United in two straight for the second consecutive season.  But a a woeful 1-4-3 start in 2000 doomed Wortmann. He has coached 22 teams – clubs and national sides – since 1982. He is in his fourth tenure with Juventude (Brazil). Ray Hudson succeeded Wortmann in South Florida.
Bora Milutinovic, New York/New Jersey MetroStars (1998-99)
He might have forged a reputation as a miracle worker with several National Teams at World Cup level, but he was less than ordinary as an MLS coach. Bora, who was 1-0 in 1998, had major communication problems with his players and media in a nightmare 1999 season that saw the MetroStars finish with a putrid 7-25 record (winning only four regulation three-point matches) and 15 points, which included a league-record 12-game losing streak. The team and Bora agreed to part ways after the season. Octavio Zambrano took over for Milutinovic.
Hans Westerhof, Chivas USA (2005)
Westerhof, who has coached for nearly a quarter of a century, replaced Thomas Rongen after a horrible start for the expansion team.  He had been the coach of the parent club in Guadalajara in 2003-2004, but things didn't workout for the US version. Chivas went 3-13-4 under Westerhof, and he eventually returned to coach Chivas de Guadalajara. Current US National Team coach Bob Bradley replaced him at Chivas USA.
Ruud Gullit, Los Angeles Galaxy (2008)
So much for "sexy soccer" or whatever the former Dutch international midfielder was trying to do with the Galaxy. Gullit, who had signed a contract that made him one of the highest paid MLS coaches, resigned as coach "for personal reasons" on August 11th, 2008. The Galaxy, winless in its last seven games, was on its way to missing the post-season for the third consecutive year with a 6-8-5 record. There were problems galore with the Galaxy (Anschutz Entertainment Group CEO Tim Leiweke called the team "dysfunctional"). Former US National Team coach Bruce Arena succeeded Gullit.
John Carver and Chris Cummins, Toronto FC (2008-2009)
Carver gave up on MLS last season. First, he criticized the standard of officiating after a 3-2 road loss at FC Dallas and subsequently fined $750 by the League. After he wasn't on the bench for a 1-0 home victory over Chivas USA, he resigned for personal reasons four days later on April 25th. Toronto failed to reach the playoffs in 2008 (9-13-8) and was 2-2-2 under Carver in 2009. Earlier this month the Englishman was named assistant coach to Plymouth Argyle manager Paul Mariner, the former New England Revolutoin assistant who left at the end of the regular season. Chris Cummins, an Englishman, coached Toronto on an interim basis the rest of the season (8-9-7) as the team wound up on the post-season sideline before Preki was named as head coach for 2010.
Gary Smith, Colorado Rapids (2008 to present)
After replacing Fernando Clavijo as interim coach, Smith guided the Rapids to a 5-4-2 mark the rest of the 2008 season.  They missed the playoffs in the final minute of their last regular-season game in '08, and were on the sidelines again for '09 with a 10-10-10 mark and a sixth-place finish in the Western Conference. The Rapids are Smith's first job as a head coach after being an assistant with Wimbledon and Wycombe in England. Smith, who enjoyed a 10-year career in England, could be on the hot seat if the Rapids don't start well or finish poorly.
One last note: If you're wondering why Carlos Cordoda (Miami Fusion, 1998) and Colin Clarke (FC Dallas, 2003-2006) weren't mentioned, they had coached in the United States prior to their MLS ventures.
Michael Lewis covers soccer for the New York Daily News, MLSnet, and BigAppleSoccer.com. He can be reached at SoccerWriter516@aol.com