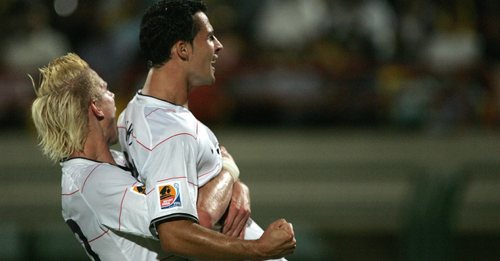 By Stefan Bondy – NEW YORK, NY (Dec 31st, 2009) USSoccerPlayers — Dilly Duka admits he was a nobody, a mere blade of grass on a global soccer field. There was no prodigious upraising for the 20-year-old attacking midfielder, no golden ticket from Bradenton or overseas. Only followers of Rutgers or New Jersey high school soccer would have heard of Duka until last year, when he ascended from obscurity to become one of America's top prospects.
Duka earned his status the hard way, the unlikely way — through public schools, local club teams and opportune brilliance on the field. His skill was on display at the U-20 World Cup in September, when Duka completed his transformation from also-ran to blue-chip.
"You get your chance and you have to take advantage of it," Duka says. "That's what I did." 
Duka is speaking from the Sports Factory soccer bubble in Lincoln Park, just five miles from his Montville home, where he and eight other soccer talents are gathering for training sessions. There are no coaches, just studs, sweat, and motivation. The temperature outside is in single digits, so renting the bubble provides a respite from the chill.
Still, Duka wears a sweatshirt and a skull cap because his soccer posse – mostly college players like Seton Hall's Brayan Martinez and Dritan Sela, and Villanova's Mike Seamon – would rather not pay to turn on the heat.
"It's cold in New Jersey," he says.
Duka is preparing for the MLS combine that starts Jan. 8 in Fort Lauderdale. His journey will culminate eight days later at the MLS draft in Philadelphia, where he's projected as a first round pick.
It seemed an impossible scenario just six months ago, if only because opportunities were sprouting in other directions.
Duka's breakthrough was his sophomore season at Rutgers in 2008, when he scored eight goals as an All-Big East selection. The NCAA success – coupled with his off-season progression at Red Bull Academy – earned Duka a call-up to the United States Under-20 squad in January.
"I played club soccer, I played college soccer, and I never really got looked at. Then I got a call out of nowhere. I was surprised, even my (Rutgers) coach was surprised," Duka says. "When I went (to training camp) I showed some stuff and they liked me off the bat."
Duka's career path traveled a steep upward curve in the following nine months. He scored a goal with two assists against Jamaica in his first international match. Offers emerged from professional clubs, including the Red Bulls, and Duka left Rutgers before his junior year. He then shined in an otherwise disappointing U-20 World Cup for the USA, picking up a goal and an assist in America's lone victory, 4-1 over Cameroon.
"Dilly's always better when his team has the ball," says former Rutgers coach Bob Reasso. "If you can get the ball to Dilly, he can create.
"I have a great deal of faith that he will be an outstanding professional. He has the physical tools, he strikes a great ball. With added maturity and exposure to a professional environment, he will excel and flourish."
Duka's agent was flooded with inquiries after the World Cup. Duka went to Europe and trained with teams in Germany, Belgium, Switzerland and Denmark – securing offers from four clubs in either First or Second Division. He was mulling those options when MLS intervened.
"The goal was to sign a contract. Whether it was overseas or here – it really didn't make a difference. I want to be in a club, I want to train everyday, I want to get better and better and play at the highest level," says Duka, who signed a Generation Adidas contract in November.
"MLS made me a good offer. My parents like the fact that I could stay home, stay in America, to start off and after a couple years of experience maybe make a move overseas or maybe stay here."
Duka is clearly comfortable in New Jersey, despite the difficult winters. His family still resides in Montville, and his brother, Argjent, is one of the training partners in the soccer bubble.
He would prefer getting drafted by the Red Bulls, who pick 2nd, 14th and 18th overall. But it's a crap-shoot Duka's not willing to throw his chips into. He nearly signed with the Red Bulls over the summer as a homegrown player, but the move was blocked by MLS because he didn't join Red Bull Academy until after starting college.
"(Former Red Bulls coach) Juan Carlos and (interim coach) Richie Williams really liked me, and they wanted to sign me over the summer but they talked to MLS and it couldn't happen because of the rules," Duka says. "If they want me, they have to draft me. That's what MLS pretty much said. If I go to the Red Bulls, that's great. I'll be home. I'll be with my friends.
"I'd like it, but I can't care. Me and my parents realize there's so many teams. I can go anywhere."
Anywhere seems a better proposition these days for Duka. It wasn't quite as hopeful when he was an undersized recruit from Montville High School. He admits the dramatic turnaround feels surreal, but it's not so much a product of recent progression as it was getting recognized.
Duka was always good. He always worked hard. He's still working hard inside an unheated soccer bubble, a flashback to humble beginnings.
"It's not easy. You have to have a name when you're young and if you don't have that you got to work really hard," he says. "There are a lot of good players that are not on the national team, even in the New Jersey/New York area, that should have a chance but don't have a name."
"If you don't have a name, you don't have much of a chance."
Stefan Bondy covers soccer for the Bergen Record where he keeps a blog.