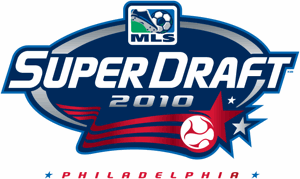 By L.E. Eisenmenger – BOSTON, MA (Jan 8, 2010) USSoccerPlayers — Patrick McCabe is the Senior VP and Managing Director of First Wave Sports, as well as a prominent player agent.
They represent coaches Sigi Schmid, Robert Warzycha, and Preki, and players including William Hesmer, Troy Perkins, Nat Borchers, Jim Brennan, Baggio Hassidic, Jack Jewsbury, Stefan Miglioranzi, Logan Pause, Teal Bunbury, Andre Akpan, Chad Barrett, Robbie Findley, Alejandro Moreno, Yura Movsisyan, and Cam Weaver.
In advance of next week's MLS SuperDraft, I spoke with McCabe about the relevance of the Generation adidas program.
Tell me about the Generaton adidas program.
The program is designed to fast track talented select players into the professional game either straight from high school or college. In doing so, it provides incentive laden contracts that would be greater than they would might receive if they had completed college.  It's a clear financial incentive for having them either bypass college or leave college early.
In addition, players are  provided with money to continue their education.. The average age is 20 or 21 but players as young as 15 have signed contracts. Between sophomore and junior year is probably when most players leave.
How is the money diverted to education?
The money is held in escrow by the League and the players just draw off their account registering for classes and get reimbursed. They have essentially ten years to finish their degree.
How many GA players go back to school and finish their degree?
It's hard to say and I don't have any data on that. I know that numerous players have, we've had several of our clients do it.
What are the statistics for players who continue with a successful professional career here or abroad after they've graduated?
Probably 60-70% on the whole, probably a 30-35% failure rate of players. At the end of any given three or four year period you'll have three or four out of ten guys that do not stay in the League after their initial contract.  It varies from year to year.
Are most GA players youth National Team players?
I'd say by and large a lot of them have been traditionally, but it varies from year to year. In this year's class it's tilted in that direction, I think you have five from the U-20s.
Who picks them?
MLS teams make the recommendations to the MLS League office to extend the contract offers. Adidas obviously some input, but in the end they're not having the final say in terms of who gets offered a contract. It's the MLS teams themselves. They may come from a National Team recommendation. There were several players this year that came from the U-20 National Team, but by and large these guys have been scouted by MLS teams themselves.
There's a preliminary list of probably 20-25 players that circulates and that is gradually reduced. It's a process that goes on for probably eight weeks in the Fall. As teams see more players at the end of the season, often players are added late into the process.
If a franchise recommends a player, does that give them clout for taking that player?
Not at all. All teams have to select the players via the annual draft.   In this class, you probably had seven, eight, nine teams recommending a lot of the same players, so you've got to have a pretty good stack of recommendations behind your name in order to be offered a deal.
Who makes the recommendations – head coaches, technical directors?
This usually doesn't fall to one person from an organization. Technical directors, assistant coaches and head coaches all scout for their teams.
If a player gets a GA contract, is he more or less "in" MLS for four years regardless of his performance?
No. Sometimes after two or three years they're let go – but it really does depend on whether they've been given a real chance and have had a chance to succeed on a team. In some places, players just don't get an opportunity, so they may have to be traded to give them another chance to play. MLS wants to ensure that players have an opportunity. Mistakes are made, however, and sometimes it is in the player's best interest to seek employment outside the league.
If it's a four-year contract, how can it be rescinded within four years?
It's not necessarily a four-year contract. In some cases, players may sign a four-year contract but it's often two guaranteed years plus two option years. Or, it's three guaranteed years plus two option years, so it may turn out to be five-year deal. Each contract is different and there is no set contract for each player.
Who determines when they graduate?
Usually the player himself will determine that, based on how much he plays. If he turns into a regular starter by the end of his first year, more than likely he's going to graduate. In some cases he may not, but once you're established in your team, then you're more than likely going to graduate.
Contractually and financially, what exactly does that mean – to graduate?
It means that you're applying to the team's salary cap and the team's senior roster numbers. You no longer have protected status.
How does the money work if adidas pays their salaries, but the League pays the players?
This Generation adidas program is part of a larger adidas League sponsorship. It's just one part of it. The players are not paid by adidas, they're paid by the League. The sponsorship money allows for the program to be in place.
With a short roster, are these guys ever dead weight?
You hope they're not, and as you've seen in the past couple years a lot of these guys are getting a lot of playing time. Sometimes mistakes are made and a player is dead weight and you can't escape that. That happens, but you hope that the player gets an opportunity to play and to prove himself and to justify why he was signed. That happens less and less because there's more and more eyes watching these guys and the selection process has improved over the years.
Is adidas looking to expand or develop this program in any way?
I am not aware of plans to expand the program. This year is a larger class [12] than we've had in the past. Most classes end up with 7-10 players. It is logical that as the MLS adds expansion teams that more players could be signed. The big question is, do you want to pay the best guys a lot of money or pay a bunch of guys a little bit of money?' My feeling is that expansion would be constricted mainly by the budget, but also are there enough quality players to sign each year without diluting the talent pool?
How important to the League is this program?
I think it's critical. It's critical for young players to be in challenging environments as they cannot usually find this at the college level. Beginning a professional career after college for most players can be too late. The players that have spent some time in college, more so than younger players, are more prepared than the guys who didn't go to college. It's maybe something to explore.
Younger players have not fared as well. The maturity that some of these guys come into the program with is not great – physical maturity, professionalism – all these things come into play.
Is the GA pay in the locker room a problem? When you get a guy like Amaechi Igwe who's making about $105k and on the bench and Jeff Larentowicz is making $30k-plus every week and starting, is that a problem?
I think it is. It's going to continue to be a problem, but there's always going to be players who make more money than other players and that dynamic is not going to change. What is hard for all the players to swallow is, why are these younger guys who haven't proved anything getting this money?
The challenge is how to keep players here in the MLS. The only way is to overpay a little bit to keep them. I don't think that problem is going away. I think it's potentially going to get worse until the League begins to pay all players better.  European teams are paying close attention to our young players and if we want to try and keep the best ones here to grow the MLS, then the GA compensation levels are justifiable.
How far away do you think that is?
Hopefully, 25 days. I think that's coming, but it's not coming real soon. It's going to be slow.
2010 Generation adidas class: Corben Bone, Zac Herold, Sean Johnson, Danny Mwanga, Amobi Okugo, Ike Opara, Tony Tchani, Andrew Wiedeman, Teal Bunbury, Dilly Duka, Blair Gavin, and Jack McInerney.
Last year's class of nine Generation adidas players produced number one overall pick, Steve Zakuani and 2009 MLS Rookie of the Year Omar Gonzalez.
L.E. Eisenmenger writes for a variety of outlets including covering Boston soccer for The Examiner.  Contact her at eisenmenger@soccerlens.com.