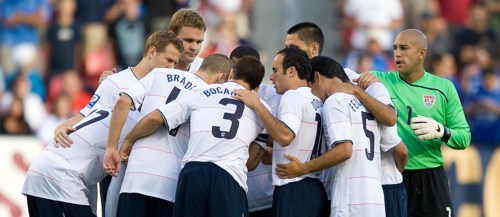 By Michael Lewis - NEW YORK, NY (Feb 1st, 2010) US Soccer Players -- Let's say you're a gifted American soccer player who seeks greater challenges. What's the next step? Why of course, it's the great leap across the pond to Europe, where riches, treasures and fame just waits. As many players from this country have discovered, that's not necessarily the case, at least not immediately.
In Major League Soccer, the top US players are among the big fish in a small pond. After a number of years, many of them will earn decent money. Some players might end up making around $200k a year. That's a dream salary for most Americans, but at the same time a professional athlete only has a short career window.
So, it is a natural desire to make the move for larger salaries in Europe. Who could blame any player if they have an option?
Making the European move, whether it is in England, Portugal, Germany or wherever, doesn't come with guarantees. A player has to be good and has to be lucky. Even a high transfer fee that dwarfs the entire payrolls of MLS clubs isn't necessarily an indicator.
Just ask Jozy Altidore (Hull City), Freddy Adu and Eddie Johnson (both Aris FC, Greece) and several other Americans who are trying to break into the starting lineup for their respective clubs and play regularly. There is a thin line because no one including high value stars is promised a job. You have to prove yourself in practice every day. If you're fortunate enough, you get the next test, in a game week in and week out.
It's different in MLS. Small rosters and small payrolls normally means that spending on a player means playing that player. Though no MLS coach would talk guaranteed positions based simply on salary, the reality is that they don't have as many options as their European counterparts.
In Europe, players are challenged in practice every day. You don't cut it in practice and you find yourself on the bench or worse -- you don't dress and helplessly watch your teammates from the stands, the biggest downer of them all.
Yes, the money isn't bad. But it should be more than that, much more. Players usually only get the one chance at a big pay day. All know they only have a few top earning years.
For any elite American player, the expectation is that they play for their MLS team when healthy. That's never been the case overseas. Even with the lengthier schedules for most European clubs, a player can see more game time in MLS simply because they're playing whenever their club takes the field.
Americans struggling for playing time in Europe isn't new. It's been going on for nearly two decades, ever since the players from the 1990 World Cup team took their first steps and kicks on European soil.
Even former US National Team captain John Harkes had to pay his dues when things happened that were out of his control.
He joined Sheffield Wednesday (England) in 1990 with Ron Atkinson as manager. But Atkinson left the club for Aston Villa in 1991 and Harkes' playing time suffered a bit under new coach Trevor Francis before proving himself a valuable member of the 1993 English F.A. Cup runners-up (to Arsenal). Harkes wound up spending six season seasons in England before joining DC United for MLS's inaugural season.
The lesson here? There is no handbook or only one way on on how to succeed, although picking the right time, team, and league is important.
Signing with Real Madrid or Manchester United shouldn't be the short-term goal of a player, but rather playing in a league against those type of clubs should be. If a player is good, he will stand out and be noticed by those teams and other clubs. A player might get a better deal from one of those middle-of-the-table teams rather than the elite ones.
For example, US international goalkeepers Kasey Keller and Brad Friedel played a lot of games for clubs not normally associated with European places. Friedel started his European journey with a big club, Liverpool, but made his mark as one of the best keepers in Premier League history with Blackburn. Keller chose to join the Bundesliga's Borussia Moenchengladbach knowing they were going to struggle against relegation even though he had other offers.
US midfielder Michael Bradley went to the Netherlands first and set scoring records for Heerenveen before joining Keller's old club Moenchengladbach.
These days, former Houston Dynamo midfielders Ricardo Clark and Stuart Holden are trying their luck across the Atlantic with Eintracht Frankfurt (Germany) and Bolton Wanderers (England), respectively. Holden made $34,728 last season, though MLS reportedly offered him a ten-fold increase in salary. The economic reality mixed with an opportunity at a low-lying Premier League club was simply too good to pass on.
Still, a number of players have made that move only to find limited playing time and decreasing options. Going overseas is always a gamble, but in a World Cup year there's the risk that it moves a player down the depth chart based on actual games played.
That's what led Kenny Cooper to seek a rest of the season loan from 1860 Munich to Plymouth Argyle. Recovering from injury, he wanted the most time to impress US National Team coach Bob Bradley. Without playing, that becomes very difficult.
We all know the upside of the European environment. Yes, the players will be pushed, forced to stretch more than they would have be asked in MLS. They have found themselves in a total football, err, total soccer, environment -- 24/7. But if they have serious aspirations of entering the World Cup training camp in top-flight shape (mental and physical), they need playing time.
So, did they make the right decision in the short term? That's what led Kenny Cooper to seek a rest of the season loan from 1860 Munich to Plymouth Argyle and why Landon Donovan chose to spend his off-season playing for Everton in the English Premier League.
Only time will tell.
Michael Lewis covers soccer for the New York Daily News, MLSnet, and BigAppleSoccer.com. He can be reached at SoccerWriter516@aol.com