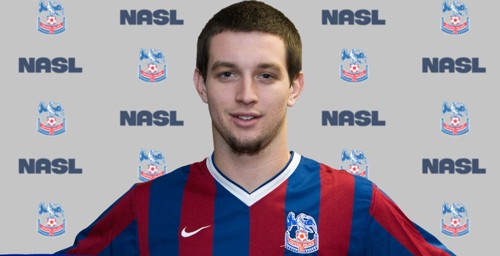 By Clemente Lisi – BALTIMORE, MD (Mar 11, 2010) US Soccer Players — Korey Veeder may be one of the most talented American youth players you've never heard of. Not only is Veeder a member of for the US Under-18 team, but now he's hoping for an opportunity to make a name for himself in England.
The Florida native has spent the past few months training with USSF Second Division team Crystal Palace Baltimore before he plans to head over to the London club Crystal Palace. Pending an EU work permit, Veeder, a midfielder, will be able to train with the club's Under-18 academy.
Veeder was a member of the United States Under-17 National Team residency program and remains a member of the U-18 pool. HE was named to the NSCAA All-American Team in 2007 and 2008 when he played with the Clearwater Chargers Soccer Club.
USSoccerPlayers spoke with Veeder about signing with Crystal Palace Baltimore, his impending move to England and what he hopes to accomplish once he gets there.
What does it mean for a teenager such as yourself to sign with Crystal Palace Baltimore, which has ties to an English club and will give you an opportunity to someday train and play abroad?
I think it's great and it's a good chance for me to make my dreams come true, and maybe one day play in England with Crystal Palace.
What does it mean for an American to play in Europe?
I think it's a fantastic achievement because it's so hard to get an American player over there these days.
Do you think someone like you needs to have played college soccer or in Major League Soccer before moving to a foreign club?
No. I think all the international play I've had with the US U-18 National Team was good experience, and playing against kids that have signed with the big clubs' youth programs. So I think I will be fine.
There are many Americans playing in Europe, most notably in England. Do you think you have what it takes to succeed in such a competitive environment?
Yes, I think I do. If I work hard every day in training and get stronger, I'll do fine.
You have been a member of the US Under-18 team. Is playing for the U-20 team the next step for you?
Yes, I do see that as my next step. I think if I work hard and do well I can make it with the hope of getting a call into the 2011 U-20 World Cup.
Is the 2014 World Cup – when you are just 22 – realistic for you to try and make it onto the US National Team?
It'll be hard. I know I'll be playing overseas with guys that are a lot older than me, but the World Cup is with the best players on the planet. But if I work hard every day, and get stronger and faster, I think I can make it.
What American players did you grow up admiring?
Landon Donovan. He has great speed, he's good at taking defenders one-on-one and he finishes his chances on goal.
What foreign players did you grow up admiring?
Sergio Ramos. I think he's the best right back in the world, moves the ball well and has great speed to get up an down the right side.
Crystal Palace Baltimore coach, Jim Cherneski, who also serves as the head North American scout for Crystal Palace in England, has shown great faith in you. What has he said to you regarding your abilities and why you were signed?
That he sees a lot in me. That I will become a good player – get stronger and faster if I work hard.
You will be sent to Europe to develop your playing abilities. What areas do you think you need the most work on?
My speed and strength. Those are the most important things right now.
Clemente Lisi is the author of "A History of the World Cup: 1930-2006." Contact him at: CAL4477@yahoo.com. Follow him on Twitter at: twitter.com/ClementeLisi