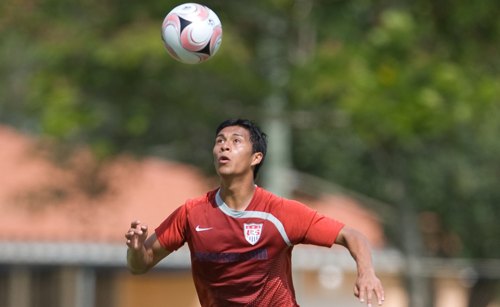 By Clemente Lisi – PHILADELPHIA, PA (Mar 18, 2010) US Soccer Players — Defender Michael Orozco is ready to make his MLS debut next week. The 24-year-old center back – on loan to the expansion Philadelphia Union from Mexican club San Luis – may be new to the league, but is no stranger to American soccer.
Born in California to Mexican parents, Orozco received his first full cap with the United States National Team in 2008. Prior to that, he was a star on the US Under-23 team that competed at the 2008 Summer Games in Beijing.
Orozco may have been born and raised in this country, but was noticed seven years ago, at the age of 17, by Mexican club Necaxa and invited for a tryout. He eventually signed with the club, but never saw any first-team action. In 2006, he signed with San Luis, another Mexican first division team, and went on to play in 70 games over three years.
Although Orozco could have opted to play for Mexico because of his parents' heritage, he opted to play for the country of his birth. In 2008, he earned his only cap to date in a 2-1 loss to Trinidad & Tobago in World Cup Qualifying and has taken part in several US camps since that appearance.
I spoke with Orozco ahead of the Union's season-opener next Thursday against Seattle Sounders FC, where he discussed his move to MLS, his time with the US Under-23 team, his Olympic experience and his future goal of someday playing at a World Cup.
You've made the move from Mexico's Primera Division to Major League Soccer. What do you think are the biggest differences between both leagues?
The speed of play is just different. In Mexico it was slower and more technical. Here in the US it is more fast-paced, physical and more like the European style. I actually like the level of play in MLS because it will help me improve to learn two different styles of soccer. I've just got to put it into practice.
The fans in Philadelphia are absolutely crazy about this team. How excited are you about playing for the Philadelphia Union?
I'm really excited just to see the fans at the draft and what I hear from my teammates. I'm just excited about going out there to meet them all and get to know the city and great things will come to us.
What are the chances of Philadelphia winning the MLS Cup this season?
We're not thinking about winning anything right now. Our mentality is to focus on playing Seattle in our first game, win and prove ourselves game-to-game. We're a team that will fight every game. It will not be easy for anyone.
You were a standout on the US Under-23 team. Where do you see yourself in the National Team picture?
I'm just working hard right now with the Union and focusing on them. If the chance comes to go to the World Cup, I will be more than glad and happy to represent the US at the World Cup.
Have you spoken with coach Bob Bradley about your chances of making the US team?
Not lately. I'm here and willing to talk with him. Right now, I'm just focusing on Philadelphia and nothing else.
How do you think the US will do in South Africa?
I'm pretty sure they will go far. They have great players. Their style of play is awesome and getting more like Brazil and England. We just have to work hard and tell ourselves that we can get to a World Cup final.
You represented the United States at the 2008 Beijing Games. What was it like to be a US Olympian?
It was exciting. It makes you want to cry every time I look at pictures and videos of it and think of my family being there. To represent the US there was awesome. It's something I can't explain. It's something I tell my kids about someday and show them my jersey.
What other Olympic events – winter or summer – do you enjoy watching most?
Track and field, you know. There's always good talent there. I like it. There are people breaking records left and right every day. That's something that I like watching.
What players did you admire most as a child?
It was a Mexican player and goalkeeper who played for Pumas named Jorge Campos. If they were losing or something he would play center forward. It was awesome just watching a player do that as a goalie and a field player.
Who was the toughest forward you've ever had to mark in your career?
My career was based in Mexico. It was Salvador Cabanas. He was just a smart player, short, stocky who could hold the ball and score. He was one of the best forwards I ever had to play against.
Clemente Lisi is the author of "A History of the World Cup: 1930-2006." Contact him at: CAL4477@yahoo.com. Follow him on Twitter at: twitter.com/ClementeLisi