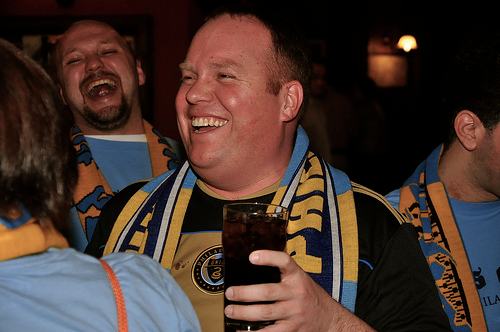 By Clemente Lisi – PHILADELPHIA, PA (Mar 24, 2010) US Soccer Players — What started out as a small group of guys in a Philadelphia bar turned into a movement that took over a city and led to the creation of a Major League Soccer team. That's the story of Sons of Ben, a fan group that now numbers nearly 6,000 members.
One of the people behind the movement is Bryan James. He, along with friends Andrew Dillon, and Dave Flagler, founded the Sons of Ben on January 17, 2007 – the 301st anniversary of Benjamin Franklin's birthday.
The club's logo is a tribute to the City of Brotherly Love's rich colonial past. The oar and the scythe represent Philadelphia's nautical and agricultural roots, while Franklin's likeness is wearing a pair of bifocals (that he invented) and a crack in his skull resembling the one along the side of the Liberty Bell. Group motto – Ad Finem Fidelis – is Latin for "Faithful to the End." And, boy, to these guys have faith in their team.
In January, the group gave the league a glimpse of just how passionate they are by being by far the loudest fans at the MLS SuperDraft, which was held in Philadelphia.
I spoke with James as he prepared for Thursday night's MLS season-opener and the debut for the Union at Seattle to discuss the team's inaugural season, tailgating parties, the group's love of soccer, and how the Sons of Ben are the latest bunch of passionate Philadelphia fans to make their voices heard.
The Philadelphia Union has finally taken shape as a team. What are your thoughts regarding the roster?
I'm still in awe that there is a team. I'm really excited about our prospects for the first year. When you look at what Seattle did last season in their first year and winning the US Open Cup, and what the Chicago Fire was able to accomplish in 1998 in their expansion year, I'm confident we can go far. Just look back at that and I realize the Union can achieve something this year. It's going to be amazing.
What do you think of the work Union coach Peter Nowak has been doing in preseason? He is a big believer in the team given that he gave up a position with the US National Team for another shot at MLS glory.
I have a very high opinion of Peter. He's been a winner wherever he's gone, including with that Fire team I mentioned earlier. His focus on defensive players and offensive talent has made for a balanced team. I'm just really impressed by what he' s been able to do.
The team's first regular season game is at Seattle. What's the plan?
We've got 70 tickets for that game because that's all (Seattle) would give us. As for the first home game, at Lincoln Financial Field, it's going to be a little different. The seats won't line up the same way, as it will at our new home in Chester later this summer. It will be a challenge, but we are excited about it.
Did you ever imagine in your wildest dreams back in 2007 that Major League Soccer would be so receptive to you and your group?
No. They were recently talking about our group on Philadelphia sports radio WIP. For years, WIP was the home to Eagles fans, Phillies fans, 76'er fans and soccer haters. Now, not only is soccer being talked about on WIP, but also they're mentioning our group and dropping the name Sons of Ben. The city and the league have embraced us.
How many members do you currently have?
We're now up to 6,000 members. It's amazing. It's surreal to me.
And you started with how many?
It was just me and two other guys.
Philadelphia sports fans are notorious for being loud and passionate. Have you modeled your group after European fan clubs or ones from Philadelphia?
I think we are going to be Philly all the way. We're standing for 90 minutes. The fans are totally into it. I think in that way we are also mixing a combination of South American and English traditions as well.
Tailgating is a big part of being a fan in this country. Do you have any signature dishes?
No, not really, but we are the only fans who have a tailgate with our own chef who is also a member. We've only done this one other time, during the US-Honduras game at last summer's Gold Cup in Philly, and it worked well. We had hot dogs and he got mad when we ran out too early. I think we'll have more choices as the season progresses — possibly some cheese steaks and roast pork.
Are women and children part of your group?
Absolutely. However, it comes with a surgeon general warning: Not all the language the kids may hear during the game is to be repeated. It costs $30 to join, plus $245 for season tickets for 17 games. That also includes a special membership jersey and a membership card.
Did you grow up loving soccer?
I missed out on the Philadelphia Fury as a kid. I was about seven or eight, but I wasn't exposed to them. I was a Phillies and Eagles fan. The Phillies were busy making the playoffs and winning the World Series. I played for a couple of years as a kid and I didn't really like it. There's nothing like having a kid play 11-on-11 on a big field for 90 minutes and have him touch the ball just once to make him turn away from the game. I always watched the World Cup. I guess now I'm making up for lost time.
Clemente Lisi is the author of "A History of the World Cup: 1930-2006." His new book "The US Women's Soccer Team: An American Success Story" will be available in June. Contact him at: CAL4477@yahoo.com. Follow him on Twitter at: twitter.com/ClementeLisi