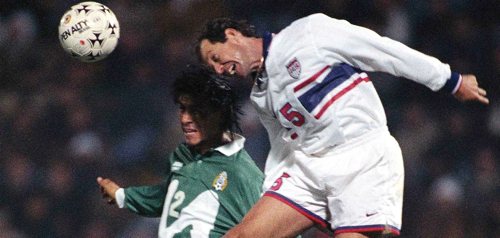 By Clemente Lisi – NEW YORK, NY (Mar 4, 2010) US Soccer Players — Thomas Dooley became a US player almost by accident. After years of playing in the Bundesliga, and failing to get the call-up to represent Germany, Dooley finally got a chance to play for the United States in 1991.
Just as US Soccer began scouring the world looking for eligible players to don the American jersey ahead of the 1994 World Cup, Dooley, the son of a German woman and an American serviceman he had never met, got a knock on his door in 1991.
A year later, Dooley was naturalized and earned his first cap against Ireland. Under coach Bora Milutinovic, Dooley learned English and became a regular in the lineup and played every single minute of every game at USA '94. After John Harkes failed to make the squad participating at the 1998 World Cup, Dooley was made captain as the Americans went an inglorious 0-3 and finished last in the 32-team field.
Dooley, who retired in 1999 after making 81 appearances for the US and scoring seven goals, will be inducted into the US Soccer Hall of Fame later this year. I spoke with Dooley, now 48, recently to discuss his National Team career, what it was like to play in two World Cups, and his ambition to someday coach a Major League Soccer club.
You will inducted into the US Soccer Hall of Fame this year. How does it feel to have you achievements as a player recognized along with the likes of Pele and other US soccer greats?
It is overwhelming. This means lot to me of course. They are saying I was a part of a group who developed or changed the game of soccer in the USA. That is a huge compliment. Being honored next to world-class players likes Pele and Franz Beckenbauer is amazing, and it doesn't get any better than that.
Before coming to the United States, you were having a wonderful career in Germany. What was it like to play in the Bundesliga?
It is like playing in the NFL – eating and breathing the real thing and enjoying professional soccer daily for 12 months. To deal with a competition day in, and day out, is of course a lot of fun. To be able to deal with incredible fans, the pressure from those fans, the pressure from the media and the pressure from the opponents, is what we are really missing here in the US.
Why did you decide to come to the United States?
I always loved America even though I have never visit the country. What I knew had come from TV and some books. Suddenly, I got invited to play for the US and the World Cup. Actually, that was a very, very easy decision for me, but I asked my step-dad about the decision first. His opinion was very important to me.
Good thing he said it was a good idea to come to the US. Did you ever think you would play at the World Cup level?
When I played in Germany's Bundesliga, I was hoping to get a chance to join the German National Team. That was my focus… to play in a World Cup. I came close three times. I should have been invited to training camp. Every time after they talked to me I got injured. Two times I tore ligaments in my left and right ankles. The third time it hit me even harder. I broke four rips and my lung collapsed. When [US Soccer] found me in Kaiserslautern and asked me to play for them that was the first time I really thought about playing in the World Cup.
You played for the US at the 1994 World Cup when it took place here. What was it like to see such enthusiasm for the sport in a country not known for soccer?
As a player in the World Cup, you don't see a lot of the excitement in the stands because you're spending most of the time either in a hotel, in a bus or on the field.
In the beginning, in 1992 and 1993, we played home games and still had to play in front of fans that were rooting for the other country. Actually, it felt like we always had an away game. I think the first time we filled up the stadium with Americans was at the US Cup in 1993, and then it got better and better from there.
During the World Cup in 1994, on the way from the hotel to the daily training sessions, we had to pass some basketball fields. I always looked out the windows and was sad. I thought, come on guys the World Cup is here in the US and you don't even know it or care for it.
After we won against Colombia at the Rose Bowl, the next day we passed the court and all of the basketball players stopped playing immediately, walked to the street and applauded and cheered for us. That was an unbelievable feeling for me.
The US wants to host the World Cup in either 2018 or 2022. Does the US have a chance to host again in your opinion?
I think the USA would be a great place and I'm sure it would be an unbelievable adventure for the players and the fans worldwide. I would love to be involved and help in anyway.
MLS has come a long way since you played for the Columbus Crew and the NY/NJ MetroStars. Do you still follow MLS?
Yes, I'm following MLS very closely. Chivas USA and the Los Angeles Galaxy are only 35 minutes away from my home. We have more international players who have lifted the level. Also, college players are better than before.
Players can see that they can make a living from playing soccer and they spend more time with soccer than they did before. The mainstream media is more involved and there is more soccer on TV. This is very important. More soccer-specific stadiums are being built. Everything has improved, but I think that the distance between us and the international level is still the same.
What was it like to play for the US National Team, especially at first in 1992 when you spoke very little English and didn't know any of your teammates?
I was getting goose bumps. Everything went through my mind, thinking about my family, how much I loved the country and now I'm staying here and representing it. I can't explain it. It was a great feeling. You just don't want to disappoint anybody. The language is secondary.
What have you been doing since you retired nearly 10 years ago?
I'm working with Match Analysis, a company with an unbelievable future. Our success story is phenomenal and we are just started to reach out to the international market. In short, with Match Analysis you win more games. I coached a team in the 2.Bundesliga and was a sports director in the 3.Bundesliga. I also got my FIFA coaching license and I'm scouting for the USSF. I started the American Soccer Tennis Organization and have written four books with my partner, Christian Titz, from the Dooley Soccer University. The first 2 books are coming out in April.
Any chance you will coach in MLS in the future?
I hope so. I'm ready to dedicate my time 24/7 to a professional coaching job. Yes, I would love to get back into coaching. I want to change the style of play and start my coaching carrier in the US. Hopefully, I will get a chance to prove that in the near future.
Clemente Lisi is the author of "A History of the World Cup: 1930-2006." Contact him at: CAL4477@yahoo.com. Follow him on Twitter at: twitter.com/ClementeLisi