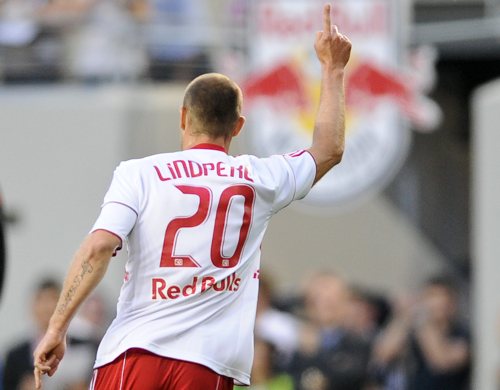 By Clemente Lisi – NEW YORK, NY (Mar 29, 2010) US Soccer Players — Major League Soccer may have been a league started with the concept of improving American players, but it has increasingly become a place for foreigners to showcase their skills. MLS opened in 1996 with the intent of helping US-born players grow and prosper. Entering season 15, and the League has proven to be successful at doing just that. More Americans have moved on to play abroad and the US National Team routinely ranks among FIFA's top 20.
While American players like Tim Howard and Clint Dempsey have enjoyed success in England's Premier League, many mid-tier European and South American players have decided to come play in this country.
"I came to America to gain more experience and try something new," midfielder Joel Lindpere, a 28-year-old Estonian international who signed with Red Bull New York this year, said. "I wanted to experience a new country. I wanted to experience playing in a league outside Europe."
For Lindpere, who scored the first-ever goal at the opening of Red Bull Arena against Brazilian club Santos and the game-winner this past Saturday night in a 1-0 victory over the Chicago Fire in the season-opener, moving to New York is typical of foreign players who have entered MLS this year.
"I have been very impressed by the facilities and everything I've seen," said Lindpere, who signed with the Red Bulls after playing three seasons with Norway's Tromso IL. "The level here is very professional."
Unlike the halcyon years of the North American Soccer League or the early days of MLS, foreigners who come to play in this country now tend to be younger. The era of signings like Italian goalkeeper Walter Zenga or German defender Lothar Matthaeus, elite players nearing the end of their careers, seems to have passed. Red Bulls striker Juan Pablo Angel and Columbus Crew midfielder Guillermo Barros Schelotto are examples of players who have enjoyed tremendous success while helping the league prosper.
Over the past three years, the League has tried to raise the level of play by trying to lure more quality foreigners. The creation in 2007 of the Designated Player Rule – where a club is allowed to sign one high-profile player over what's allowed by a team's salary cap limit – paved the way for the Los Angeles Galaxy to ink the much-ballyhooed deal with David Beckham.
That same year, MLS also changed the rule regarding foreigners in order to allow for one extra international-based player per team, bringing the total to eight per roster. Foreign-born players who earn a green card or are capped by the US National Team do not count against a team's international player limit.
MLS Commissioner Don Garber said recently that he's looking to expand the "DP" rule to allow each team to sign two.
"Clearly, you're looking for a player that… can give the team relevance in the local market against all competition, but also give us respect throughout the international soccer community that proves that Major League Soccer is serious about building a professional soccer league that at one point can be competitive with the other leagues around the world," Garber said last week during a conference call with reporters.
Overall, MLS had 128 players born in 47 countries outside the United States last season. The league also said that approximately two-thirds of the entire player pool is US-born. Entering this season's first weekend, the league's 16 teams signed 29 foreigners from clubs abroad. Out of those newcomers (which includes little-known Indian forward Sunil Chettri who signed with the Kansas City Wizards last week after coach Peter Vermes recently saw him on YouTube), 16 are from South America, seven from Europe, three from Africa, two from Asia and one from the Caribbean.
MLS continues to draw a majority of players from South America. The Galaxy, for example, signed a trio of Brazilians last December. Those players – defenders Leonardo and Alex along with midfielder Juninho – all hail from Brazilian club Sao Paulo. The trio join another eight Brazilians currently playing in MLS.
Another foreigner expected to shine in MLS this season is Julio Martinez, who is currently on loan to the Fire from Mexican second division team Club Leon.
"I am really happy to be playing for such an important club like Chicago," said the 21-year-old Salvadorian midfielder. "I really think this is a growing league and a place where I can gain confidence over time and grow as a player."
Clemente Lisi is the author of "A History of the World Cup: 1930-2006." His new book "The US Women's Soccer Team: An American Success Story" will be available in June. Contact him at: CAL4477@yahoo.com. Follow him on Twitter at: twitter.com/ClementeLisi