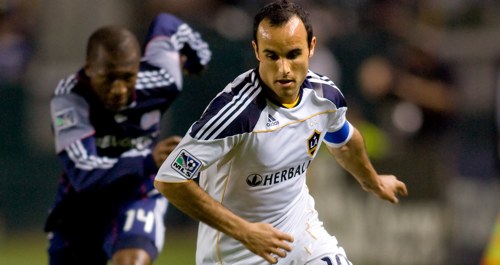 By Clemente Lisi – NEW YORK, NY (Apr 15, 2010) US Soccer Players — Landon Donovan is the face of American soccer both here and abroad. The California native and 10-year veteran of the United States National Team is gearing up for another World Cup this summer, hoping to get America some much-needed respect around the globe.
Donovan has already gotten himself, and the US, lots of attention.
The 28-year-old spearheaded the US at the Confederations Cup last summer, where the Americans took second place, and he was the talk of the English Premier League this season for his amazing performances during a 10-week loan spell with Everton.
Donovan, a veteran of two World Cups, is no stranger to drawing praise and winning accolades. He is the US National Team's all-time leader in scoring and assists and has the most caps of all active players. Winner of the Honda US Player of the Year award for a record six times, the Galaxy star was named MLS MVP last season before his team lost in the MLS Cup final to Real Salt Lake on penalties.
I spoke with Donovan about the current the MLS season, his stint at Everton and his World Cup aspirations this summer.
You came very close to winning the MLS Cup last year. Is winning the title the ultimate goal this season?
Whether a season is successful or not is usually based upon expectations at the beginning of the year. Having missed the playoffs for the three previous years, we can consider 2009 a massive success. That being said, you never want to get to a final and lose. This year, the expectation is to win every time we step on the field. We will be in three different competitions and we think we have a real chance to win all of them.
You will be without David Beckham for the season. How much of a loss is it not to have him on the team?
It's a massive loss for our team. There is no player in the world that can do the things that he can do on the field. Off the field, we are going to miss his leadership a lot. Above all, I think we are all devastated that he is missing out on his last chance to play in a World Cup.
Major League Soccer entered its 15th season this spring. Are you happy with the progress of this League?
I think the League is progressing really well. The level of play is getting better, the fan base is growing and people talk about MLS more and more. We would all like it to be bigger and better, but it's going to take time and I think we are much further along than we could have ever hoped for at this point.
Let's talk about your time with Everton. Did you ever think a 10-week loan could go so well?
I purposely went to Everton without any expectations. I believe that if we don't have expectations, it's hard to be disappointed. I went with an open mind and I was accepted very quickly. The games were incredible – some of the best memories of my career. I really hope I get the chance to go back there someday, whether it's as a player or just a fan.
Do you think playing in the EPL has in any way prepared you to face England at the World Cup?
I think the biggest plus for me was gaining the confidence to play at that level consistently. It's one thing to play one good game against a good team but it's much harder to do it week in and week out. I feel I am now as prepared as I'll ever be to play in a World Cup.
Can we expect to see you with Everton next winter once the MLS season is over?
I'm not sure right now. Obviously, a lot of things would have to fall into place. If they wanted me to come back, I would give it serious consideration.
What are the chances of the US getting past the first round in South Africa?
I think we have a good chance to get out of our group. As we learned last summer at the Confederation's Cup, every point and every goal are important in a tournament like this. Our focus is on the first game against England and then we will adjust accordingly.
The US had a great Confederations Cup last summer. Do you ever reminisce about the final against Brazil and think how close you guys came to winning a FIFA trophy?
I don't think about the past too often. There's not a lot to gain from that. I think we learned our lesson from that game. We still came away with our heads held high and, most importantly, we now have the confidence that we can beat any team in the world on a given day.
What teams do you think are favored to win the World Cup?
I would predict that either Spain or Brazil will win the World Cup. Those are the two most talented, most dynamic teams in the tournament and I would be a little surprised if one or both of them weren't in the finals.
American players often don't get much respect abroad. Do you think your abilities and recent successes have helped changed that perception?
I think all of our players that are playing in the EPL are helping the perception of the American player. MLS is now producing players that can play anywhere in the world and people no longer shun US Soccer the way they used too.
Clemente Lisi is the author of "A History of the World Cup: 1930-2006." His new book "The US Women's Soccer Team: An American Success Story" will be available in June. Contact him at: CAL4477@yahoo.com. Follow him on Twitter at: twitter.com/ClementeLisi