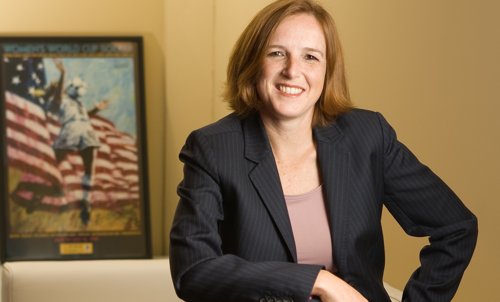 By Clemente Lisi – NEW YORK, NY (Apr 8, 2010) US Soccer Players — There isn't anyone out there who more than Tonya Antonucci wants to see Women's soccer succeed in this country. As WPS commissioner, Antonucci knows that successfully running a league during tough economic times is an uphill task.
In 2003, the Women's United Soccer Association – started after the US's amazing Women's World Cup win in 1999 – folded after just three seasons and an initial $40 million investment. Last year, Women's Professional Soccer – with Antonucci at the helm -was this country's latest attempt at a topflight Women's pro league.
Antonucci is no stranger to running a successful business. Before heading WPS, she spent seven years with Yahoo! and later served as general manager of the site's partnership with FIFA in connection with the 2002 World Cup and 2003 Women's World Cup. She's also no stranger to soccer. Antonucci was a standout high school player and member of the US Junior National Team in 1984. Antonucci is also a political science and economics graduate of Stanford University, where she co-captained the team in her senior year.
Overall, WPS was a successful first step in trying to establish the league as one of the best Women's circuits in the world, while at the same time trying to contain costs. I caught up with Antonucci ahead of the start of the league's second season on Saturday, where she talked about how WPS hopes to remain successful and how she hopes to avoid mistakes from the past.
The league couldn't have started at a tougher time last year given the economy and deepening recession. Did the league, in your view, fare well in its inaugural season despite those factors?
There are a lot of metrics to measure success for our first season. The product on the field was second-to-none and we quickly demonstrated that we were the best Women's soccer league in the world. There was parity for the most part through the whole league and games were close – 70 percent of them decided by one goal or less. Attendance was right about where we had hoped at 4,600 and TV ratings were on par with other leagues on Fox Soccer Channel so we were happy with that. Sponsorship was tough in those economic conditions. We had hoped for five or six national partners and came up with half as many. Despite all that, we laid a solid foundation for future success and slow and steady growth over the next few years. That was crucial.
Has the league's business plan and salary cap made it so that even in bad economic times the league can do better than say the WUSA did?
The fact that we are franchise model, with teams owned by individual entrepreneurs who have ties to the local markets and soccer grassroots communities, has been very beneficial in preparing for this upcoming season and our ability to make adjustments heading into season two. We contained costs, looked for efficiencies and learned from season one — so that season two should see improvements across the board from the first year. That wasn't necessarily the case in the previous league.
The shutting down of the Los Angeles Sol, one of the league's most popular teams, came as a shock to many. Was that a sign of more trouble to come or is it a unique situation?
It was a unique situation in terms of the ownership that was in place there. AEG was more of a corporate-style ownership group than we currently have in other markets. We really appreciated AEG's help in getting an initial foothold in Los Angeles for WPS. Unfortunately, in the end, when we were on the verge of selling the team, we just couldn't finalize the deal with the new ownership group in time to keep the Sol operating for 2010. We truly think Los Angeles is a viable market for WPS, we just need to find the right ownership group committed for the long-term.
The games last season were technically great, but overall the scoring was low. Were you disappointed with that?
As I said, games were close with over 70 percent coming down to the final whistle. That kept it exciting and that's the upside to the lower scoring. But of course we'd love to see some more goals in 2010. Two of the most exciting games last year ended 4-3 and 4-4. It's tough in the first year to have teams come out offensive from the get-go. It's instinctual in soccer for a new team to play conservatively, so I don't think soccer insiders should be that surprised by the initial lower scoring levels. We'll see where it comes out in the 2010 WPS season.
How important was having the WPS draft in Philadelphia the same week as Major League Soccer held theirs?
The WPS Draft has become one of our tent pole events each year for the league. Our turnout from fans, players and media was double what we had in 2009. Anyone who was there felt the energy of this league going into the 2010 season. It was an exciting event to be part of and we have to thank the NSCAA for all that they have done to help us along in making it a great event and helping us grow the event from one year to the next.
Brandi Chastain has been cut from the FC Gold Pride roster, although she has said in interviews that even though she's 41 she still wants to play. Is there room for someone like her to play in your league?
Personnel and roster decisions are entirely up to the teams and their coaches and GM's. As a league, I want to see the most competitive league and best Women's soccer in the world on the field every day. Whether that means players with talent, with experience, with pure athleticism, with leadership qualities – it can be any number of things. But I leave that up to the teams, which know best in terms of putting a great team together of top players.
The 2011 World Cup is a little more than a year away and I know you are a big fan of the international game. Does the US have a chance to win it all?
With recent wins over Germany and the gold medal at the 2008 Olympics, the US team certainly goes in with a little extra edge then the other powers. But Women's soccer is getting deeper every year. We're incredibly proud of the international players we have in our league. They had some fantastic moments last year for our fans. It's exciting to see the international representation go from 13 to 19 players in WPS this upcoming season – a testament to our league being the best in the world. I'd have to think a lot of the world will be watching this season to see how their World Cup rosters might take shape given the performances in WPS in 2010.
Brazilian superstar Marta still plays in the league after going from the Sol to Gold Pride. How important is it to have a player like her in the league?
Attendance rose by 25 percent on the road wherever Marta played. She is the four-time FIFA World Player of the Year. At the same time, we have many great players out there who make this an incredible league of high quality teams. Marta certainly helps with marketing and media, but we have dozens of other players out there as well including all the stars of the US National Team that are often fan favorites wherever they play.
This year's schedule shows that you'll be playing through the 2010 World Cup. Do you thing ratings and attendance will suffer while everyone else will be tuning into what's happening a half a world away in South Africa?
All of our television games are in the evenings after the games in South Africa are over, so we're not too worried about that. If anything, we think we might see a slight bump with all the enthusiasm about soccer this summer. In addition, our teams looked carefully at the scheduling of their games to make sure there weren't any major conflicts with games on TV that might be of major interest to the US fans. I think there could be some areas where WPS can actually capitalize on this summer of soccer – including PR or general grassroots interest and enthusiasm for the sport.
The WPS All-Star Game is slated be held on June 30. How did you determine where it would be played?
Atlanta, with its wonderful new stadium built specifically for WPS, will be a fantastic venue for our second WPS All-Star Game. We decided to try something different this year with our format and move the date to mid-season to provide some separation from our WPS championship (game). It should make for an incredible mid-summer festival of the world's best soccer league for women.
Clemente Lisi is the author of "A History of the World Cup: 1930-2006." His new book "The US Women's Soccer Team: An American Success Story" will be available in June. Contact him at: CAL4477@yahoo.com. Follow him on Twitter at: twitter.com/ClementeLisi