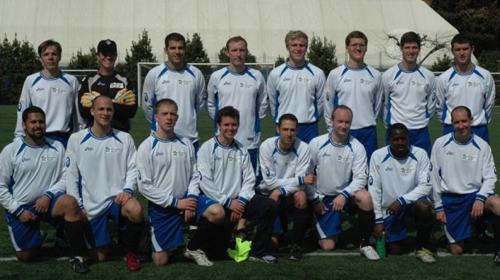 By Clemente Lisi – NEW YORK, NY (Apr 1, 2010) US Soccer Players — Diego Maradona claimed that "the hand of God" was responsible for him punching the ball for a goal against England at the 1986 World Cup. Brazilian striker Kaka isn't shy about ripping off his jersey to reveal an undershirt that reads, "I belong to Jesus" while pointing upwards after scoring yet another spectacular goal. Players routinely make the sign of the cross or kiss their gold crucifixes dangling from their chains during games.
Soccer is a game loaded with religious references. Therefore, it isn't hard to believe that a Rome-based soccer league composed of seminary students studying to be priests has the Vatican's backing. Indeed, the Clericus Cup may be the only tournament in the world that mixes soccer with the surreal sight of screaming, flag-waving nuns shouting from the sidelines. Although the league has amateur status, game highlights are shown on Italian TV and games have been officiated by Serie A referees.
The annual tournament, now in its fourth season, also features an American team made up of future priests who attend the Pontifical North American College. The team – known as the North American Martyrs and the only side with a majority of Americans on the roster – got off on the right foot in February with a 5-4 win over Brazil following a shootout in the season-opener.
The Americans, who currently have points 12 points from five games, are aiming for a playoff berth and a shot at the May 22 title game. The season resumes next month following the Easter break.
The Martyrs have fared well at the Clericus Cup in the past. Last year, they lost in the championship game to Italy's Redemptoris Mater and in 2008 finished fourth. Defender Victor Ingalls is a second-year seminarian from Alabama who plays for the Martyrs. I recently interviewed Ingalls about the Martyrs' title chances, what the tournament hopes to teach him and his fellow seminarians and whether the Vatican will ever field a pro team.
Where did a 25-year-old from Alabama who is studying to be a priest learn to play and love soccer?
I started playing soccer through the YMCA when I was about 6-years-old. It was my favorite sport as a kid. I stopped playing for a couple years once I started playing football, but picked it up again my sophomore year of high school by joining the school team.
The Clericus Cup has grown into a big deal, especially in Rome and among that city's Catholic community. Can the Americans win it all this year?
I think we definitely have the potential to bring home the Cup this year. The guys have been training hard and really are committed. I am really impressed by the effort and the camaraderie of the guys this year. It is a great group. If we can stay focused and play well each Saturday, then yes, I believe we'll have that Cup come May.
Are you expected to handle losing any differently than a guy who is not studying to be a priest?
Yes, I think so. Being a Christian itself gives one a different orientation in life — dedicated to love of God and others. It widens your horizon beyond living, striving, studying, and competing, just for your own self-gain, interests or aggrandizement. Especially as men studying to be priests — representatives of Christ and his Church — we really must work hard to keep this reality in the forefront of our vision and live accordingly. So when we lose, sure, we are disappointed on one level. But our disappointments in life never trump the joy and hope we have because of our faith, nor does it ever trump our life's mission to love our neighbor, and more so, our enemy.
It seems from the number of yellow and red cards handed out last season that passions can run pretty high. You agree?
Yes and No. Yellow and red cards are based on a lot of variables. The passions of the players are just one of many. Another big variable would be who happens to be officiating the game on any given day. Each ref has a different style and a different sensitivity to the physicality of the game. In the end, every call is subjective and the refs can't see everything. Nonetheless, the refs have to make decisions as best as they can and we as players have to respect their decisions, raising our disagreements in a charitable, controlled manner.
The league uses a blue card, in addition to the usual yellow and red, which is like a hockey penalty that allows a player to sit out for five minutes. Do you think something like that would work at the World Cup level?
I think it could if refs used it well. Sometimes guys just need to cool down. It happens. Just like in daily life, for whatever reason, we are bound to lose our cool, especially in tense moments. It could be a way for everyone involved to be more accountable to one another. If used correctly, it could really help to develop a charitable, communal spirit.
Generally speaking, are you a soccer fan?
I do like to watch soccer, but I would be lying if I said that I follow it closely. Since coming to Rome I have become a Lazio fan! I enjoy following their ups and downs and entering into the whole rivalry between Roma. Coming from Alabama, college football is king as far as sports culture goes. The rivalry between the University of Alabama and Auburn is part of the day-to-day life of anyone in Alabama. It really is unbelievable. I grew up a big Alabama fan since my dad went to school there and my little sister is a senior there now. They had an undefeated season this fall and won the National Championship!
Certainly, living in Rome has helped stoke some soccer passions. Ever been to a pro game in Italy?
I've been to one game this season to watch Lazio play Chievo Verona.
You guys have some pretty energetic fans, including some dressed as superheroes Captain America and Batman. Who are these people?
These are other seminarians from our college. They are great! The Clericus Cup has brought a great spirit to our college. Many guys have gotten involved on and off the field. For example, Peter Finney, of New Orleans, among others, helped to organize an official booster club for our soccer team this year. They take a lot of time to find costumes, come up with cheers, advertise for our games and organize events for fans and players. For example, it is a tradition for all of the player and official booster club fans to eat dinner together Friday night in our cafeteria. During the meal, we announce the starting line-up and hand out jerseys, cheering for each guy. It really is a blessing to the house and a great experiment in building a joyful community.
Did you ever think when you decided to become a priest that you would be playing soccer in Rome?
I had no idea about that and so much else. But God is good. Entering seminary was a very hard decision for me. I had many fears to face, especially that of the unknown having no idea what all it would entail. But I have never been this happy, fulfilled, and at peace. So I thank God for that and all of His many blessings!
Let's say the Vatican, as some have said in the past, decided to field a team with talented clergyman from around the world for a chance to play in one of Italy's domestic pro leagues or as a national team with the ability to try and qualify for a European Championship or World Cup. Would you go for something like that?
Wow! I am wondering just how that would work. Already, it is tough to fit the Clericus Cup into the busy life of a seminarian or priest in Rome. But yes, I would definitely be interested! Anything to get the Gospel out there. Nice idea.
Clemente Lisi is the author of "A History of the World Cup: 1930-2006." His new book "The US Women's Soccer Team: An American Success Story" will be available in June. Contact him at: CAL4477@yahoo.com. Follow him on Twitter at: twitter.com/ClementeLisi