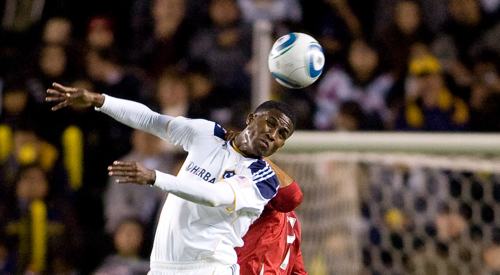 By Michael Lewis – NEW YORK, NY (Apr 13, 2010) US Soccer Players — Talk about incredible timing. Edson Buddle could not have planned his goal-scoring blitz any better. The Los Angeles Galaxy striker has pounded the enemy net for five goals in three games to open the Major League Soccer season. One would assume he's also put himself on US National Team coach Bob Bradley's radar.
Bradley, you might remember, is shoring up his 23-man roster for the World Cup. With several of his top forwards recovering from injury, it's not a leap to think he might consider some new faces late in the process. Bradley is searching for a healthy soul up front who knows the direction of the goal. There's a list of MLS players to consider, but none of them are scoring like Buddle.
For a player with 11 minutes of National Team experience, Buddle has been under the international radar for most of his career. He may or may not be the answer, but he certainly has come out of nowhere to put himself in the conversation.
For his part, Buddle, who turns 29 on May 21st, is keeping his head. He is not expecting anything, concentrating only on MLS.
"At this point, for me to put my attention to that… kind of defeats the purpose of me being here with the Galaxy," he said in a recent interview. "I want to focus on what I have been doing with the Galaxy. (The World Cup) is a long shot in my mind. But it's definitely something that I would like to be a part of."
How much would Buddle love to play in the World Cup?
"It would mean everything," he said. "As a young kid watching the game of soccer at the highest level, I definitely wanted to do that my whole life. When I work out at training, it's something that I always wanted to do. So I put that in my mind. The World Cup is the highest level. Every person who plays soccer says that the World Cup is something you'd love to be a part of."
Buddle has been through it and then some, from that proverbial roller coaster of life and soccer experience. His father, Winston, a former professional player, named his son Edson, after Edison Arantes do Nascimento, who you might better known as Pele. How's that for a heavy burden before you learn to walk, much less kick a soccer ball?
Growing up in Westchester County, Buddle showed he was different, playing with and against children who were older than him. He excelled on the field, eventually selected by the Columbus Crew in the second round of the 2000 MLS SuperDraft.
The day Buddle was grabbed by the Crew, I told then coach Tom Fitzgerald that Buddle was a diamond in the rough, that he would need time to develop.
He teased us, showing brilliance – four goals in a rout of the MetroStars in 2004 (when Bradley was the coach of the Metrostars), but it would take years before he showed what he could do across an entire season.
After leaving Columbus for New York in 2006 with a stop in Toronto for part of the 2007 season, Buddle joined the LA Galaxy. It was a good fit. In 2008, he scored 15 goals. Many observers attributed that to the passing of David Beckham. Last year, quad and toe injuries limited Buddle to five goals in 17 games.
"It was hard for me to get back into rhythm in scoring goals," he said. "We were winning games. We went to the finals and fell short. The year before that we were scoring goals, but we were not winning at all. It was the bitter with the sweet. I learned from it."
And about the rapid start to this season, one without service from Beckham?
Well, instead of returning home to New York in the off-season, Buddle stayed in the LA area while earning his coaching license. Many of his days were spent playing pick-up games with MLS and USL players who live in California. That list included teammate Landon Donovan before he went to Everton on loan and Chivas midfielder Sacha Kljestan, among others.
"I decided to stay out here because I was able to do pick-up games outside," Buddle said. "We were able to get together and play in games outside and try and maintain the fitness in the off-season."
The fact the Galaxy had a much more stable roster under coach Bruce Arena certainly did not hurt. Remember, the Galaxy were a couple of penalty kicks away from capturing the 2009 MLS Cup.
"We have a lot of the same guys from last year," Buddle said. "The chemistry is still there. You know people's tendencies. Last year we had about 19 different faces. This year knowing the personnel makes everything a little bit easier."
Buddle, incidentally, has a career strike rate of 35.7 percent, which is pretty good for an American in any domestic league.
Galaxy assistant coach Dave Sarachan, who has coached and followed Buddle's progress with the Olympic Development Program, has seen his development.
"What we're seeing right now with Edson is a guy who has really matured as a professional," he said. "He suffered a lot of injuries. He put so much into the off-season. His fitness level is so good. Because of that he is moving so much better. He is a guy that he has just the size and strength to really punish defenders. He's moving so well off the ball, doing so well with the ball at his feet, He is in a great zone for himself. At the end of day, center forwards, when they finish 90 minutes, those defenders are beat up and that's one of the qualities that Edson brings. He's a guy who is technical enough to pull off plays."
Whether Buddle gets the opportunity to show that in a game situation at National Team level is an open question.
Buddle is right t be cautious. He is a long shot to get a call up with the National Team, but players have "come out of nowhere" in the past to make the team. Pablo Mastroeni did not perform in any Qualifiers leading up to the 2002 World Cup, yet played a vital role in Korea.
What Buddle can control is his goal total. The more he scores, the more difficult it becomes to leave him out of the National Team picture. In other words, he's doing his job.
Michael Lewis covers soccer for the New York Daily News, MLSnet, and BigAppleSoccer.com. He can be reached at SoccerWriter516@aol.com.