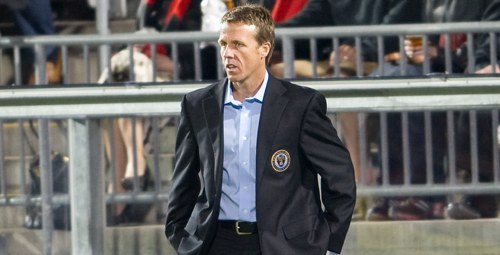 By Michael Lewis – NEW YORK, NY (Apr 23, 2010) US Soccer Players — Slowly but surely, Major League Soccer is acting more and more like leagues all over the World. More teams than not can call their own stadiums home. Game atmosphere has become more European or South American. And now teams are adopting the European manager-coaching style and philosophy. The expansion Philadelphia Union is one of them.
Former Polish international, Chicago Fire standout and D.C. United coach Peter Nowak calls most of the shots as technical director, manager, and general manager. Former US Under-17 coach and National Team assistant coach John Hackworth works the bench and makes some decisions as the coach.
It's too early in the season, to see if Philadelphia's version of the manager/coach division of labor is working, but so far the people involved seem to understand their roles. Hackworth has a say in substitutions and strategy, but he doesn't have the final word. The ultimate decision is made by Nowak, who spent the first game on the sidelines, but has since moved to skybox level.
"We think it makes a lot of sense to have an eye in the sky to be able to read a different point from a better tactical vantage point," Hackworth said. "When you sit a little further up, you can see things that you can't see at field level…."
"Peter is definitely the boss. He and I have a very good working relationship. I wouldn't characterize with us always agreeing with each other. But when we do have differences, we have enough respect for each other that we listen. Ultimately, he keeps it as his decision. So far it has been everything he and I have envisioned it would be. We trust each other immensely. The respect for each other…. We understand each other's strengths and weaknesses."
Hackworth wears a head piece and talks into a microphone. He and Nowak are in constant communication.
"It's not non-stop chatter," Hackworth said. "It's more varied, specific and directed tactically, personnel, or instructional. There is a bit of freedom in there…. He has given me a lot of latitude to make some very important decisions. He has put a lot of faithful in me. That has been extremely helpful. The players know that. They understand this."
This isn't a new concept for either of the coaches. When they were assistants to Bob Bradley with the United States National Team, Nowak would regularly be in a skybox rather than on the sideline. It's one of the things he took with him from a lifetime of lessons from soccer.
"We're trying to build very much a club based upon the European model that Peter grew up in and was a major part of his development from as a young player to the reserves to the first team," Hackworth said. "Everything he saw – Peter's unbelievable experience as a player, as a coach and he has played for.
"Peter made that difficult choice (leaving the National Team). He made it on that based on the fact that he had this opportunity to build something long term…. He thought (this) was the correct way a professional soccer club should be built."
If you're wondering why there aren't any Nowak comments, well, he can be as elusive off the field talking to the media as he was on it. Despite several attempts to interview, Nowak could not be reached.
While on National Team staff, Hackworth and Nowak discovered their soccer philosophies meshed. Hackworth is coach, not an assistant coach, not an associate coach
"This was an extremely difficult move for me to make because I had to leave the World Cup and Bob Bradley's staff," he said. "I had to sacrifice the chance to go to the World Cup as a coach. One of the reasons that I ultimately made that decision was because what Peter and I discussed and what we envisioned this whole program working as."
"I don't care about titles at all. My title is coach and that's from Peter. He was adamant. He calls the shots on the technical side. What he expects me to do is to be the coach. He does a ton of that as well. But in these two game situations, 'You're going to be on the sideline, you make the calls. We're going to talk about it, discuss it. I'm going to give you input. but you're down there. That's why you're there. You're the coach and I believe in you.' I want to re-iterate that I have no misconceptions either because it is Peter Nowak's team."
After games, Hackworth meets the press, which is no problem.
"It comes down to the real simple fact while being different in… our personalities and the way we do things and say things, we have a very similar view of the game," he said. "Ninety-nine percent of the time we see things the same way. We also have bonded in a way that we have talked about the things we like about professional soccer and the things we don't like and the problem areas we have seen. It's a big trust factor."
Saturday's game at Red Bull Arena could very well be the start of perhaps the best MLS derby. Add to the fact that the same two teams will play in a US Open Cup play-in encounter at the same venue Tuesday, you're got the set-up for a classic confrontation
"When went up to Philly for the first time, one thing I quickly learned living in the city was that anything New York, people don't like," Hackworth said. "It's definitely almost an inborn rivalry without the teams taking the field yet."
The games will be a big deal for the players. Two key matches, one League, one cup for the upstart expansion team that against an MLS original that is being rebuilt and improved after an abysmal 5-19-6 season. Hackworth said the intensity should be similar to the 3-2 win over DC United.
"Look, it's no secret that we need to get a good result one way or another," he added. "We feel like we played well and perhaps have made some mistakes that hurt our results in a couple of games…. It just happens to be when we're traveling an hour and a half north, too. Arguably it's going to be our greatest rivalry and we've got to do it twice in four days."
By 6pm Saturday, the Union will have played in three of the League's cauldrons fueled by enthusiastic fans. Philly kicked off its existence with a 2-0 loss to the Seattle Soundersat Qwest Field in Seattle on March 25th. After its home opener vs. DC at Lincoln Financial Field in Philadelphia, the Union ventured into BMO Field in Toronto, dropping a frustrating 2-1 decision to FC Toronto. Now, it's Red Bull Arena.
"Its really incredible that we now have these soccer-specific venues in this country," Hackworth said. "The kind of environment, atmosphere, energy that we have felt from these venues are incredible. It's a dream come true for myself. All of these stadiums have been wonderful."
"Now we get to play in the most state of the art facility in this country in front of some very crazy, passionate fans that now feel they truly have a home. Whether it was with football lines on the field or it was stadiums that were not conducive to creating that really close, very energized atmosphere, these kind of games so far are incredible."
"We also have some serious challenges as a visiting team in venues like that. When its exciting, it's fun for even the visitors to be a part of. You get a better product on the field."
Michael Lewis covers soccer for the New York Daily News, MLSnet, and BigAppleSoccer.com. He can be reached at SoccerWriter516@aol.com.