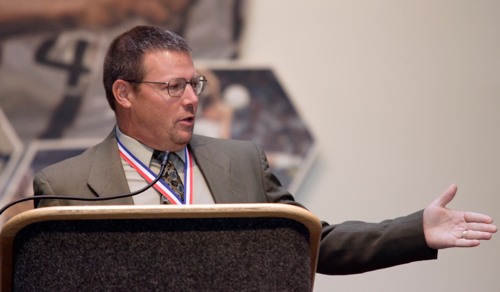 By Clemente Lisi – NEW YORK, NY (May 12, 2010) US Soccer Players — Before there was a Landon Donovan or a Claudio Reyna or even a John Harkes, the face of American soccer was Rick Davis. A member of the New York Cosmos after playing just one NCAA season with Santa Clara University, Davis emerged as the most notable US player during most of the 1980's.
Davis was the American standout on a Cosmos team loaded with foreign stars like Giorgio Chinaglia and Franz Beckenbauer. In 1983, Davis, a midfielder and former US National Team captain, moved indoors with the Major Indoor Soccer League's St Louis Steamers. He went on to play for the New York Express and Tacoma Stars during his seven-year indoor stint.
Davis, 50, had served as the executive director of the American Youth Soccer Organization since 2006 until he announced in March that he was leaving the position in the spring. This past week was his last on the job at the AYSO, which has 600,000 players and one of the most recognizable youth league in the country. The program began in 1964 and was only in its second year when it gave Davis, who was only six at the time, his start in the game.
Davis has done it all. He played 36 games and scored seven goals for the US National Team and also made the squad that participated at the 1984 and 1988 Olympics. A knee injury in January 1989 ended Davis' career and put an end to any hope of him ever playing at a World Cup. Since retiring, Davis has worked as a TV commentator and later served as general manager of the now-defunct Los Angeles Salsa. He was elected to the National Soccer Hall of Fame in 2001.
I recently spoke with Davis to talk about his time with the Cosmos, never getting a chance to play in a World Cup and what it meant to lead the AYSO at a time when the game's popularity is booming in this country.
You started out playing professionally with the New York Cosmos and have been part of soccer in this country for over 30 years. How far has the sport come in this country over the past three decades?
It is almost impossible to describe how much the game has progressed in the United States. I am one of those that believe it will continue to grow in relevance. Outside of the growth in youth player numbers, look at what MLS has done in a short 12 years with stadiums.
Why was it so special to play for the Cosmos?
It was a unique time for the sport in the United States. It was a true cast of characters. However, my memories are incredible and each of them relates to the people and some of the big events that occurred while I was a part of the organization.
Once the NASL folded in 1985, you moved on to the Major Indoor Soccer League. What was that experience like?
I actually joined the MISL a little over a year before the NASL ceased operations. I enjoyed my years playing indoor soccer. I always considered myself an outdoor player, however the experiences were mostly very good.
Is the indoor game harder to play than the outdoor brand?
Simply put, it is a very different game, both physically, technically and tactically. For a player like myself, indoor soccer was more challenging as I relied more on physical attributes than technical ones. For me, the indoor game is very technically oriented and thus, players like Preki, Steve Zungul and Tatu were more technically oriented players and therefore better equipped to be successful.
You also had a successful US National Team career, but you never played in a World Cup after suffering a knee injury in 1989 that sidelined you for much of that year. Is not playing in a World Cup your biggest regret?
I wouldn't call it a regret as I received far more from the game than I have ever been able to do for it. I would have liked to have once played in a World Cup but it just didn't work out that way.
You played for the US at the 1984 Olympics in Los Angeles and 1988 Summer Games in Seoul. What was it like to represent the US at such a prestigious event?
For me, there is no higher, or better, honor than representing your country in sports or otherwise. Simply put, it was like living a dream!
You have been at the helm of the AYSO for four years. What's that like?
Being a part of AYSO today is fantastic. I started playing soccer in California so to be involved with them some 44 years later is great. It is a wonderful organization that does great things for kids, families and communities – not to mention that it has been the single most influential youth soccer organization in the United States.
The AYSO has been vital to helping soccer grow in this country. Do you agree?
Like I said, No other youth soccer organization even comes close.
Let's talk 2010 World Cup. What are the US's chances of getting out of the first round?
I am a fan of the American player and our teams. I know we haven't always had a lot of success, however. I look at that as growing pains. One day, I truly believe the United States will be one of the top teams internationally. As for 2010, I see the US team advancing out of the group as the second-place team.
What plans do you have for the World Cup and will you be involved in some way?
My wife and I, and some friends, are going to be fans. We are finalizing our plans for South Africa, so I will be one of the crazies colored in red, white and blue in the stands.
Clemente Lisi is the author of "A History of the World Cup: 1930-2006." His new book "The US Women's Soccer Team: An American Success Story" will be available in June. Contact him at: CAL4477@yahoo.com. Follow him on Twitter at: twitter.com/ClementeLisi