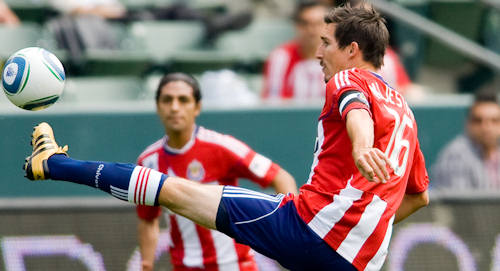 By Clemente Lisi – NEW YORK, NY (May 6, 2010) US Soccer Players — Sacha Kljestan has enjoyed a wonderful pro career over the past four years. A member of Chivas USA since his rookie season in 2006, Kljestan is one of those MLS stars that has contributed immensely to the United States National Team.
The 24-year-old made a memorable National Team debut in January 2009, tallying a hat trick in a 3-2 victory over Sweden at The Home Depot Center following a training stint with Scottish side Glasgow Celtic. Previously a member of the USA's Under-20 and Olympic teams, Kljestan has amassed 23 senior caps and was pivotal during World Cup Qualifying when injuries began to mount for the US team.
Kljestan also has a knack for scoring goals – despite his primary role as a defensive midfielder – and is a specialist on long balls and assisting from the corner kick. A clutch player, Kljestan tallied another big goal for the US this past February in Tampa, netting the game-winner against El Salvador in the 92nd minute.
I spoke with Kljestan about his chances of making the World Cup roster, his season thus far with Chivas USA and how his family has played such an important role in his development as a player.
You scored an amazing game-winner against El Salvador during a friendly earlier this year. Do you think that goal is good enough to keep you in contention for a spot on the World Cup roster?
I think my performance in that game helped my chances of going to the World Cup. Obviously, it was one of my last chances to impress in front of the coaching staff in a National Team game. So I think that helped in that aspect, and getting the goal just felt good to get us the win in a game we should have won many different ways, but we ended up getting the win in the end. It felt good.
You were not called up by coach Bob Bradley for the Holland game this past March, which, it has to be said, was really a chance for him to look at his foreign-based players. Were you disappointed about that?
Well, my first goal is to be named to the initial roster for the World Cup, and obviously there are still two games before the team leaves for South Africa that I hope to play a part in, and hope to make a difference in the game and prove to the coaching staff that I belong there and can be a positive for the team when I'm on the field.
You are an experienced defender with the team. What do you think are the US's biggest problems in the back?
I think we need to play the same way we did against Spain and Egypt in the big games we had in the Confederations Cup. I think if we're organized and we're very disciplined and use our athleticism to our advantage, we'll be good.
What does this US team possess that gives it an advantage over the other teams in its World Cup group, particularly Slovenia and Algeria?
I think we're organized, disciplined and more athletic than some of the other teams in our group, and hopefully that will play a big part in the team's success at the World Cup this summer.
You scored a hat trick last year in your US debut equaling a feat accomplished by Aldo "Buff" Donelli, who scored four goals in 1934 during a World Cup Qualifier against Mexico. How did that feel?
It was a big game for me. It was just a friendly, but it still felt good to not only score my first international goal but my first three in the same game, especially at The Home Depot Center in front of a lot of home fans and my family. It felt good and it was a good stepping-stone into the start of a good round of qualifiers with the US team.
Let's switch gears and talk about Chivas USA. Does Chivas have what it takes to win the MLS Cup this year?
I think we have what it takes to be successful. I think we need to re-establish the way we're going to play and make sure that every time we play, especially at home, that we're trying to take three points, and be a harder team to play against on the road. It's definitely been a bit of a learning process for some guys on the team right now, but I think we're making good strides and hopefully we keep continuing to take steps forward.
The rivalry with the LA Galaxy has only grown over the years. Do the juices flow that much more before taking on the Galaxy compared to other teams?
It's more than just another game, because you're obviously battling for the bragging rights in the stadium. We contend with each other for playoff spots and stuff like that so it's big for the standings as well. And you always want to beat the guys that you see every day, and you want to be the champion of the SuperClasico.
You dad is from Serbia and played soccer there. Did you learn the game from him?
My dad helped me a lot. He used to play, and when I was little he would always take me to the park whenever I wanted to and played with me and always encouraged me to try different things. Not just be a normal soccer player, but a creative dude. He helped me a lot in that aspect and has always been there for me, supporting me since I was a kid.
You're on the current cover of the North American version of FIFA Soccer 2010. How did that come about?
I had done some stuff with EA Sports in late 2008, with Landon (Donovan), just doing some appearances and stuff for EA. In early 2009, they asked if I would be on the cover of the game and I said of course because it was a dream come true having played the game since it first came out in the mid-90's with my brother and playing it all through college. So it was a dream come true and I said of course I'd do it.
What do you want to be doing in 10 years?
In 10 years? Let's see… hopefully finishing up my career in Europe and hopefully coming back to MLS and having a family, married with kids and enjoying a great life!
Clemente Lisi is the author of "A History of the World Cup: 1930-2006." His new book "The US Women's Soccer Team: An American Success Story" will be available in June. Contact him at: CAL4477@yahoo.com. Follow him on Twitter at: twitter.com/ClementeLisi