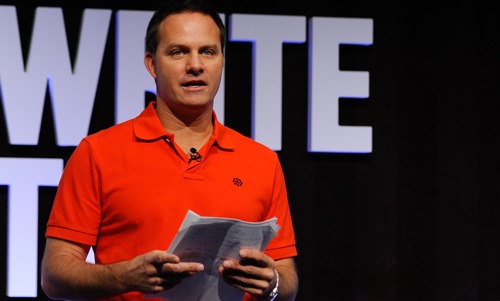 By Clemente Lisi – NEW YORK, NY (May 19, 2010) US Soccer Players — In the pantheon of all-time United States National Team greats, Eric Wynalda holds a special place. A mainstay in the US attack for over a decade until his retirement in 2001, Wynalda now makes his living as a television analyst on Fox Soccer Channel.
In his first year as co-host of the popular weekly show, "Fox Football Fone-In," and as a studio analyst on the cable channel's Champions League coverage this season, the 40-year-old Wynalda has become one of this country's most insightful commentators. Many Major League Soccer fans will remember Wynalda's time as a color commentator with ESPN.
He will be working this Saturday's Champions League final between Inter Milan and Bayern Munich in Madrid alongside former US coach Bruce Arena and NFL analyst Curt Menefee in what will be the Fox's first-ever broadcast of a soccer game on its flagship network.
Wynalda, who retired from the National Team as the US's all-time leading scorer with 34 goals in 106 appearances (a record that was broken in 2008 by Landon Donovan), was inducted in the US National Soccer Hall of Fame in 2004. I recently spoke with Wynalda, where the former star discussed his TV career, his experiences as a player and the US's chances of getting past the group stage at next month's World Cup.
You co-host Fox Football Fone-In every Monday night on Fox Soccer Channel alongside Nick Webster. You both appear to have a great on-air chemistry. How did that chemistry come about?
Nick and I are great friends now, but it wasn't always that way. At first, I think he didn't trust me and thought I was really all about myself. We know a lot about each other now because we just did a whole season of Fox Football Fone-In together and feel comfortable with each other. I think we genuinely like each other and enjoy working together. The chemistry you sometimes see on the show is simply a bi-product of our friendship.
You're not shy about voicing your opinions. Do you find it difficult to sometimes criticize the US National Team given that you once played on the squad and have friends on the team?
I have always tried to be honest about everything. I hated when a new player came on the team and somebody would ask me about him and my only answer was he was a great guy – which means  'he's not that good and I don't want to say anything bad about my teammate.' TV is different and you have to be honest or it doesn't work. One of my friends once asked me what he had to do to get me to stop saying bad things about him on the broadcasts. I replied: 'stop playing bad.'
What is more difficult: Being a professional soccer player or a TV commentator?
A commentator, for sure. I never knew there were so many vicious people out there who rejoice in peoples' mistakes. I never had issue with this as a player because I always felt that performances were all quantifiable, and all is forgiven and forgotten if you score. Being good or bad at commentating is always an opinion and the people who have these opinions don't always know what they are talking about.
MLS has come a long way since you scored the league's first goal back in 1996. Did you ever think the league would grow so much over the past 14 years?
It really hasn't changed that much. The difference is that the stadiums are better and there is more talent in terms of numbers. I love this game. I don't want it to ever change too much. It's the only sport that seems to still be real. Growth is always good but we have to be careful what we are wishing for sometimes.
The league will take a break during the World Cup next month. Is that a good plan, and ultimately, should MLS go to a September to May schedule like leagues in Europe ?
I just want our domestic players to have the opportunity to share in the wealth of the game. If they are eligible for transfers in the summer, because we have changed our MLS schedule, they will have the chance to be a part of that wealth. I just don't want our players to miss out on the chance to play somewhere else when the opportunity presents itself. It's a business and we need to start striking when the iron is hot.
Let's say Edson Buddle scores five goals in a World Cup. Do you really think he is staying in LA? Somebody will offer big money for him and the league should take it. If Dempsey scores four, I don't think Fulham would be able to keep him. It's just business. However, it will be easier for Dempsey because his team isn't in mid-season and will have plenty of time to re-invest. LA will simply have lost an important player in their team and be forced to recover with zero chance of recourse.
Are you in favor of promotion/relegation in MLS or would you leave things the way they are with two conferences and playoffs?
It will never happen. We might as well stop thinking about relegation. Nobody over here will ever go for it.
You were involved in FSC's broadcasts of the Champions League this season and will be part of the Inter Milan-Bayern Munich final telecast on Saturday. Was it great to be involved in bringing such an important tournament to America 's living rooms?
Champions League is simply awesome. It's the best of the best and this year was amazing. I always made it a point to never miss the big matches before and I know there is a whole following of so-called late lunchers that build these games into their schedules, too. This year, it was worth getting fired if you never made it back to work. Covering the games was nerve racking at times, but a great experience. I have never known this much about my sport, that's for sure.
The free kick you scored against Switzerland at the 1994 World Cup was a spectacular goal. What was your most favorite World Cup moment ever that you were involved in?
Running around barefoot with the American flag at the Rose Bowl after we defeated Columbia takes the cake. I grew up 50 miles from that stadium and I felt like a little kid all over again. Never would have thought that would have been a reality.
Let's talk about the US National Team and the upcoming World Cup. Landon Donovan earned some respect in Europe this past season during his loan spell with Everton. Was the criticism leveled against Landon, especially in the past from Europeans, that he is a soft player ever really warranted?
Contrary to popular belief, I am a huge LD fan. I always want what's best for him. Sometimes I come off a little rude or jealous but it is only because I want him to push himself every day and not have regrets when it's over. I do, and it's not fun.
Has the US reached a point where qualifying for the World Cup finals is good enough or do they need to do more?
We all need to understand that our expectations need to be game to game. Let's start with the English. Let's just think about how awesome it would be to beat them in a World Cup setting. If it doesn't happen though, it's not the end of the world.
As far as a World Cup final goes, that's what dreams are made of. It would certainly be a dream realized for a lot of people if that ever comes. I thought about it all the time as a player, but it really wasn't realistic. It's something I think we can all start dreaming about now, because it's not impossible. A little talent and a little luck and maybe one good or bad call – depending on what colors you are wearing — and it could happen. Why not is a harder question to answer these days.
Clemente Lisi is the author of "A History of the World Cup: 1930-2006." His new book "The US Women's Soccer Team: An American Success Story" will be available in June. Contact him at: CAL4477@yahoo.com. Follow him on Twitter at: twitter.com/ClementeLisi