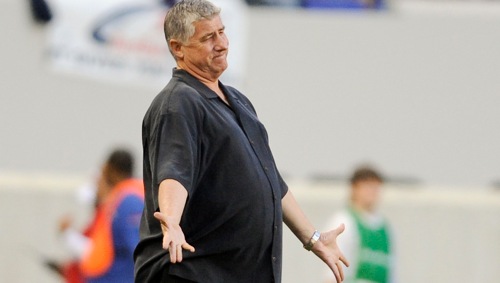 After last week's barrage of goals, Week 8 was a return to low production offense. The highest scoring game on Saturday was a 2-2 draw in Kansas City. Meanwhile, a late goal salvaged a point for Philadelphia, playing just their second home game of the season and Seattle traded away wins with New York.
Philadelphia 1 – Dallas 1
Danny Mwanga was the hero for the Union, canceling out Break Shea's 13th minute opener in stoppage time. The late goal heroics were a reward for a Philadelphia offense that put one more shot on goal than Dallas (5 to 4) while dominating corners 9 to 1.
"I think the team got rewarded for the hard work," Union manager Peter Nowak said. "We've been pushing the game from the first minute and then they got the goal against us. The first half was unbelievable with the chances we had and I think we have to already have a lead in the first half. But as I said the team is going to fight until the end and we got rewarded in the end. Even now this is one point that we cherish and is good for the team confidence going forward."
New England 0 – San Jose 0
For all the positive play San Jose has offered up in recent weeks, drawing against a makeshift Revolution has to be considered a disappointment. Yes, even at Gillette Stadium. Even worse for San Jose, the real story was Revs keeper Preston Burpo up to the task on multiple occasions that on other nights might have been goals.
"It seemed like they were covered pretty direct at times, which is pretty easy for us to defend," San Jose defender Jason Hernandez said. "We kind of know it's coming. Usually the tough times are when the dynamic runs are coming out of the midfield – there's a lot of commotion in there – so for the most part, if it's direct, it suits us pretty well…. I felt that it looked good out there and, other than a really good shot they had which hit the post, I thought we were pretty much okay in the back."
Columbus 1 – Chivas USA 0
When defending a free kick in the final moments, make sure any contact is clean. That's the takeaway for Chivas USA, with Crew defender Chad Marshall taken down in the box and Guillermo Barros Schelotto stepping up to convert a 90th minute penalty. Chivas USA wouldn't get much of an argument that they squandered at the very least a point.
DC 0 – Colorado 1
No turnaround for the League's worst team, with DC dropping a home game to Colorado for the first time in over a decade. Mehdi Ballouchy's 6th minute goal was it for the offense, with Matt Pickens recording the shutout on two saves.
"To be honest, the last few times I've been here we didn't play soccer," Ballouchy said. "We kicked the ball and tried to squeeze and pass it through."
New York 0 – Seattle 1
After last week, just keeping the goal totals down was a result for both teams. With New York winning at Qwest in April, Seattle returned the favor at Red Bull Arena. Fredy Montero had the game's only goal in the 85th minute.
Kansas City 2 – Chicago 2
Chicago had to be feeling fairly confident up two goals through Julio Martinez in the 13th and Brian McBride in the 47th. Unfortunately for the Fire, Saturday night at Community America Ballpark ended up being about redemption for Kei Kamara. He had both of the Wizards's goals, scoring in the 50th and 88th to split the points. Chicago got quality service in goal just to preserve the draw, with Andrew Dykstra stopping 11 shots.
LA 0 – Toronto 0
Given the Galaxy's form, holding out for a goalless draw is a quality result. Sure, both teams were coming off of four goal games last week, but Toronto simply hasn't done enough this season to put them in the conversation with the Galaxy. Well, until not losing at the Home Depot Center. With neither team generating much offense, Toronto simply needed to hold on defensively. FC keeper Stefan Frei needed three saves to keep out the Galaxy, with Toronto only putting one shot on goal. Toronto's Maksim Usanov was red carded in stoppage time.
MLS Depth Chart
1. Los Angeles (didn't win) even
2. Columbus (winners) even
3. Salt Lake (win at home) +3
4. New York (lost to Seattle) even
5. Dallas (drew with Phila) even
6. Houston (multi-goal loss) -3
7. Colorado (winners in DC) +2
8. Seattle (won at the Arena) +2
9. Chicago (score draw in KC) -2
10. San Jose (goalless in New England) -2
11. Kansas City (didn't lose) even
12. Toronto (didn't lose) +1
13. New England (nil with San Jose) +1
14. Chivas USA (almost in Columbus) -2
15. Philadelphia (late draw) +1
16. DC (back at the bottom) -1