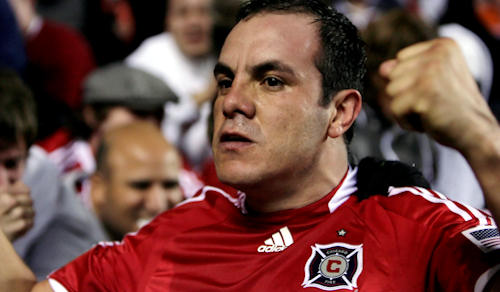 By Clemente Lisi – NEW YORK, NY (Jun 24, 2010) US Soccer Players — Former Chicago Fire midfielder Cuauhtemoc Blanco is widely regarded as one of the best foreign players to ever sign an MLS contract. During his three seasons in Major League Soccer, from 2007 to 2009, Blanco used his creative genius to ignite the team's offense while helping to attract Latino fans to the League.
For Fire fans, he remains one of the best players to ever don a red-and-white jersey. Blanco was already an international star before signing with Chicago. At National Team level, he helped Mexico win the Gold Cup in 1996 and 1998 and the 1999 Confederations Cup, a tournament where he netted six goals.
On the club level, Blanco is most famous for being a midfield fixture for famed Mexican team Club America, scoring 125 goals in 333 appearances. He currently plays for Mexican club Veracruz and just last year returned to playing with Mexico following a two-year absence.
The 2010 World Cup will likely be the 37-year-old's international curtain call. He has scored in three separate World Cups (1998, 2002 and 2010) after he tallied a penalty kick in a 2-0 win against France last week. Blanco has been used primarily as a sub at the tournament, but against hosts South Africa on Tuesday he started and was given the captain's armband as Mexico qualified for the Round of 16. I spoke with Blanco, where he discussed the World Cup, his time in Chicago, his thoughts on Major League Soccer, and the support he has gotten from fans in this country.
What does it mean for you to play at another World Cup?
For a player, being able to be part of the World Cup is always an amazing experience. I am lucky that I can be part of three.
How do you think Mexico will do as we enter the knockout round?
We always play with the goal that we can win it all. That is the only way we can achieve any success. We never play for a draw. We have a good team, with the right mix of old and new players and a strong coach.
Are you happy to finally be playing with Mexico again? You were left off the team for the 2006 World Cup and continued to get little playing time under Sven-Goran Eriksson when he took over in 2007.
I am happy to be back playing with Mexico. The goal for any player is to be at a World Cup against the World's best teams and players.
You abruptly left the Mexican team in 2007, calling it a retirement at the time. What led to that decision?
I retired because of the circumstances at the time. I wasn't getting any playing time and I was later cut. I had gone from being a starter to being left off. I was given very little choice.
The current coach, Javier Aguirre, asked you to return once he took over last year after it appeared that Mexico may not qualify for South Africa. What did he say to convince you to come back?
He called me and asked me if I wanted to return. He said he needed my help and I said yes. I was never shy about telling him that I wanted to play at another World Cup.
The US has never defeated Mexico at the Azteca Stadium, although they came close last year. What is it about Mexico's home domination?
All the teams in CONCACAF want to beat us at home. Mexico has always been the team to beat in the region. We have incredible fans. They have made it tough for our opponents.
You played for the Chicago Fire and were one of the better foreigners to ever play in MLS. What was that experience like for you?
I loved Chicago. It is a great city and team. I loved to play for them. I think playing in MLS was great for me and gave me a chance to stay active when other clubs in Mexico did not want me. It was great to see so many Latino fans – Mexicans, Hondurans, and Salvadorians – come out and support the team and me. Even the Americans cheered for me. The fans were the toughest part for me. I had to prove to them that I belonged on the team and that I was serious about playing for the club.
What did you think about the weather in Chicago? It's not exactly Mexico City.
The weather was the toughest part about living in Chicago, even though I wasn't there much during the winter months. The fall was tough, too. It was windy even in the spring. I always feel like I am home when I am in Chicago.
Some were surprised that you came to Chicago in 2007 given how much you have been committed to Club America. What made you come to Major League Soccer in the first place?
My heart, of course, is with Club America. I spent a lot of time there. When I was in Chicago, I would see America play badly and sometimes I wished I had been there to help. Sometimes teams have to make room to groom younger players and those growing pains sometimes mean losses. It also means that veteran players, like me, struggle to get a spot.
You are now 37, not young for an outfield player. How long can you keep this up?
I don't feel old. I feel great. Running around with 20-year-olds helps keep me fit. Right now, I am still playing. I have no plans to stop.
Clemente Lisi is the author of "A History of the World Cup: 1930-2006." His new book "The US Women's Soccer Team: An American Success Story" will be available in June. Contact him at: CAL4477@yahoo.com. Follow him on Twitter at: twitter.com/ClementeLisi