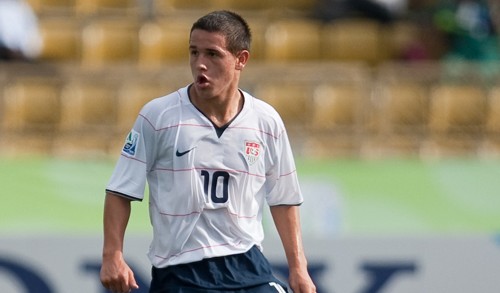 By Clemente Lisi – WASHINGTON, DC (Jun 10, 2010) US Soccer Players — While most are focused on the World Cup and how the Americans will fare against England on Saturday, a future US star continues to train in this country in the hopes of playing at the next World Cup. Just 16, Luis Gil is the future of US soccer. Not yet a household name, Gil is already making fans in MLS this season and hopes to represent the US at the 2014 World Cup in Brazil.
Gil, who is recently wrapped up training with the US Under-18 team in Carson, CA, signed with MLS champions Real Salt Lake earlier this year following a trade with the Kansas City Wizards. Considered by many to be one of the greatest youth prospects to come out of the US since Landon Donovan, Gil is using his rookie season to better his game.
The midfielder has already been approached by foreign clubs after training with Arsenal last year, but decided to stay closer to home. Gil was originally acquired by the Wizards, who then shipped him off to RSL this past February in exchange for a future draft pick after he made it known that he preferred to play for a team closer to his California home.
I recently caught up with Gil, where the budding star discussed his decision to play in MLS, the pressure that has been placed on him to try and help RSL repeat as league champions and his love for the US National Team despite his Mexican heritage.
You're a member of Real Salt Lake this season after the Kansas City Wizards dealt you to them. How amazing is it to be playing for an MLS team?
First of all, I'm very happy to be a part of the Real Salt Lake family. The whole team has been treating me well so far. I think I'm very fortunate to be in the MLS right now, especially because of my age, but I'm very excited to be a part of the league. I'm looking forward to this season.
Is it true that you could have signed a deal with Arsenal or Real Madrid, but instead opted to play in MLS?
Yes, I could have signed with Arsenal, but decided to come to Major League Soccer. I have faith in MLS and the coaches here that they will try and help me develop as a player. Since I've joined Real Salt Lake the whole coaching staff has been doing a terrific job, in my opinion, of trying to make me the best player I can be.
You are originally from California. Are you by chance either a Los Angeles Galaxy or San Jose Earthquakes fan?
I am not a Galaxy or Earthquake fan, but both are great teams.
You're playing for the league champions, and RSL fans would love to repeat. Does that put any extra pressure on you to do well this season?
It would be incredible if we get to repeat as champions, but I don't feel as much pressure as I thought. This is an incredibly hard-working team and I'm expected to put in the same type of effort as everyone else to help us win.
So will we be seeing you play for the US at the 2014 World Cup?
As of right now I'm just focusing on getting myself ready to do my best for Real Salt Lake. If the time is right and I have the opportunity to play in the World Cup in 2014, then I won't pass that up. But right now I'm just focused on improving my game to try and help RSL towards another championship.
You've had your own success with the U.S. Under-17 and Under-20 teams. What would you say was your biggest achievement for the US?
I would say my biggest achievement was playing in all of the games at last year's U-17 World Cup in Nigeria.
Your father is Mexican. Any chance you're ever going to pull a Giuseppe Rossi and commit to play for another team?
A lot of people have asked me that question, if I'd play for the Mexican National Team. I wouldn't jump now because the US National Team system was the first to give me an opportunity and I've had a lot of success with the US, so I wouldn't want to ruin the opportunities this country has given me.
The World Cup is here. How far can the US go?
The US is going to go the whole way and win the World Cup. It's our year to win the World Cup!
Do you also root for Mexico at the World Cup?
I don't root for Mexico, but I do have my dad sitting right next to me screaming and rooting for them if we watch their games together.
What players did you admire growing up and who do you try to emulate?
I grew up watching Cuauhtemoc Blanco and Landon Donovan, but these past few years I've been paying real close attention to Cristiano Ronaldo. I really don't want to emulate anyone. I just want to be my own type of player and try to bring my own style that people will enjoy.
Clemente Lisi is the author of "A History of the World Cup: 1930-2006." His new book "The US Women's Soccer Team: An American Success Story" will be available in June. Contact him at: CAL4477@yahoo.com. Follow him on Twitter at: twitter.com/ClementeLisi