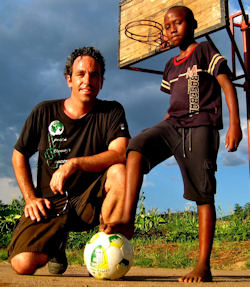 By Clemente Lisi – NEW YORK, NY (Jun 16, 2010) US Soccer Players — It all started over a decade ago when Trevor Slavick was a pilot for American Airlines and he was getting ready to board a plane in Honduras. When a kid at the airport offered to shine Slavick's shoes, the pilot decided to tip the boy by giving him a soccer ball he had in his bag. Slavick later noticed the boy and his friends kicking around the ball near a field alongside his plane.
Slavick has been giving away soccer balls ever since.
In 2006, Slavick started a charity, called Little Feet, where he sends soccer balls to impovrished areas around the globe, including war-torn Iraq and earthquake-ravaged Haiti. I caught up with Slavick, where we discussed his passion for the game, how he has been able to help others through soccer and how he hopes to help even more countries during the World Cup.
How did you ever think up an idea like Little Feet?
In 1999, I was a new hire pilot for American Airlines flying to Central and South America. I would bring a ball with me on all my layovers and find a field somewhere to juggle or dribble around. At an airport in Honduras I met a 9-year boy who was shining shoes. He was wearing a soccer jersey so I decided to give him the ball in my bag. He took the ball and sprinted out of the airport screaming with joy. As we taxied out, I saw this boy and his friends playing soccer in a field near the runway. Since then, I've packed a ball on all my trips and never bring it home.
You've distributed soccer balls to many children around the world. How does your program work and how can people get involved?
Our program is simple: We ask people to use Little Feet soccer balls, and by doing so, give back to people less fortunate than ourselves. For every ball you buy, we donate an additional ball to a child in need.
Is soccer truly the World's universal language?
Absolutely. Here's a good example. I was in a remote part of Kenya last year and a group of Maasai were walking by herding their cattle. One of them stopped his cattle and ran over to me with a huge grin on his face. I was wearing a Liverpool jersey and when he got near me he grabbed my shirt, gave me a thumbs up and said, Steven Gerrard is #1. How is that for a universal language?
Why do you think so many Americans still dislike soccer?
I'm more excited about how many people do like soccer in America and how fast that number is growing. Just look at the fans in Seattle and now Philadelphia. With Fox Soccer Channel and ESPN airing European matches, we are getting to see the great teams and players on a regular basis. The more accessible soccer becomes to Americans, the stronger the support will be. The talent in MLS just keeps getting better too and that's going to help a lot. Look how great one of our own, Landon Donavan, did on loan at Everton this year. We're on our way.
Children in Iraq have been beneficiaries of your charity. How were you received there given that you're an American and some hold animosity against the US?
With a soccer ball in hand you can just about go anywhere and be received extremely well. The Iraqi children loved the soccer balls and for a brief moment in time, soccer allowed them to escape the war and the tough situation they are living in. I think our soccer balls had just as strong of an effect on our soldiers as it did with the kids. They were the ones passing them out. They really enjoyed passing the balls out and made some great friends with people who were previously looked at as the enemy. Sometimes people get caught up in political or religious agendas but soccer is blind to both; that's just one more reason why it's called the beautiful game.
Any chances of you helping out and distributing balls in Haiti after an earthquake hit the country this past January?
Yes, we immediately sent soccer balls through other organizations that went down there. As with anywhere else, the soccer balls were a huge hit. In May we will be sending more balls down through a group called Airline Ambassadors who are doing some great work with the kids in Haiti.
You have been described as a soccer nut. What teams do you root for?
Yeah, that description you are referring to came from a newspaper article a few years back and my friends had a field day with that one. I'm a big Liverpool fan, but to be honest, I just want to see really good soccer no matter what team it comes from. If you can believe this, I even found myself rooting for Everton this season. In the MLS, I support the Galaxy. It's my hometown team, but on occasion, you will catch me singing Da-le Da-le Da-le Dynamo! It's a catchy song so I pull for Houston on occasion too.
Have any US National Team or any other pro players ever gotten involved in your charity?
Frankie Hedjuk and John O'Brien helped us out with our current World Cup t-shirt campaign and both guys were phenomenal. This t-shirt is in collaboration with Sam's Army and American Outlaws. Every shirt we sell, we are donating a ball to a child in South Africa. Cobi Jones helped us with our Iraqi Soccer Ball Drive. Leslie Osborne, Brian Ching, Jonathan Bornstein, Matt Reis, Eddie Pope and Chris Albright have all appeared in a PSA for Little Feet.
Is there a country you haven't been to yet that you want to go and distribute balls to?
Sudan — particularly Darfur. Little Feet was originally just going to be a one-month campaign we did to get soccer balls to Iraq. After that month was up, I started to get emails from people around the world asking for balls. I was debating whether to continue Little Feet or go back to just quietly bringing a ball on my trips.
I saw a story on 60 Minutes one night called Searching for Jacob. It focused on the genocide in Darfur, but particularly with one boy named Jacob. At the end of the piece, Jacob asks reporter Scott Pelley to take his schoolbook of drawings back to the USA and put it in the Holocaust museum so people in the USA won't forget them. That story was a huge inspiration for me to continue Little Feet and why it's still here today.
There are thousands of kids living in poverty now playing with a Little Feet ball of their own because that story aired. You will see a child's name on each Little Feet ball and each name has a different story behind it. Jacob's name is written on some of our premier balls as a reminder. I hope to one day make it to Darfur and find Jacob myself, play a little soccer with him, and let him know, we didn't forget.
The World Cup is going on in another part of the continent. Are you planning to go to South Africa for the tournament at any point?
This will be the first World Cup I've missed since USA '94. Two years ago we stumbled upon a coffee growing community in Honduras where the kids were playing soccer with burlap coffee sacks instead of a real ball. Long story short, we started Little Feet Coffee, and funneled our proceeds back to this community.
One of our original goals was to build a soccer field for the kids in the community before the World Cup. After two years of selling their coffee, and with some help from our supporters, we have enough money to fund their soccer field. My wife and I are also expecting a Little Feeter of our own June 30th. The three of us will see you in Brazil in 2014.
Clemente Lisi is the author of "A History of the World Cup: 1930-2006." His new book "The US Women's Soccer Team: An American Success Story" will be available in June. Contact him at: CAL4477@yahoo.com. Follow him on Twitter at: twitter.com/ClementeLisi