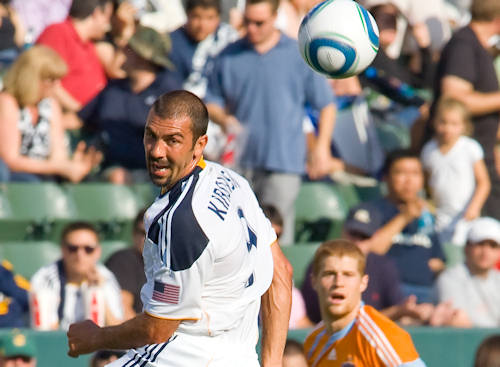 On a Saturday when Edson Buddle was scoring for the United States in South Africa alongside Landon Donovan, their Galaxy teammates were once again playing like the best team in Major League Soccer. Seattle also got a big win over New England.
Toronto 0 - Kansas City 0
Toronto and the Wizards traded red cards, but neither of them could pick up a goal at BMO Field. Nick Garcia was sent off for Toronto in the 27th minute and Craig Rocastle saw two yellows to exit in the 57th. Both teams finished with 3 shots on goal and 2 corners apiece.
"Well, I take this as a loss," FC coach Preki told MLSSoccer.com. "Their goalkeeper made two or three really good saves in the first half, and kept them in the game."
DC 0 - Salt Lake 0
Real Salt Lake did a better job in MLS play than the Open Cup, but they still couldn't take all three points against DC United at RFK Stadium. They did manage to keep United from their second League win in a row, with Nick Rimando making 4 saves while only putting a single shot on frame.
New York 1 - Chivas USA 0
New York stood up again at home, this time beating Chivas USA with a 27th-minute goal from Seth Stammler. Bouna Coundoul needed 3 saves for the shutout. The win leaves New York level with first-place Columbus on points with 21 and an extra game played.
LA 4 - Houston 1
The Galaxy got on the board early, with Jovan Kirovski scoring 47 seconds from the opening whistle. Houston showed they had game, with Cameron Weaver equalizing in the 6th. Kirovski put LA into the lead for good with his goal in the 21st minute. LA wasn't through, with Tristan Brown scoring in the 49th and Alequito following in the 55th. LA finished with 7 of their 8 shots on goal.
Chicago 2 - Philadelphia 1
Philadelphia ruined what would've been an easy shutout for Andrew Dykstra, scoring on their only shot on gaol in injury time. Chicago took the lead in the 14th minute through Baggio Husidic and made it 2-0 when Marco Pappa scored in the 74th.
"It was a very important win for us," Chicago forward Brian McBride said. "We talked about it in the locker room about how important it was to get a win. For us a win is crucial, no matter where it comes, but it's nice to win at home. We definitely want to win games here for our fans, our staff and everyone who is involved with the Fire."
Dallas 2 - San Jose 0
Bad news for San Jose at home, losing to two second-half goals from Brek Shea. He scored two minutes apart in the 58th and 60th, and Dallas should be disappointed that they didn't make it more.
"We were flat most of the game, and not to make excuses, but we weren't on top of our game tonight," Earthquakes coach Frank Yallop said. "I thought Dallas played well and deserved to win. At halftime, we came out, and I said the positive thing is, is that it's nil, nil. I don't know how it was, but it was. We had a little go at them for 10-15 minutes, and then they scored their goal and it was tough for us after that. Then the second one went in quickly, so it made things difficult."
Colorado 1 - Columbus 0
The Rapids scored short-handed to take a big win at home over Eastern Conference leaders Columbus. Pablo Mastroeni was sent off in the 77th minute. Drew Moor got the only goal of the game 8 minutes later. Will Hesmer got the shutout with 3 saves.
Seattle 3 - New England 0
Seattle reminded the rest of the League that it used to be tough to take any points out of Qwest Field. Unfortunately for the Revolution, they got to play the role of victim, going down early and unable to recover. Leo Gonzalez put Seattle up in the 5th, with Steve Zakhuani making it 2-0 in the 23rd. Fredy Montero finished off the scoring in the 41st. Kasey Keller had an easy time, facing only one shot.
MLS Depth Chart
1. Los Angeles (undefeated) even
2. New York (six point week) +1
3. Salt Lake (tough week in DC) -1
4. Colorado (beat Columbus) +1
5. Columbus (one from six) -2
6. Toronto (scoreless) +1
7. Dallas (beat San Jose) +1
8. Chicago (win at home) +1
9. San Jose (one from six) -3
10. Houston (none from six) -5
11. Seattle (lopsided winners) +2
12. Kansas City (didn't lost) even
13. New England (three goals down) -2
14. Philadelphia (lost at Toyota Park) even
15. Chivas USA (no change) even
16. DC United (still last even with a point) even