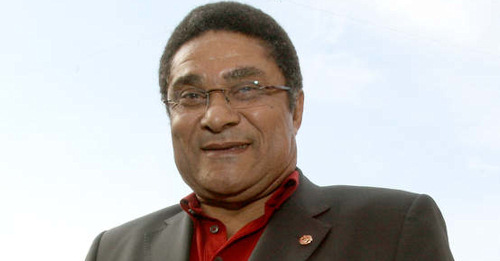 By Clemente Lisi – CAPE TOWN, SOUTH AFRICA (Jul 7, 2010) US Soccer Players — Portuguese scoring legend Eusebio is still hassled for autographs at the World Cup, even though he hasn't played in one since 1966. Like Pele, he is one of the greatest to ever play the game. And also like the Brazilian legend, Eusebio came to North America in 1975 to play in the North American Soccer League as part of a wave of international stars-turned-ambassadors of the game.
Eusebio spent most of his career with Portuguese giants Benfica, scoring 317 goals in 301 games over a 15-year career that included two Champions League trophies. After a season with the Boston Minutemen, he added an NASL championship netting 18 goals in 21 games for Toronto Metros-Croatia as the club went on to win the 1976 Soccer Bowl. Eusebio would spend the '77 season with the Las Vegas Quicksilver before dropping down a division to finish his North American sojourn with the American Soccer League's New Jersey Americans in 1978.
A native of the African country of Mozambique, a former Portuguese colony that gained its independence in 1975, Eusebio was a member of the Portuguese National Team scoring 41 times in 64 appearances. That included nine goals at the 1966 World Cup in England. That Cup performance included four goals in the win over North Korea which might not sound like much to younger fans. Well, North Korea were up 3-0 at the half and this was the Quarterfinals. Portugal eventually finished third third, which to this day remains the team's best showing at a World Cup.
Since his retirement in 1978, Eusebio – whose full name is Eusebio da Silva Ferreira and nicknamed the "Black Panther" -has done a lot of charitable work to help the poor in Africa. He is currently in South Africa to support FIFA's 1GOAL project, which has made it its mission to help 72 million poor African children receive an education by 2015. For Eusebio, who still holds a passport from his native Mozambique, this charity is one very close to his heart. He was also a member of the Portuguese delegation at the World Cup, acting as an adviser and mentor to players like Cristiano Ronaldo.
I caught up with Eusebio, now 68, on the eve of this Sunday's World Cup final, where we discussed his time in the NASL, the growth and success of American soccer over the past three decades and his storied career for both club and country.
Are you surprised at how well the USA did at this World Cup?
No. There are many great players coming from the United States for a long time. Football is international. Everyone plays the game, even Americans. They have been growing as a football country for a long time.
How important was it to have the World Cup in Africa and for you to be involved in such an important way?
It is very important. I was born not too far from here in Mozambique. The African people love football. This was very important for them. It was a big celebration for all of Africa. As an African, I am proud of this World Cup and very happy that I can help the people here.
You won the NASL title in 1976. What was it like to win something in a new continent after being so successful in Europe?
It was 1976 when I played in Toronto for Metros-Croatia and we won the championship. I loved being on the team and playing in the North American Soccer League. It was a great time. We had fans from all over the world – Italian, Spanish and Portuguese – coming to the games. It was really great.
What did the NASL mean to you?
The North American Soccer League was a great time for me. I made a lot of people happy. It gave people the chance to see some great football. They loved to watch us play. It was like being in Europe.
You played for Benfica at a time when it was one of the greatest club teams in the world. What are some of your fondest memories?
Benfica was a major part of my life. It was my team since I became a professional at 18. I played there almost my whole adult life from when I was 18. We were European champions two times. It was incredible.
Are you still a fan of the club?
Yes, I am a big supporter of the team. For me, it is my family.
Why was this past World Cup so difficult for some European, such as Italy, France, England and Portugal?
Portugal always tries to do its best at every World Cup. They started in a tough group with Brazil and Ivory Coast. Brazil always is always the favorite to win the World Cup. I thought Brazil was going to win the World Cup. Italy, England and France were weaker than four years ago and, I think, were not ready for the conditions here in Africa. Portugal lost to a very good Spain team. Football is also a more commercial game then when I played. There are too many games today. The big stars are tired at the World Cup.
You had some success of your own at the 1966 World Cup. What are some of your fondest memories?
That was a long time ago, but I do have a lot of memories.
So what stands out the most?
The quarterfinal game against North Korea because they were a good team and it was 3-0 against us. I knew we could score and that is what we did. I also knew that if they scored another goal, we would lose. Then we won.
The final score was 5-3 for Portugal. Your team was really a great side. You regret not playing in more World Cups?
That is the past. I enjoyed the World Cup in 1966. The other times we did not qualify. I became famous with Benfica and the people still remember me. Now I enjoy going to the World Cup and watching these young players.
Clemente Lisi is the author of "A History of the World Cup: 1930-2006." His new book "The US Women's Soccer Team: An American Success Story" will be available in June. Contact him at: CAL4477@yahoo.com. Follow him on Twitter at: twitter.com/ClementeLisi