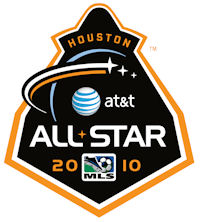 By Clemente Lisi – HARRISON, NJ (Jul 27, 2010) US Soccer Players — When the MLS All-Stars take on Manchester United Wednesday night at Houston's Reliant Stadium, Landon Donovan and the rest of the league's best players will give it their all against the English Premier League powerhouse. After all, they have a record to maintain.
The MLS All-Stars have only lost once (in six games) to a foreign club since the league changed its format to include international opposition. That loss against Everton last year went to penalty kicks. On that occasion, it was US National Team goalkeeper Tim Howard who made the difference for Everton, making three saves in the shootout to snag MVP honors.
Manchester United manager Alex Ferguson, who coached Howard when the goalkeeper left the MetroStars for England in 2003, said American players are slow to make progress because they are "isolated" from competitive matches in Europe and South America. That isolation, however, is filled when MLS teams get a chance to measure themselves against European clubs on summer tours of the US – prompting Ferguson to argue that American teams are "very committed" to win against clubs like his.
"It's a big game for them. They are playing Manchester United," he said.
The MLS All-Stars' winning record aside, that positive streak is the exception, not the rule, when it comes to Major League Soccer teams winning over international clubs on preseason tours. Teams like Manchester United, Real Madrid and AC Milan routinely beat up on MLS opposition each year, proving over and over that they are far superior by comparison regardless of where they are or aren't in their season.
That may no longer be the case. Sure, European clubs may be superior based on tradition and appeal, but times are changing. If this is the Summer the American game got attention for how the USA played at the World Cup, then how MLS teams have done over the past few weeks versus foreign clubs is another example of how the game has grown on a skill and talent level. No longer sacrificial lambs, MLS teams are starting to win what have largely been meaningless games.
Two games that took place this past Sunday are examples of the shifting tide. First, the New York Red Bulls defeated Manchester City 2-1 before a near-capacity crowd of 23,228 here at Red Bull Aren. A win that came after midfielder Dane Richards uncorked a powerful shot in the second half. The 30-yard blast – a blistering finish worthy to be called a "golazo" – beat goalkeeper Stuart Taylor to break the deadlock in the 68th minute. The goal left Manchester City coach Roberto Mancini stunned as he watched from the sidelines. While Mancini chalked up the loss to the fact that his team is still in preseason mode, that theory did not go down well with Red Bulls coach Hans Backe.
"All teams, especially the big ones, go for excuses when they are in the preseason," said Backe, who served as an assistant coach at Manchester City during the 2007-08 season. "They always want to win the game."
Thierry Henry, no stranger to these exhibitions when he played for Barcelona, said the win over Manchester City was great for his new team.
"It is important to win these type of games and show that we can compete against any team," said Henry, who only played the first half against Man City as he looks to get match fit in time for his teams' game against the Houston Dynamo this weekend.
A few hours later, Manchester United lost 2-1 to the Kansas City Wizards. The Wizards' shock win before a crowd of 52,424 at Arrowhead Stadium – the biggest crowd to ever watch a soccer game in Kansas City – is another example of how the needle has moved in MLS's direction. The win was no fluke. The Wizards dominated possession for long stretches and played with tenacity in the second half to maintain the lead. The game was a display of maturity for coach Peter Vermes' squad, who played with 10 men after Jimmy Conrad was red-carded in the 41st minute for a foul on United striker Dimitar Berbatov.
A few days earlier, Manchester United had only defeated the Philadelphia Union 1-0 in another hard-fought match. Although Manchester United has been missing its World Cup stars – including England striker Wayne Rooney – it did feature regulars such as veterans Paul Scholes and Ryan Giggs.
Regardless of personnel, All-Stars coach Bruce Arena said he expects Manchester United to be a tough opponent.
"They are fantastic. One of the things I might point out that is perhaps a little bit different than the past encounters against international club teams is that Manchester United is going to have three full matches under their belts before they play the All-Star team," he said. "We're going to find a team that will be a lot sharper than the previous clubs that participated in this game. That's going to make our task a lot more difficult."
Arena played it well. United should be sharper in Houston than they were in Philadelphia or Kansas City. That's the due respect for the level of opposition, but there remains the growing belief that an MLS squad can do its job.
Clemente Lisi is the author of "A History of the World Cup: 1930-2006." His new book "The US Women's Soccer Team: An American Success Story" will be available in June. Contact him at: CAL4477@yahoo.com. Follow him on Twitter at: twitter.com/ClementeLisi