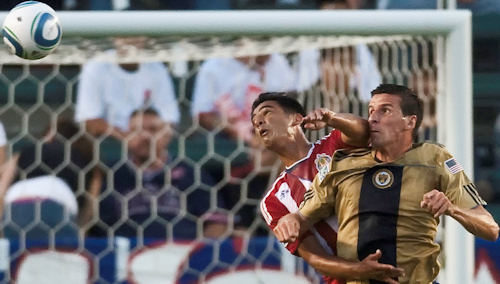 Three of the six Independence Day weekend games ended 1-1. LA – Seattle wasn't one of them, with the Galaxy returning to full strength and adding three more points to the top of the League.
Columbus 2 – Chicago 1
The Crew scored all three goals at home one right after the other in a strange ending to the first-half of their game with Chicago. Adam Moffat opened the scoring in the 43rd and a deflection off a Columbus defender made it 1-1 a minute later. Jason Garey had the Crew back up in first-half stoppage time with what would be the game winner.
Dallas 1 – Kansas City 0
FC Dallas put 8 of their 13 shots on goal and led 9 to 0 in corners at Pizza Hut Park on Saturday night, but it took a penalty to beat Wizards' keeper Jimmy Nielsen. David Ferreira converted what would be the game's only goal in the 58th minute. Dallas keeper Kevin Hartman kept a clean sheet with four saves.
"I thought it was the right result," Dallas coach Schellas Hyndman said. "I thought we created many more scoring chances," Hyndman said. "It was a difficult game for both teams. I didn't think the field was in great shape with the rain. I thought Hartman made a couple of brilliant saves and Nielsen made some saves as well."
San Jose 1 – DC 1
DC got their second draw of the season in a tough setting, splitting the points at Buck Shaw Stadium. San Jose had the lead through Ike Opara in the 14th minute, and that normally means an Earthquakes win. DC got that back in the 54th through Andy Najar, along with becoming the first team this season to come back and get anything out of a game when San Jose scores first. DC finished with 10 of their 14 shots on frame to San Jose's 5 from 10.
"It's tough that we didn't get the full three points," Quakes keeper Jon Busch said. "As the season goes on, you especially want to win home games against teams that are lower in the standings but they're a team that's better than where they stand and I think they'll make a good push for the playoffs."
Chivas USA 1 – Philadelphia 1
Philadelphia took the lead in the 20th minute when Danny Mwanga scored, but Chivas USA had things level by the 41st with a Blair Gavin equalizer. That was good enough to give Chivas USA a point for the first time in six MLS games. Chivas USA finished with 2 of their 13 shots on frame to Philadelphia's 3 from 8.
"I think we were trying to ride the emotion that we had at the home opener," Philadelphia's Danny Califf told MLSSoccer.com. "But it's difficult to carry that emotion 3000 miles and it was a tough night. I feel like we played well in spurts and then we didn't play well in long stretches as well."
Colorado 1 – New York 1
The first-half was the story at Dick's Sporting Good Park. Omar Cummings put the Rapids up in the 15th minute and Juan Pablo Angel brought the Red Bulls level in the 34th. Both finished with 3 shots on goal with Colorado taking the slight lead on corners 6 to 5.
Los Angeles 3 – Seattle 1
None of the other teams in MLS want to hear the phrase "the Galaxy back at full strength." Seattle fell victim to the return of Landon Donovan and Edson Buddle from US National Team duty, with Buddle getting right back to work by scoring the opening goal in the 19th minute. Juninho took whatever composure Seattle had managed to recover by hitting an absurd shot from distance two minutes into the second-half. Seattle got a goal back when Steve Zakhuani scored in the 66th minute. In the 77th, Seattle slid an Alan Gordon cross into the back of their own net. Gordon came on in the 61st minute for Buddle. Donovan played the full 90.
"Unbelievable," Donovan told ESPN on his return to the Home Depot Center.  "Sellout crowd. There's people on the grass lawn up there which doesn't happen too often.  It's nice for Edson and I to come back to a reception like that."
MLS Depth Chart
1. Los Angeles (Buddle scores) even
2. Columbus (scored 3, needed 2) +1
3. Salt Lake (big home win) +2
4. New York (drew in Colorado) -2
5. Colorado (drew at home) -1
6. Dallas (not exactly potent) +1
7. Toronto (score draw) -1
8. San Jose (didn't lose) +1
9. Chicago (did lose) -1
10. Philadelphia (drew with Chivas USA) even
11. Houston (drew with Toronto) +1
12. Seattle (HDC losers) -1
13. New England (lucky KC lost) even
14. Kansas City (close to dropping down) even
15. Chivas USA (got a goal( even
16. DC United (didn't lose) even