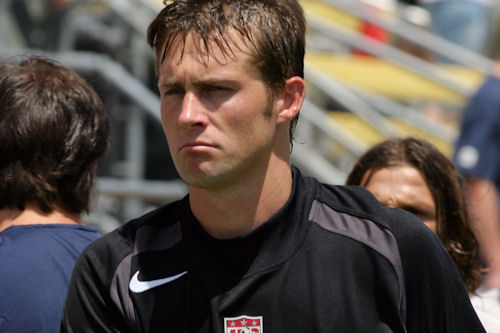 By Clemente Lisi – NEW YORK, NY (Aug 26, 2010) US Soccer Players — Former MetroStars and Columbus goalkeeper Jonny Walker remains the only American to really factor in South American club soccer.  As a member of Universidad Catolica's championship team in the Chilean first division in 2002, Walker also played in the Copa Libertadores – South America's equivalent of Europe's Champions League — recording wins against famed sides such as Argentina's Boca Juniors and Brazil's Flamengo. He would go on to finish his South American career with Colo Colo of Chile.
In 2003, Walker returned to the US and played with the NY/NJ MetroStars – his second stint in Major League Soccer after spending the League's first season as the backup keeper with the Dallas Burn.  In 2003, he became the third goalkeeper in MLS history to finish with a sub-1.00 goals-against-average, posting a league-best 0.95.  Walker closed out his career in 2006 with the Columbus Crew, where he finished second in MLS with a 1.12 GAA. 
Walker also played in three games for the US National Team under former coach Bruce Arena – all in 2004 – that included a 1-0 win over Mexico in April of that year.  A career-ending back injury forced Walker to call it quits in 2006 at the age of 28.  He has remained in the game and has been on the coaching staff on the University of Memphis Women's team since 2009.  I caught up with Walker earlier this month, where he talked about his time in Chile, how he ended up in South America, his return to MLS and how impressed he has been by Women's soccer.
How did an American player like you end up in Chile?
It's actually a crazy story.  You have to either be crazy or adventurous, and I must have been a little bit of both, to do what I did.  As a foreigner, it was hard for me to get a work permit to play abroad.  I was playing for the Jacksonville Cyclones in the second division A-League (in 1997), when one of my assistant coaches at the time was from Chile.  He showed me pictures in a magazine called Don Balon of crowds in Chile going crazy.  That's when I knew I wanted to be there.  I went down to Chile on a tryout and it took seven months, but I finally got signed.  I knew once I got there that I was going to stay. 
You won the 2002 Apertura title with Universidad Catolica.  What was that like?  It must have been pretty unbelievable to not only win a title, but also live your dream of winning in front of those same crowds you'd seen in a magazine.
It was completely a different experience from anything I had ever witnessed.  The team was always on the cusp of winning championships.  At the time, we were beating teams like Boca Juniors at home and Flamengo on the road in Libertadores.  It was really a great year for us.  From there, I went to Colo Colo.  On my first day there, when I was introduced to the media and the fans, the local fan club, Barra Bravas, showed up and said to me, basically, f off gringo.  That's the kind of passion they have for their teams over there.
Tough crowd!  How did Chilean players accept an American player?
My teammates accepted me.  They're professionals.  At that level, results are what matter, even though as a foreigner, I was taking away a spot from a local player.  At the end of the day, results matter.  On the professional level, that's what you need to do.  For me, as a foreigner, it was difficult, but they respected my abilities, my mentality and me.
What eventually prompted you to leave Colo Colo in 2003 after just one season there for another shot at MLS?
At the time, I thought I had achieved everything I wanted to achieve in South America.  I had played at a very good level, participated in the Libertadores and won a national championship.  My wife and I had just had a son and the opportunity was there for me to return home and I took it.  Chile was far away and it was hard for my family to come down and visit.  I ended up in New York, a place that was very good to me.
You played with the MetroStars, a team known for being really bad in the past, from 2003 to 2005. Why did the team do so badly?  They always seemed to have talented players.  As someone who has covered them on and off since 1996, I can't understand why they were so bad as a franchise.
That's a difficult question.  Having lived through it, I remember that the support was always there.  The team had good players.  It's a tough sports market, playing fifth fiddle to the Mets, Yankees, Knicks and Nets.  I don't have an answer.  I always wanted to win for the team and the fans. I owe a lot to New York.  Without New York, I would have never played for the National Team.
The team played its home games at the time in Giants Stadium, a storied soccer facility at the time of the Cosmos but not one known to be kind to the MetroStars.  It always looked empty to me, even when there was a healthy crowd there.  Was it hard to play there?
Giants Stadium always looked empty.  Often, just the lower bowl would be filled.  The place seated 77,000, so even with 35,000 it looked empty.  Once, against DC United, we got 35,000 fans and it still looked empty.
You retired in 2006 because of a severe back injury. Was it tough to have to retire so early from a game you love so much?
I was very young when I retired.  Goalkeepers actually get better in their 30s and I was only 28.  I did consider my self a good professional, so giving up something you love is always difficult.  The doctors told me that it wasn't worth the risk.  I'm lucky to still be involved in the game.
You are currently the goalkeeping coach at the University of Memphis Women's team. How has that been going?
It's been great!  I called my former coach Brooks Monaghan and he said there was an opportunity.  I wasn't sure how it would work out really.  It's actually been wonderful.  It's also been a healthy experience for me as well.  Giving up the game because of injury leaves you bitter.  It's been very therapeutic, and that's what I got out of it during my first season.  It's a great program and it's my hometown.  We're taking the program to new heights and I am very proud of it.
Is it different coaching women compared to playing with men?  So many men who coach Women's soccer teams have told me that female players are very different than males.
The best advice I got was when I was told that these are college kids, so I've been like a big brother to them.  It is a little bit different to coach women.  They are willing to learn and pick up details, while men I played with acted like they already knew it all.  It's actually been refreshing.  It's great!
Here's the final question.  Do you see yourself someday coaching in Major League Soccer or Women's Professional Soccer?
Right now, my wife and I are firmly entrenched in Memphis.  I'm going along for the ride.  For now, I'm not going anywhere.  I'm happy where I am.  Truthfully, you have to ask my wife that question. 
Clemente Lisi is the author of "A History of the World Cup: 1930-2006." His new book "The US Women's Soccer Team: An American Success Story" will be available in June. Contact him at: CAL4477@yahoo.com. Follow him on Twitter at: twitter.com/ClementeLisi