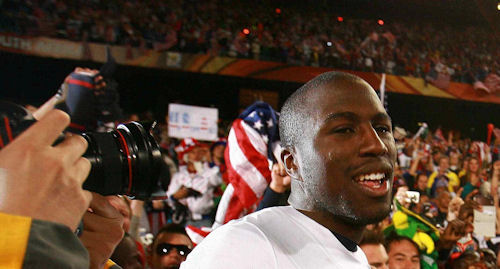 By Clemente Lisi – EAST RUTHERFORD, NJ (Aug 12, 2010) US Soccer Players — Jozy Altidore may be the happiest player on the US National Team these days.  Always ready to flash his trademark smile, Altidore is currently in the midst of preparing for the new Spanish Liga season after putting in a solid effort at the World Cup this summer. 
Though he didn't end up on the score sheet, Altidore showed he could contribute as part of a team and create opportunities. The 20-year-old Altidore remains confident he can build on the experience he has gained over the past few months.  He is already a regular on the US team (he came on as a second half sub in Tuesday's 2-0 loss to Brazil) and has had interest from famed Dutch club Ajax and Turkish side Besiktas in recent weeks. 
Altidore, who was born in Livingston, NJ, and raised in Boca Raton, Fla., started out playing for the New York Red Bulls at age 16 after the team chose him 17th overall in the 2006 MLS SuperDraft.  Two years later, Villarreal agreed to pay MLS a all-time record transfer fee of $10 million dollars.
Last year, Villarreal loaned Altidore out to English Premier League side Hull City, a move that started successfully and ended with Hull's relegation.  In the end, Altidore played 28 league games and scored once.  This season, Altidore hopes to remain in Spain.  I caught up with Altidore, where he discussed the World Cup, his National Team career and the upcoming season. 
What does it mean for you to wear the National Team jersey?
It's an honor for me to play for the US.  There is no feeling like playing for the National Team.  

What was it like to play in England?
It was very tough.  It's a whole new level.  Teams play a very physical style.  All the clubs are loaded with talented players.  It was a great experience for me and hopefully it made me into a better player. 
You are very active on Twitter and have over 200,000 followers.  What do you like about it?  
I love staying connected with my friends and fans and letting them know what's going on in my life. 
What was it like to play in your first World Cup?
I loved.  It was really a lot of fun.  It's the kind of thing you dream about as a kid.  It was an unbelievable experience for me. 
Are you happy with reaching the Round of 16?
I think we could have done even better.  Maybe next time, we will.  It was tough to lose to Ghana, but I think we had enough success that we helped raise the level of awareness of soccer in this country.  
How happy were you to get called up for the US friendly against Brazil?
It's always great to see a lot of the old faces, and some new ones, and start it up all over again.   
You are originally from New Jersey.  How great is to play here?
It's really amazing.  I love to play here.  I still have lots of friends in the area and a lot of memories from Giants Stadium.  
You spent last season in the Premiership with Hull City and are now back training with Villarreal.  Are you ready to get going in Spain this season?  
Yes, I'm excited about the new season. 
Other clubs, like Ajax and Besiktas, are interested in you.  Any update on that?
Everybody knows I want to stay at Villarreal.  They are the club that bought me.  I've done well there and I think I did all right at the World Cup.  The dialogue is ongoing and they're happy with what I'm doing so far. 
Where will you be in four years? 
Hopefully, I'll continue to play top-level club soccer and for the US at the 2014 World Cup.
Clemente Lisi is the author of "A History of the World Cup: 1930-2006." His new book "The US Women's Soccer Team: An American Success Story" will be available in June. Contact him at: CAL4477@yahoo.com. Follow him on Twitter at: twitter.com/ClementeLisi