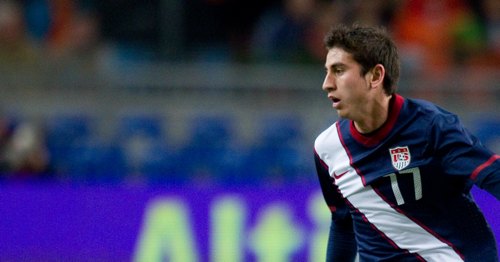 By Clemente Lisi – NEW YORK, NY (Sep 23, 2010) US Soccer Players — Alejandro Bedoya is living a dream. In a span of just a few years, the 23-year-old Bedoya has gone from being a college standout to playing club soccer in Europe, to training with the US National Team.
Bedoya, a New Jersey native who was raised in Miami, has earned four caps for the National Team over the past year – marking his debut against Honduras in a friendly last January – and has steadily become one of the team's best young prospects. He collected one more cap in a loss to Holland in Amsterdam this past March, and was recalled by coach Bob Bradley for the USA's friendly against Brazil in August.
Unlike most college players, Bedoya, who graduated from Boston College after playing there for three seasons, opted to go abroad instead of entering the MLS SuperDraft. The choice paid off in January 2009 when Bedoya signed with Swedish club Orebro SK. After a slow start there, Bedoya was able to work his way into the starting lineup and is now a regular starter.
I spoke with Bedoya following the USA's friendly last month against Brazil, where the budding midfielder discussed his performance against the five-time World Cup champions, what it's like for an American to play in Sweden, and what he hopes to accomplish at the club and National Team levels over the next year.
You earned your third cap ever in the USA's 2-0 loss to Brazil. What did you take away from that game?
Brazil played at a very high level. It's really amazing to watch. For me, a game like this is a chance to learn a lot and get better. It's great to play games against teams like Brazil because they can only make me a better player.
The USA was outplayed for long stretches against Brazil. What do you think you did right during the game?
We played well the first 30 minutes, but we let them get too comfortable and they took advantage of us late in the first half.
How does it feel to play for the National Team and the prospect of being a regular on this squad at the start of a new four-year cycle ahead of the 2014 World Cup?
I'm new to the National Team and the system they have. I'm just trying to learn the system and get some experience along the way. I have to play my game and try to bring what I can do to the table. I enjoy training with these guys and learning from them. It's been fun.
How would you rate your performance against Brazil?
I think I played well. I think if I was a little faster I could have gotten to some of those balls in the midfield pushing forward.
The next World Cup is four years away. Do you think you will earn more National Team appearances in the future?
I was included in the last World Cup cycle, so I think the coach has confidence in me that I can play at this level.
How welcoming have your National Team teammates been towards you?
I'm starting to feel a lot more comfortable with these guys and I'm really looking forward to future games.
Let's talk about your club team in Sweden. What are your goals this season at Orebro?
I hope to help the team win a championship. I always work hard and always push myself to get better.
You never played in Major League Soccer, but did play at the NCAA level with Boston College. What is the biggest difference between the American game and the style of play in Sweden?
I think the game is much more athletic in college and MLS compared to what I've seen in Europe. The leagues in Europe are much more technical. While American players are focused on size and fitness, the players in Europe are much more into passing and being technically superior.
What does an American like you add to the Swedish game?
As an American, I have the speed and high work rate that gives me the chance to be all over the field and at the same time help create lots of chances for the team. You speak a lot about improving as a player and learning with every game.
How are you able to do that at this high level where there seems to be such little room for error?
In some ways, I am my own worst critic. I analyze what I do all the time. I like to examine what I did and try to improve on it. That's really the only way I can get better.
Clemente Lisi is a New York-based writer. Contact him at:CAL4477@yahoo.com. Follow him on Twitter at:twitter.com/ClementeLisi