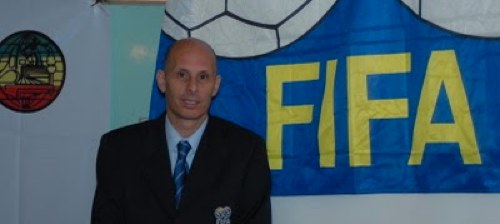 By Clemente Lisi – NEW YORK, NY (Sep 30, 2010) US Soccer Players — Stephen Constantine is a soccer nomad. Former US National Team coach Bora Milutinovic has nothing on this guy. And when it comes to getting results from teams you least expect, Constantine is able to somehow find the cure for what ails them.
Though he may have been born in England, his career got its start in the United States. By age 26, Constantine abandoned his playing career following a knee injury for a shot at coaching. A master motivator, expert tactician and strict disciplinarian, Constantine began what would become a decade-long, globetrotting career that would take him to remote outposts in Africa such as Sudan and Malawi and exotic Asian countries like Nepal and India.
Constantine, 47, played for the Pennsylvania Stoners in the ASL and the New York Pancyprian-Freedoms of the Cosmopolitan Soccer League before becoming a coach. After coaching in Cyprus, the English FA recommended him for the head coaching job of Nepal in 1999. It would be the first stop in a series of stops across Asia and Africa.
In 2002, he began a three-year stint as coach of India, winning the LG Cup in the process. After a brief stay at Millwall FC in England during the 2005-06 season (which resulted in his writing of a coaching manual called A Year in the Championship), Constantine was named manager of Malawi in 2007, but resigned after the team reached the final round of World Cup Qualifying.
He was appointed Sudan coach in February 2009, a stint that lasted 11 months after the team failed to qualify for the 2010 African Cup of Nations and World Cup. He joined Apep FC in Cyprus (where his wife and three daughters reside), but quit this summer before the start of the 2010-11 season after the club's president resigned. I caught up with Constantine, where he discussed his time in the United States, what it takes to be a coach and his dream of someday managing an MLS team. You are hard to keep track of since you're always coaching somewhere in the world.
So, I read that you are currently coaching Apep FC in Cyprus' second division. What has that been like?
Actually, I left Apep as a result of the club president stepping down. He decided three weeks before the preseason that after eight years he didn't want to be involved anymore. For the club, this was, and is, a disaster as he was putting in 85 percent of the money and the club can not afford to pay the salaries of most of the players we were trying to bring in.
As for myself, I was put in such a position that I decided that to step down was the best move for my career and me. The club had gone from being a serious contender to a club fighting for survival.
The experience for the last three months, however, was tremendous and playing against teams who are competing in the Champions League and the Europa League are an indication of the level we were playing at, so it's always good to be at the top level.
You started out coaching in the United States in the early 1990s. What was that experience like for you?
It was tough times in those days. The old NASL was dying and there was not a great deal of interest in soccer at that time. I would have probably stayed in the US had there been coaching opportunities for me. As it was, I started at CW Post as an assistant and then went on to coach junior teams at state and club level, before heading back to Europe to continue my career. So as you said, my career started in the US and who knows that it may yet continue there in the future.
You have coached several national teams – all in exotic places – over the past few years. The Wall Street Journal once dubbed you "The Coach of Lost Causes." Let's start with your last appointments in Sudan and Malawi. What was it like to coach in Africa?
Yes, it does seem that I get the difficult jobs but I can honestly say that in all of those countries I had some wonderful moments and of course some very frustrating moments it must be said. I do feel, however, that I was able to make a difference and left the teams in a much better state then when I was appointed which for me is success. I have coached four National Teams: Nepal, India, Malawi and Sudan and all of them were fantastic experiences in their own way.
Africa is an unbelievable place and there is so much raw talent there. Sadly, many people in African football are only in it for themselves and consequently the players suffer. Corruption is rife and that has been one of Africa's biggest drawbacks.
I think the levels are there for everyone to see and while I can't see an African team winning the World Cup anytime soon, I am certain that there will be plenty more players like (Didier) Drogba, and (Yaya) Toure being produced in African countries.
You coached India from 2002 to 2005. What was that like?
India was a great experience and a real challenge in many different ways. We managed to win the LG Cup, which was India's first major title in 40 years. Coming back to India with the Cup, there were 10,000 people waiting for us at the airport. Playing in front of 100,000 fans against Japan was unreal. India is a vast country as we know and each state has its own problems and of course trying to get everyone to share the vision was not easy.
We managed to get people throughout India to believe that the boys could play and when I took the U-18 to Wales and won the Ian Rush trophy that had a profound effect on the youth back in India. We beat Botofogo of Brazil 3-0 in the final. Most of those players now make up the Indian National team so I am very proud of my time in India.
You were in Nepal from 1999 to 2001. What stands out from your experience there? It's certainly not a place most people associate with soccer.
Nepal is a wonderful place and the people are as good as I have met anywhere in the world. Memories there are so many: being awarded a medal by the late King Birendra Bir Bikram Shah Dev was something I will never ever forget, seeing the sunrise in the Himalayas was something everyone should see once in their life, taking the National Team to the South Asian Games final was really out of this world. The Sherpa's who carry the luggage for travelers up Everest refused to go as they didn't want to miss Nepal's games.
Do you follow American soccer at all and what do you think of it?
Yes, I do and am really pleased that things are moving in the right direction after so many average years. You have top players who want to play in the MLS now and the league is becoming bigger. Of course, there is still a long way to go before MLS is on par with the European leagues, but it's getting there.
Have you ever been interested or contacted about a coaching position in MLS?
Yes, I have in the past had some interest from MLS clubs, but nothing materialized. I think MLS is something that I would seriously consider and feel I have a great deal to offer.
The USA did well at the World Cup. How has American soccer improved, in your estimation, over the past two decades?
Well, I think the US has improved under Bob Bradley that's for sure. I think the main thing is that players are going abroad and gaining valuable experience, players are also skipping the college term, which from a professional standpoint is a complete waste of time.
The ages 18 to 22 are critical in developing good habits and gaining a football education. I appreciate the fact that not all young players are going to make it and of course they need an education, but that's the risk you take. Getting a pro at 22 and a pro at 18 is well a huge factor for me. I also feel exposure to foreign coaches is also a benefiting factor.
You hold a USSF A license, a UEFA A License, and hold a UEFA Professional Diploma, among other certificates, so you know what it takes to coach at the highest levels. What coaches do you admire?
Well, I think there are many to be honest. Arsene Wenger, Sir Alex Ferguson, Roy Hodgson. I think David Moyes has done a brilliant job, Jose Mourinho, Carlos Alberto Parreira and Dominic Kinnear, Bob Bradley and Steve Nicol. I could go on forever, there are so many great coaches out there
Do you think you will ever coach a national team at a World Cup?
You never know. It would be a dream come true.
Clemente Lisi is a New York-based writer. Contact him at:CAL4477@yahoo.com. Follow him on Twitter at:twitter.com/ClementeLisi