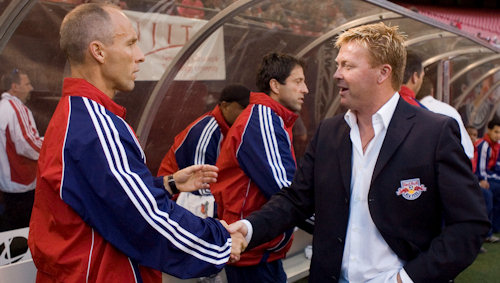 By Michael Lewis - NEW YORK, NY (Sep 17, 2010) US Soccer Players – In the wake of Preki getting fired by Toronto FC on Tuesday, it might be wise to take a look at the history of how MLS coaches have come, gone, and fared through the League's first 15 years.
First man out
The first man to leave his position was former New York Cosmos championship coach Eddie Firmani, the first coach of the New York/New Jersey MetroStars. Depending on who you believed, he either was fired or resigned after a 3-5 start. It really doesn't matter because his reign of error was a disaster.  The team's real record was actually 1-3-2 because two of those wins were one-point shootout victories, the same as a tie. Of course, Firmani began the franchise's policy revolving door for coaches. More on that in a while.
Not so famous seconds
Timo Liekoski became the second coaching casualty in the very first season in 1996 when the Columbus Crew showed him the door following a 6-16 start.
The most coaches
Not exactly an honor anyone would want to have. Like it or not, the MetroStars/New York Red Bulls have had 13. Can you name them in order? Here goes: Eddie Firmani (1996), Carlos Queiroz (1996), Carlos Alberto Parreira (1997), Alfonso Mondelo (1998), Bora Milutinovic (1998-99), Octavio Zambrano (2000-02), Bob Bradley (2003-05), Mo Johnston (2005-06), Richie Williams (2006), Bruce Arena (2006-07), Juan Carlos Osorio (2008-09), Richie Williams (2009), Hans Backe (2010). Whew! Now try saying that five times fast.
Recycled
Several coaches have guided as many as three teams, but one has been at the helm for four.  Current US Under-20 National Team coach Thomas Rongen: Tampa Bay Mutiny (1996), New England Revolution (1997-98), DC United (1999-2001) and Chivas USA (2005).
Going fourth
The quickest firing was by the Kansas City Wizards, who booted veteran coach Ron Newman out the door after a 0-4 start to the 1999 season.
Most coaches in a season
Actually, five teams can claim that (dis)honor. In chronological order, there were the 1999 Wizards (Ron Newman, Ken Fogarty, Bob Gansler), the 1999 Los Angeles Galaxy (Octavio Zambrano, Ralph Perez, Sigi Schmid), the 1999 San Jose Earthquakes (Brian Quinn, Jorge Espinoza, Lothar Osiander), Chivas USA in 2005 (Thomas Rongen, Javier Ledesma, Hans Westerhof) and the 2006 Red Bulls (Mo Johnston, Richie Williams, and Bruce Arena).
Back-to-back
Curt Onalfo has the distinction of being the only coach to be bounced in consecutive seasons. He was fired by the Kansas City Wizards in 2009 and was given the pink slip earlier this season by DC United.
Fired in first
Sometimes top of the table just isn't good enough.  Despite leading the Los Angeles Galaxy to the best record in the league, Sigi Schmid was given the boot on August 16th, 2004. While Los Angeles (9-6-7) was top of the Western Conference, two points ahead of 2nd place Kansas City, Schmid was canned because of the Galaxy's recent form. LA has won just three of its last 10 — they drew four times — and played to a dreary scoreless draw at home against Columbus after suffering a 3-0 loss at the hands of the MetroStars a week earlier.
"We feel that with our eight games remaining that a change today gives us the best chance of continuing our hopes for an MLS title now and winning titles in the future," Galaxy president and general manager the late Doug Hamilton said at the time. "Sigi's done well to bring us to this point, we're grateful for what he's done but I think our players and this organization is looking for a change today."
The Fire connection
After what the MetroStars and Red Bulls have done, perhaps MLS has to make a list of 10 commandments, one being, do not covet your rival's coach. In 2002, the MetroStars wanted Bob Bradley, who had guided the Chicago Fire to the 2000 MLS Cup crown and got their man. Five years later, the team, then known as the Red Bulls wanted Juan Carlos Osorio, even though he had directed the Fire for about half a season. They got their man as well. On both occasions New York had to compensate Chicago. With Hans Backe guiding the Red Bulls into the playoffs and perhaps beyond, Carlos de los Cobos appears safe… at least for now.
So close, yet so far
Alfonso Mondelo got the MetroStars into the playoffs in 1998, but never coached in the post-season.  He was fired with a game remaining in the regular season. The team had lost six consecutive games and team management felt he no longer had control of the team. Bora Milutinovic was named his successor, beginning the club's first dark age in 1999.
Getting out on top
Two coaches left teams before they could come close to wielding their respective axes. After three MLS Cup appearances and two championships, Bruce Arena said adios to DC United to take over the reins of the US National Team in 1998. Ten years later, Schmid said goodbye to the Columbus Crew after directing the team to the title to become the coach of the Seattle Sounders.
The longest tenure
That honor goes to New England Revolution coach Steve Nicol, who has been around since late in the 2002 season.  The Revs reached MLS Cup in their home stadium that year, losing to the Galaxy.
National Team connection
Five US National Team coaches have guided teams in the League and four have won titles. Again, in chronological order: Bob Gansler (1990 World Cup), who took Kansas City to the 2000 title, Steve Sampson (1994 WC), who coached the Galaxy to the 2005 crown, Bruce Arena (2002 and 2006 WCs), who directed DC United to the 1996 and 1997 championships and Bob Bradley (2010 WC), who led the Chicago Fire to the 1998 title. Bora Milutinovic (1994 WC) was a disaster as MetroStars coach in 1998-99.
The MetroStars connection
Several months ago, we reported about former MetroStars coaches who guided teams in the South African World Cup. I won't go into detail, except for a quick reminder – Carlos Alberto Parreira (South Africa, Carlos Queiroz (Portugal) and Bradley (USA) pulled off that rather unique feat. Milutinovic did not coach a team, but was a scout for Serbia.
Michael Lewis covers soccer for BigAppleSoccer.com. He can be reached at SoccerWriter516@aol.com.