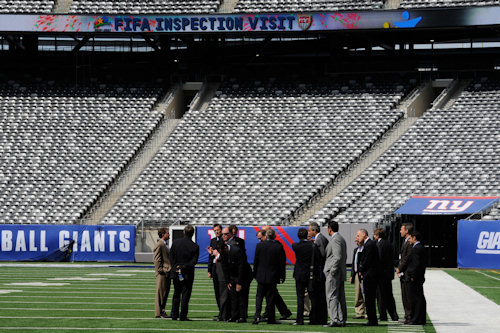 By Clemente Lisi – NEW YORK, NY (Sep 14, 2010) US Soccer Players –The National Football League opened its season this past weekend with the debut of a new football palace.  Well, it's debut for the NFL.  The New Meadowlands Stadium had already hosted soccer, including an early August visit from the US National Team.
While the Giants and Jets get to refocus their marketing efforts around a state-of-the-art venue, the USA World Cup bid also sees an opportunity.  The $1.6 billion dollar stadium will be key in the bid to award the United States either the 2018 or 2022 World Cup.  It's not just the New York market linking the bid to the NFL.  Of the 21 stadiums that are part of the bid, 17 of them house National Football League teams.
"When you can show (FIFA) an NFL stadium that has 70 or 80,000 people in it eight to 10 times a year – plus playoffs in certain cases – I think that's a pretty good starting point," US Soccer President Sunil Gulati said of the NFL teams that play in those stadiums during a conference call with reporters Friday.
In 1994, the field at Giants Stadium – the now-demolished venue that the New Meadowlands Stadium replaced this year – was too narrow and did not comply with specifications.  After a few inventive ideas for workarounds were floated, FIFA opted to make an exception because a venue in New York was essential in order for the World Cup to be held on American soil.
A lot has happened since then and the stadium landscape has changed dramatically over the past 16 years.  Just off the Beltway outside of DC, the 91,704-seat FedEx Field opened in 1997 as the largest NFL venue.  That's a distinction it still holds in terms of seating.  The new Cowboys stadium opened last year.  Listed at 80k, it can technically hold much more using open standing areas.  Whether or not that option appeals to FIFA, it has gotten rave reviews alongside hosting soccer and even last season's NBA All-Star Game.
The advent of football-specific stadiums, ones that do not have to share a venue with a baseball team, has made it easier for US Soccer to choose from an embarrassment of riches this time around compared to 1994.  For example, Sun Life Stadium in Miami, at the time known as Joe Robbie Stadium, could not be used for the 1994 World Cup because it also housed the Florida Marlins baseball team.  As a result, Miami, a World-class city with a large Hispanic population, was deprived of the chance to host a World Cup game.  
Not this time.  FIFA inspectors wrapped up a three-day trip across five cities – that included Miami – last Thursday with a visit to Reliant Stadium in Houston.  The inspection team began its tour Tuesday at the New Meadowlands Stadium, then visited FedEx Field in suburban Washington, DC, Sun Life Stadium, and finally Cowboys Stadium in Arlington, Texas.
"All five stadiums we have been able to visit, with very small adjustments, would be great World Cup venues.  There is no doubt about that," Harold Mayne-Nicholls, who headed the FIFA inspection team, said during a media briefing last Thursday.  "We have been impressed by the standards of service and technology and we are happy to confirm that the recently built New Meadowlands Stadium and Cowboys Stadium are both truly outstanding venues capable of staging World-class events."
At USA '94, the Rose Bowl – a venue that opened in 1922 – hosted the final.  For that World Cup, US Soccer did not have so many NFL stadiums to choose from at the time, particularly ones that met with soccer's field size requirements and those with a capacity of 80,000-plus – a FIFA requirement for the opening and final matches.
"It would have been easy for US Soccer to involve even more than a total of 18 candidate cities," Mayne-Nicholls said. "This alone is a significant change from the late 80s when bidding for the 1994 FIFA World Cup."
The 1994 bid also did not have the support of NFL owners like it does this time.  For instance, Washington Redskins owner Dan Snyder, Houston Texans owner Bob McNair and Cowboys owner Jerry Jones all met with inspectors last week.  Houston's Reliant Stadium drew a sellout crowd for this year's MLS All-Star Game when Manchester United defeated the league's best players 5-2.
While a bid from Europe is expected to get the 2018 tournament with England, Russia, Spain-Portugal, and Belgium-Netherlands in the running, the US is facing competition from Australia, Japan, Qatar and South Korea for 2022.
"The advantages (for the US) are obvious. We've got 18 cities that we've put forth as possible candidates. That gives us extraordinary flexibility. We have multiple stadiums that could meet FIFA's requirements for a World Cup final or opening game," Gulati said, adding that the list would be whittled down to 10 to 12 sites if the bid wins.  "Very few candidates can promise that."
Clemente Lisi is a New York-based writer. Contact him at:CAL4477@yahoo.com. Follow him on Twitter at:twitter.com/ClementeLisi