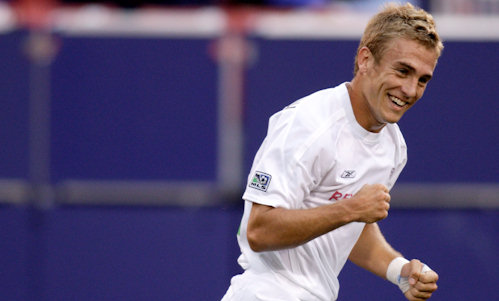 Clemente Lisi interviews recently retired New England Revolution Revolution forward Taylor Twellman who talks about the post-concussion syndrome that brought his career to an early end, the state of the Revs, and the US National Team.
By Clemente Lisi – BOSTON, MA (Nov 11, 2010) US Soccer Players – Recently retired New England Revolution striker Taylor Twellman is still getting used to the word "former" that now proceeds his name whenever people talk about him.  Twellman, who only played in two games in 2009 and none this season, announced last week that he was forced to retire following a string of concussions over the past few years. 
Twellman suffered seven head injuries and the one he sustained on August 30th, 2008 – after crashing into Los Angeles Galaxy goalkeeper Steve Cronin – is the one he now acknowledges as the hit that changed the course of his career and life.  
Without taking time off, he went on to score three goals in the final eight games of the '08 regular season, although he was sidelined during the playoffs.  A fierce competitor, Twellman had also suffered a torn right medial meniscus, right ankle sprain, and hip flexor injury that season. 
A beloved athlete throughout New England, Revolution owner Robert Kraft said Twellman's "heart, grit and determination" was a model for other players and that he "played a tremendous role in establishing a new standard of success and consistency for not only our team, but also around the League."
Concussions put a premature end to your great career – an issue that has been a hot topic in the NFL lately.  How big of an issue is this for MLS and soccer in general?
Concussions will forever be in sports period!  However, the education and handling of concussions has been very unprofessional.  We as a League need to set the tone on the education/understanding/treatment of concussions so the youth will follow our example.  Too many games and careers are being lost to this injury and all of them deal with the treatment and handling of the injury. 
How much will you miss playing on a weekly basis?
I have been out for a while now and missed playing during my rehab days.  However, with my situation now, I understand that if I want to lead a healthy 50 to 60 years now I can't play.  So I understand that my brain needs me to stop playing.  I will forever think about what might have been – goals, trophies, cups – but it will be just that, a dream.  
Other former US stars, most notably Brian McBride and Clint Mathis, called it quits this season as well.  We have just seen a generation of American scorers disappear in a matter of weeks.  You agree? 
So many great players have retired this year and for me Brian was the one I followed the most.  I went to all his college games in St. Louis and delivered his Umbro shoes to him when I was in the 7th and 8th grades.  He set the standard for American strikers.  Clint I just watched with an open mouth because he did things I could never do and did them with a Mohawk!  Two great guys and great players, but as people retire, it only opens the door for the next Brian McBride and Clint Mathis to come along and that is the coolest and exciting part of sports.  
US strikers have not scored at the past two World Cups.  Where will the US get the next generation of scorers like McBride and Mathis?  
I chuckle at that because I know someone who might have helped with that.  The next generation will come from MLS and US Soccer youth teams, but we don't know who that is yet.  
What do you plan to do next with your free time? 
Free time?  Every day I wake up and hope I feel better and that is what I do with my free time.  I will do something for MLS and the game of soccer, I just don't know what that will be yet.  I do know that my golf game is going to get a little better now that I can dedicate myself to practicing a little more.  I really enjoyed my time analyzing the recent New York Red Bulls-New England Revolution game on TV with ESPN and maybe that will be in my future.  We will see.  
You missed the entire 2010 season and it showed since New England failed to make the playoffs.  What do they need to do now without you on the team? 
I was a huge reason the team did not make the playoffs this year and they do need a goal scorer. However, it's not the only thing the Revs need.  We gave up 50 goals this year, which if I am not mistaken that is the most since I have been here.  I would expect a lot of changes under Steve Nicol, as I know that he hates to lose and won't want to replicate this year again.  
Does the Revolution need to sign a Designated Player in order to become competitive?
I am not fully sold on DPs as none of them have won a title yet.  It does a lot of good in raising awareness for the league, but on the field chemistry is so important.  As RSL proved this year, even though they have been eliminated, they really had the most complete season in all competitions and didn't need a DP to do so.  In saying that, if you spend DP money and get a 20- goal scorer, it is worth it because those come very few and far between.  
What team in MLS this season impressed you the most? 
RSL. They played a lot of games and won in all competitions, however, something that needs to be said is any team in CONCACAF Champions League has not advanced far in MLS CUP playoffs.  That has to change.
Who will win MLS Cup this year and why?  
I had RSL versus the Colorado Rapids as my final because I don't think many teams want to go to Denver and play in that weather.  LA has that veteran leadership needed to win and they look like they are focused to get back to the MLS Cup final. 
How much has MLS improved since you started playing in this League?
You have no idea how far MLS has come since 2002 when I came in.  That is the hardest thing about my career being short.  I really wanted that chance to play in the Pacific Northwest (against the expansion Portland Timbers and Vancouver Whitecaps) and see the rivalries being formed there.  It is the beginning of something truly, truly special.  It really is making MLS and ESPN's job easier on TV to sell such a great product when the crowds are like they are in soccer-specific stadiums.  I can't wait to see this League in 2020.  Watch out NFL, MLB, NBA, and the NHL because here we come! 
Clemente Lisi is a New York-based writer. Contact him at: CAL4477@yahoo.com.  Follow him on Twitter at: http://twitter.com/ClementeLisi