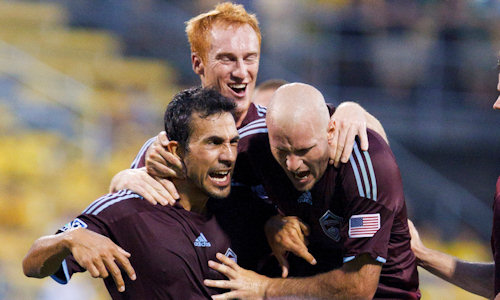 By Jason Davis – WASHINGTON, DC (Nov 1, 2010) US Soccer Players — A Pablo Mastroeni goal is a rare occurrence, like a blue moon or finding a winning lottery ticket lying on a street corner. Like the lottery ticket, it's found treasure – a bit of fortune coming out of nowhere, mostly unexpected.  It's even better when it comes when it's most needed.
Because Mastroeni goals don't happen often, it's notable each time they do.  In a professional career spanning 13 years and including more than 300 appearances for both club and country, the number of goals Mastroeni has scored can be counted on the fingers of two hands… with a few fingers left over.  Simply put, scoring is not Mastroeni's forte.  In the role he fills, that's not at all surprising.
So rare is a Mastroeni goal that the Colorado midfielder's scoring record between 2002 and 2009 looks like binary code.  The string of ones and zeroes finally gave way to a pair in 2010, only the second multi-goal season of Mastroeni's career (the other coming in 2001, also a pair).  As a professional, Mastroeni has more than twice as many seasons in which he didn't score (9) than in which he did (4). In MLS regular season play, he has just seven goals in total.  Despite semi-regular playoff appearances with both the Miami Fusion and the Rapids through 2009, until last week Mastroeni had never scored in the playoffs.
Mastoreni played his first playoff game as a member of the Miami Fusion in 1998.  Twelve years and 2,026 minutes of playoff soccer later, he scored his first postseason goal on Thursday night at Dick's Sporting Goods Park.
Regularly tasked with the heavy lifting in midfield, the dirty work of slowing down the opponent's attack and winning balls in the center of the park, it's rare that Mastroeni finds himself in position to get on the end of a scoring chance.  His shot numbers from year to year are only slightly higher than his goal totals, reflecting the attitude of a player who picks his sports carefully when  and if he does join the attack. 
His role tends to make him the man that makes the tackle or interception that starts the attack that leads to the goal, putting him well away from the finished product when it finally comes.  On Thursday, however, Mastroeni's play put him on both ends of the sequence.
Said Mastroeni about his goal, "It's been a long time. It's a good celebration, not just for myself, but for the team. I think we've all worked really hard to get ourselves in this situation and to go out with the kind of start we had, where we had a number of opportunities. On that particular play, I just took a gamble and was on the end of a gratuitous end of a good ball and a good play."
Humility aside, there was nothing gratuitous about Mastroeni being on the end of the ball he put home in the 23rd minute.  After picking the ball up at midfield and starting the Rapids push up-field, Mastroeni took off on a 60-yard run that ended with him arriving at back post of Columbus' goal at the perfect moment.  The attack went up the right hand side, and unsurprisingly involved Colorado's two strikers, Conor Casey and Omar Cummings. 
It was Cummings finding space, beating his man, and hitting a low hard cross played through by Casey.  It was Mastroeni finishing what he started by slamming the ball into the back of the Crew's net.
Gratuitous, no, but perhaps it was a gamble, as Mastroeni colored it, if only because the midfielder knows his primary duties are back down field in support of the defense. The statement belies Mastoreni's understanding of his role, and that the run up-field might have taken him out of position.  Still, that the gamble paid off might prove that it was hardly one at all.  Mastroeni knew what he was doing, and picked the right time to do it. 
Every goal Mastroeni scores is a bit of a bonus for Gary Smith and Colorado.  He's simply not expected to score.  His play is crucial to the Rapids getting chances, and it's acknowledged that Mastroeni's best game probably won't include his name on the score sheet.  Colorado's attacking options reap the rewards.
Mastroeni's first playoff goal, in the crucial opening leg of a playoff series where holding serve at home is of massive importance, goes well beyond 'bonus.' Colorado dominated much of the play but nonetheless found it difficult to put the ball past Columbus goalkeeper Andy Grunenebaum.  When they needed a goal, their veteran captain delivered.
Following the goal, like he had before it, Mastroeni took up his usual position sitting in the Colorado midfielder and slowing down the Crew's attack.  That's the position he has played with aplomb over 180 times for Colorado.  It's where his talents are most evident and his experience such an asset.  He'll take the goal, of course, but his ability to score is not why he's out there.  He can score, he just doesn't do so very often.
With Thursday's winner in their pocket headed to Columbus, you certainly won't hear the Rapids complaining.
Jason Davis is the founder of MatchFitUSA.com. Contact him: matchfitusa@gmail.com. Follow him on Twitter: http://twitter.com/davisjsn.