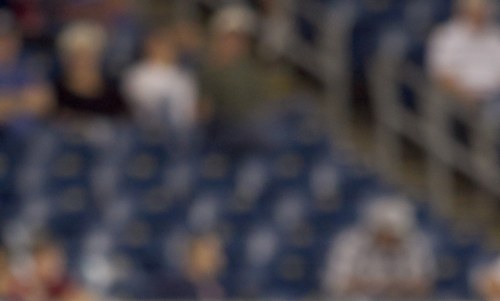 US Soccer Players' Jason Davis explains the scenario several Major League Soccer clubs face as the League prepares for another expansion season. With new markets setting a new standard, what does this mean for older teams in older stadiums?
By Jason Davis - WASHINGTON, DC (Dec 21, 2010) US Soccer Players -- More than anything else in its relatively short history, Major League Soccer's calling card has been change. Nothing stays the same very long for a League working towards relevance - both as an American sports league and as a part of the global market of soccer competitions - because change is part of the process. Through peaks and valleys MLS has changed, moving in either a positive or negative direction as its footing warranted.
The footing now is solid. MLS is expanding at a rapid clip, taking advantage of untapped, enthusiastic markets and owners willing to spend on the MLS brand of professional soccer. The League will reach 18 teams next year, up from 12 just five years ago. That expansion means more teams sharing a narrow spotlight.
When clubs like Toronto and Seattle burst on the scene with full stadiums and consistent crowds bigger than anything the League has experienced before, the old guard is naturally pushed to the shadows. Success on the field matters, but Major League Soccer's story has always been as much about attention as wins. It's the sellouts and season ticket numbers that resonate.
Players also resonate. Big names imports like Beckham and Henry create stories. The limits on spending have loosened considerably, giving clubs willing to go into their own pockets the opportunity to add real star power. Even clubs that built their success on a more even team-first ethic, like 2009 champion Real Salt Lake, have turned their leading contributors into stars.
Quite suddenly, teams now have the ability to take lesser-known talent from abroad and transform them into big MLS names based on a little team success and a dedication to spreading the word by whatever means necessary. It is no coincidence that these names play in front of large crowds in soccer-specific venues. The reflection off of the shiny new surfaces of a maturing MLS brighten their glow.
Clubs that fail to keep up become less and less a part of the current conversation. The New England Revolution, stuck in an over-sized NFL stadium as they have been for their entire existence, and refusing to sign a star player with marquee appeal, can be seen as the new anti-MLS. They are the old version of the League, a not so subtle reminder of where MLS came from. The League and its new generation of marquee clubs are telling a different story. Dedicated venues with raucous crowds and vibrant atmospheres serving as homes for teams with superstars make it ever-easier to forget the way things were.
In a very short span, a matter of a few years since they last threatened to win an MLS Cup, the Revs have become the exception. The rule is Seattle. The rule is Philadelphia. The rule is New York and LA. The rule makes things very difficult for the Revs and teams like them.
Barring substantial change, 2011 won't treat teams like New England any better. The Pacific Northwest is set to explode with the addition of Portland and Vancouver. While neither has the star power of New York, LA, or even Chicago (yet), they are both building to the type of debut season we have come to expect out of modern era expansion teams. The stadiums will be filled, the enthusiasm infectious.
When fans and media talk about MLS in 2011 as a going concern moving in a positive direction, it will be the Timbers, the Whitecaps, and the Sounders that first come to mind. "MLS" no longer means what it used to mean. The League just feels different.
For the older clubs, that requires change to keep up. Kansas City is opening a new building, Colorado are title holders. DC is promising a new look under a new coach, even as their broader search for an appropriate home along with a declining fan base threaten to tell a different story. Chicago, in a soccer-specific stadium and a recent history of recruiting star players, now need to draw fans to an out of the way stadium minus big names.
New is sexy. There's a number of MLS teams that aren't. Staleness is not just a matter of time, it is a matter of action. In some ways, both DC United and the Revolution are victims of their previous success.
Winning in the somewhat recent past made complacency too easy. The accelerating pace of the League caught them off guard, or highlighted their inadequacies. Tried and true methods turned obsolete in a flash. Bad venues made them stand out of the wrong reasons.
Now out-shined by their rivals just down the road and new clubs with better stadiums, better crowds, and actual momentum in their communities, the old guard needs to catch up quickly if they want to be something other than passé.
It might be a painful lesson - for both the clubs and the fans - to realize that the League they helped build is moving on. It is hardly fair, considering how long they have been around and the contributions they made to the growth of the sport in America. Then again, change and fan perception do not make allowances for what is fair.
When the curtain goes up on the 2011 season, most of the focus will be on the new, the star-laden, and the appropriately housed. Clubs that are none of those things will find it difficult to merit much attention outside of their most ardent fan bases. If they are not content to be afterthoughts, it is time to play some catchup. Build that stadium. Sign that world-renowned name. Make a splash and fill up the stands. Unfortunately, all of those things take time and money.
The spotlight is broadening slowly, a byproduct of the constant and mostly positive change. But unless the clubs sitting in the shadows do something, it won't matter as much for them.
Jason Davis is the founder of MatchFitUSA.com. Contact him: matchfitusa@gmail.com. Follow him on Twitter: http://twitter.com/mfusa.