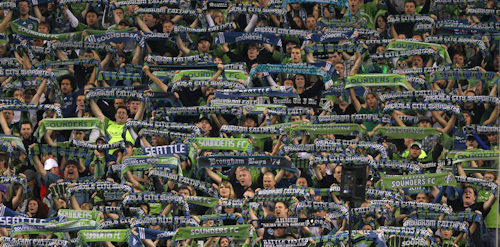 By Jason Davis – WASHINGTON DC (Feb 17, 2011) US Soccer Players — In 2009, the Seattle Sounders set new standards for a Major League Soccer franchise. By drawing the biggest crowds in the modern professional era and sustaining them over the course of an entire season, the Sounders did more to give the sport legitimacy in America than almost anything else MLS had managed in the previous fourteen years.
Seattle felt like a culmination of so much that came before them, a story written on the backs of "less successful" clubs who defied conventional wisdom by sticking around through some very lean years. Loyal fan bases in longstanding MLS cities, who had willed an American soccer league into stability with consistent support when America was the ultimate soccer backwater, watched from afar as the Sounders, by virtue of their grand entrance, single-handedly announced the arrival of MLS 2.0.
Seattle exploded on the scene in such a bombastic and perfectly coordinated way that it turned off many longtime MLS fans. This expansion team, with their marching band, celebrity ownership, and resplendently large and visible fan base that made every other team's look paltry in comparison, had the feel of an boisterous interloper. While no one could argue with the success, the nature of Seattle's splash appeared engineered and corporate. The NFL stadium that actually fit, the odd "Rave Green" jerseys, the Microsoft connections (natural as they may be) – all of it put the Sounders on a level, in their first season, that other MLS clubs either took years to reach or still haven't managed to approach.
The Sounders were an American soccer Athena, springing forth fully-formed into Major League Soccer. Even though a version of the Sounders had existed in the second division, a sense of continuity is largely missing. From attendances around 5,000 a match prior to their promotion to numbers in excess of 30,000 as an MLS club, the Sounders success was, for lack of a better and less loaded term, "manufactured."
Major League Soccer's newest team, the Portland Timbers – coincidentally the Sounders' southern neighbors and most hated rivals – represent a contrast, at least in outward appearance.
Like Seattle, the Timbers are a club with a legacy from the original North American Soccer League and a recent history in the second division, but have an image diametrically opposed to that of the Sounders. An attendance record better than many top-flight clubs and a supporters groups famous for their rabid fandom – a reputation gained before the possibility of moving up to MLS was even a dream – give Portland the resume of a club that truly "earned" their expansion spot.
As the club prepares to launch itself into Major League League in just over a month, the only things that will distinguish the MLS Timbers from their D2 iteration is a renovated stadium, snazzier uniforms, and a more sophisticated approach to marketing.
Portland's rise in prominence has been a steady climb, rather than the sharp spike achieved by Seattle. The Timbers rest solidly on the foundation of an organically spawned fan culture that sees itself as anti-Sounders, anti-corporate and more "authentic" than that of their rivals. The club's management has centered its marketing efforts around the fans themselves, promoting a culture that predates MLS. The Sounders didn't have that same luxury, but excelled in creating a wave of interest and passion impressive by any standard in any sport.
The dichotomy in tenor adds to the rivalry. Fans will debate which club has more passionate support, with history, attendance numbers, etc. all factors. The "authenticity" of each club's approach will be a point of contention not only now, but moving forward. In a country where soccer legitimacy can be hard to come by, Sounders vs. Timbers, as much an off-the-field contrast as an on-the-field battle, is a intriguing case study in American club personality. Does Portland's grassroots, organic and "authentic" feel (i.e, projecting the image of a club moving up from a lower division) give MLS more credibility, or is Seattle's modern success story, accomplished with a more universally-applicable approach, something the League can replicate elsewhere?
The Timbers show every sign of being a success in their first MLS season. Naturally paired with the Sounders up the coast, they are set to provide the League with an additional dose of elusive legitimacy, both singularly and as part of the new Pacific Northwest hotbed. How the heated rivalry between the Sounders and Timbers will play out on the field now that both clubs are in MLS is just part of the coming story. Of equal interest, especially to the MLS leadership in New York as they plot the future growth of the League, is how the dichotomy of style plays out.
Despite their differences, both clubs are "doing it right" because the only thing that really matters is the bottom line. Full stands, proper atmospheres, and communities actively engaged in their local professional soccer team are few enough to be precious, no matter their accompanying flavor.
We should celebrate both the Timbers and the Sounders. While they themselves actively pursue a virulent rivalry (and perhaps in part because of that fact), because their side-by-side success shows that soccer clubs in the United States aren't restricted to a single blueprint.
As the old cliche goes, beggars can't be choosers. Not only is "authenticity" in the eye of the beholder, it's a distraction that can too often lead to dangerous over-thinking and comical miscalculation. Authenticity, as Seattle and Portland are in the midst of proving, isn't assumed through a series of predetermined steps. For Major League Soccer, that's a very good thing.
Viva diversity.
Jason Davis is the founder of MatchFitUSA.com. Contact him: matchfitusa@gmail.com. Follow him on Twitter: http://twitter.com/davisjsn.