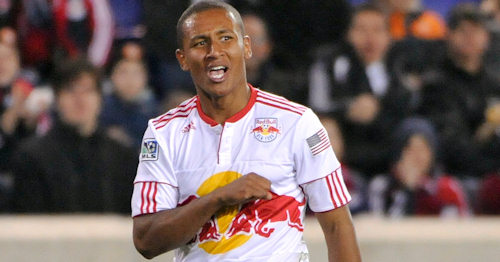 By Clemente Lisi – NEW YORK, NY (Mar 21, 2011) US Soccer Players – Designated Players like and Thierry Henry may get all the attention, but homegrown talents like Juan Agudelo are all the rage in MLS. Clubs have signed 31 home grown players since the policy was implemented in 2007 and many of them are going to be expected to contribute big time this season.
Homegrown players come up through a team's youth academy – therefore bypassing the draft. Several homegrown players have already left their mark on Major League Soccer. Last season, DC United's Andy Najar, an 18-year-old, went from high school sensation to Rookie of the Year after scoring five goals in 26 games.
This season, there are many homegrown players looking to get minutes. With many regulars missing this coming weekend because of international duty (18 players across the League representing 10 different National Teams), coaches may want to look at their benches to fill the void. In some cases, this is where a homegrown player will come in handy.
Agudelo's game-winner – and also his first career MLS goal – this past Saturday night lifted the New York Red Bulls to a 1-0 home victory over Seattle, a good start for the budding striker. Playing alongside Henry will only help Agudelo reach his full potential.
Only four teams – Columbus, Portland, Seattle and San Jose – have yet to sign a homegrown player, but for the other 14, these former Academy standouts remain a real option as the season progresses and teams deal with injuries and more fixture dates.
Here are 10 homegrown players, in alphabetical order, to keep tabs on this season:
Juan Agudelo (striker, NY Red Bulls)
Everyone likes to see goals and Agudelo will be expected to score many in 2011 after the loss of forward Juan Pablo Angel, RBNY's all-time leading scorer. A rising star, the Colombian-born Agudelo has already recorded two caps with the National Team (scoring the game-winner in his debut last November against South Africa after coming off the bench) and will be part of Bob Bradley's camp ahead of this Saturday's friendly against Argentina. The meteoric rise of this 18-year-old is reminiscent of Jozy Altidore's days as a rookie for the MetroStars in 2006 before he became a regular in the US lineup.
Tristan Bowen (striker, Chivas USA)
Acquired from the Los Angeles Galaxy in the offseason, Bowen is a lethal striker in the mold of Edson Buddle. He made his MLS debut in June 2009, his only appearance that season, and became an important part of the Galaxy in 2010, making 17 appearances and scoring two goals. At rival Chivas USA, Bowen may get more playing time since the club is still in a rebuilding phase and looking for that go-to striker. This could be Bowen's breakout season.
Francisco Navas Cobo (midfielder, Houston Dynamo)
Only 19, Cobo made one appearance in his rookie season last year, becoming the youngest player in Dynamo history to play an MLS game. A member of the US Under-20 team that won the 2010 Milk Cup, Cobo could see more playing time as the team tries to challenge for a playoff berth. The Dynamo, who have five signed five homegrown players, are developing Cobo as an outside midfielder. In a preseason match last month against FC Dallas, Cobo scored off a long-range effort with two minutes left to tie the game, a magnificent strike that was later overshadowed by Dallas winning the Disney World Pro Classic on penalties.
Bill Hamid (goalkeeper, DC United)
In a League where veteran goalkeepers are the norm, young ones have a tough time snagging playing time. As a third-stringer this season behind 43-year-old Pat Onstad and 27-year-old Steve Cronin, Hamid is one of MLS's most promising young shot-stoppers and the future No. 1 at DC United. A former US U-20 member, Hamid became the youngest goalkeeper in MLS history last year to record a victory after United downed Kansas City 2-1, beating the previous record held by former MetroStars keeper Tim Howard. In 2010, Hamid was 3-5 in eight games, posting 20 saves.
Moises Hernandez (defender, FC Dallas)
One of a league-leading six homegrown players to sign with FC Dallas, Hernandez shined during preseason and played the full 90 in a win over NASL side FC Edmonton. Hernandez, 19, has developed into a reliable left back and played alongside fellow homegrown players Ruben Luna and Victor Ulloa on the FC Dallas Juniors, who competed in US Soccer's Development Academy. Hernandez was named last week to the US team that will play in the CONCACAF U-20 Championship this month, but expect him to become an option later in the year.
Matt Kassel (midfielder, NY Red Bulls)
A member of the 2008 Maryland team that won the NCAA Division I crown, Kassel grew up around the MetroStars since his father Tim served as the team's director of operations. In New York, Kassel got to train with former National Team stars Tony Meola and Tab Ramos on a regular basis. The 21-year-old midfielder decided to forgo his senior year at Maryland and signed with the Red Bulls. As RBNY coach Hans Backe looks for depth this season, Kassel could get the chance to shine in his first year with the team.
Bryan Leyva (striker, FC Dallas)
An attacking midfielder, Leyva is a skilled player and one of the most talented homegrown players out there. The 19-year-old striker signed with FCD in 2009 as its first-ever homegrown player and has only played in one MLS game. A member of Mexico's U-18 squad, Leyva possesses speed and can be a menace in the penalty area. Although he may get more time on the field than he did last season, Leyva could get playing time because of FCD's loaded schedule that includes MLS, US Open Cup and CONCACAF Champions League.
Zach Pfeffer (midfielder, Philadelphia Union)
Only 16, Pfeffer is a midfielder who became the Union's first homegrown player ever. He gained valuable experience by training with the team last season. Before signing with the Union, Pfeffer was a member of Philadelphia's U-17 team that competed in the MLS SUM Cup. Although he has yet to make his MLS debut, Pfeffer was a sub in a friendly against Chivas Guadalajara last September and trained with Bundesliga side TSG Hoffenheim during the winter. Pfeffer is not likely to get any playing time, but may earn minutes should the Union not contend for a playoff spot come fall.
Conor Shanosky (midfielder, DC United)
A member of the US U-20 team that won the Milk Cup, the 19-year-old defensive midfielder signed a pro contract with DC last August, spurning a chance to play for George Mason University. One of four players to sign homegrown player contracts with United, Shanosky could see time this season should coach Ben Olsen want to change things up in his ongoing effort to rebuild the team. A technically gifted player, he was not eligible to play in MLS until this season.
Victor Ulloa (midfielder, FC Dallas)
A native of Mexico, Ulloa signed with Dallas last summer and also has yet to play an MLS match. A defensive midfielder, Ulloa is still considered a raw talent who needs to refine his game. He may get lost in the shuffle – since Dallas does have six homegrown players – but he could be a star of the future. A gritty midfielder who could easily adjust to MLS's physical style of play, Ulloa trained with the first team during preseason, but is likely to spend most of the year on the reserve squad.
Clemente Lisi is a New York-based writer. Contact him at: CAL4477@yahoo.com. Follow him on Twitter at: http://twitter.com/ClementeLisi