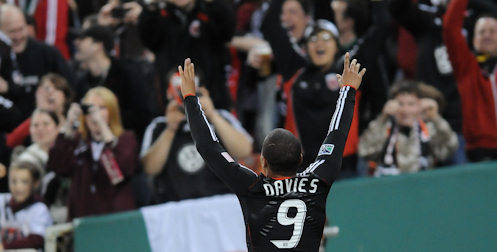 The biggest story in Week 1 was Charlie Davies putting two goals in the net for new club DC United. Vancouver opened their first season with a surprise win over Toronto, with Portland going the opposite way in a lopsided loss against Colorado.
Vancouver 4 – Toronto 2
At least we've got an early indication that Vancouver won't be hurting for offense in their debut MLS season. In what might be telling us more about Toronto, Vancouver got their first MLS goal when Eric Hassli scored in the 15th minute. Toronto were level when Dwayne De Rosario scored four minutes later, but Terry Dunfield had Vancouver back in the lead in the 26th. It was 3-1 Vancouver when Atiba Harris scored in the 63rd, and Eric Hassli increased the lead to three goals in the 73rd minute. Toronto pulled a goal back a minute later through Maicon Santos, but it was too little too late for TFC.
DC 3 – Columbus 1
There's no underestimating the presence of Charlie Davies in DC United's eleven. Davies made his Major League Soccer debut in the 52nd minute, a minute after Josh Wolff opened the scoring. Though the focus rightly falls on super sub Davies, fellow new DC signing Wolff put in a solid debut. Davies converted a penalty in the 62nd minute and scored his second in the 77th. Robbie Rogers, another second-half sub, converted a 78th minute penalty for the Columbus goal.
"This has been like a storybook tonight," Davies said. "I don't think you could write this stuff. You can't make this up, and once the whistle blew I was so relieved that we had won. I looked at the fans and that's when the emotion hit me. I thought to myself, look at the support, look at how much people wanted me to succeed. To score two goals on my debut after a year and a half out, it's honestly amazing. I knew I was ready, and I knew that I wanted the opportunity, but it feels great to seize the moment."
NY 1 – Seattle 0
The problem with being the team that gets the early start to the season with the Tuesday opener is that you can quickly become the team that's lost two in a row in Week 1. That's Seattle's story, dropping MLS First Kick to LA on Tuesday and now losing to New York at Red Bull Arena. Juan Agudelo had the game's only goal in the 69th minute. In a surprise move, Red Bulls coach Hans Backe started goalkeeper Greg Sutton in place of Bouna Coundoul. Sutton had seven saves in the shutout.
Dallas 1 – Chicago 1
The Chicago Fire settled for a point on the road after they were unable to find a winner with a man advantage. In what seemed like a theme on Saturday, the two teams traded goals within a minute of each other. Gaston Puerari scored in the 17th for the Fire and Dallas was level through Milton Rodriguez in the 18th. Brek Shea, playing in defense, was sent off in the 56th minute to put Chicago a man up. that advantage didn't end in a goal.
"I think us, as players here at FC Dallas, we feel like we play very entertaining soccer," FC Dallas's Daniel Hernandez said. "So hopefully those fans will keep coming out. We deserve it. They deserve to watch great soccer, so hopefully they can continue coming out, supporting the team and filling up those stands."
Houston 0 – Philadelphia 1
Danny Califf scored four minutes in at Robertson Stadium to give Philadelphia three points in their opening game. With both offenses stingy with the opportunities, Farid Mondragon picked up a shutout in his first game with the Union.
Colorado 3 – Portland 1
The visiting Timbers avoided getting shutout in their MLS debut, but just barely. Colorado was up a goal within seven minutes when Jeff Larentowicz scored. Omar Cummings and Jamie Smith scored two minutes apart in the 28th and 30th minutes to extend the lead. Portland got their first MLS goal from their likeliest source when Kenny Cooper spoiled Matt Pickens's shutout attempt in the 79th minute.
San Jose 0 – Salt Lake 1
Kyle Beckerman was the difference at Buck Shaw Stadium, scoring in the 63rd minute for the visitors. On a rainy night San Jose was unable to get past Nick Rimando, putting 10 of their 14 shots on frame.
"With the chances we had, we have to score at least one goal," San Jose coach Frank Yallop said. "I thought we dominated play most of the game. We felt on top of the game. I was very happy with the performance, but obviously not the result."
Chivas USA 2 – Kansas City 3
Kansas City was up a goal two minutes in at the Home Depot Center when Davy Arnaud scored. Omar Bravo made it 2-0 Sporting just before halftime. Jimmy Conrad grabbed a goal against his old club to cut that lead in half in the 55th, but it was Bravo again in the 74th. Chivas USA picked up a second goal in the 84th when Ben Zemanski scored, but that was it for their offense.