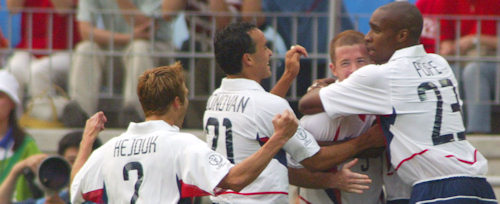 By Clemente Lisi – NEW YORK, NY (Mar 30, 2011) US Soccer Players – As a teenager growing up during the 1990s, there were a lot of National Team players I admired. Above all, I respected Eddie Pope. A gifted defender, Pope anchored the United States defense for nearly a decade and his contributions were not always reflected in the box score.
Pope retired in 2007 following a distinguished National Team and club career. For the USA, he earned 82 caps, scored eight goals and appeared in two World Cups. For club, Pope played for DC United, the MetroStars, and Real Salt Lake over a career that spanned 12 seasons. In the process, he won three MLS Cups – all with United – and will always be remembered for scoring the game-winner in overtime against the Los Angeles Galaxy at a rain-soaked Foxboro Stadium in Boston to win the 1996 MLS Cup.
On Tuesday, Pope added Hall of Famer to that long list of honors. He was elected into the National Soccer Hall of Fame along with former National Team players Cobi Jones and Earnie Stewart. The Class of 2011 marks the first time that all those elected on the Players ballot are African-American.
"There have definitely been some great African-American players. It is important that they are recognized as well," Pope told me just hours after US Soccer announced he had been elected to the Hall of Fame. "I looked up to guys like Jimmy Banks and Desmond Armstrong. At the time, it was about just seeing them on TV and thinking that this is something that I can do too. It's hard to express just how important that visual is for African-American kids."
Banks and Armstrong were the two African-Americans on the 1990 World Cup team. For a 16-year-old Eddie Pope the inclusiveness of that squad was a glimpse of his own future.  By the time he joined the National Team in 1996, black players were a regular presence. His fellow Hall of Fame inductees Jones and Stewart had already made their marks as members of the '94 World Cup squad.
African-Americans are not new to the game.  Before Banks and Armstrong, they were an integral part of the sport in this country. In 1950, it was Haitian-born Joe Gaetjens who scored the goal that led to the USA's historic 1-0 win over England at the 1950 World Cup. Throughout the 1970s and '80s, there was a steady stream of African-Americans in the North American Soccer League and Major Indoor Soccer League who played for the National Team.
Players like Colin Fowles, Donald Cogsville, Eddie Hawkins, Elvis Comrie, Ade Coker and Philip Gyua all wore the US shirt. What these players lacked was the high profile the National Team created starting with the 1990 World Cup. They spent their National Team careers in relative obscurity, hampered by an irregular schedule, lack of televised games, and the team's inability to qualify for the World Cup. Additionally, many black players competed at the NCAA level during the years between the demise of the NASL after the 1984 season and the start of MLS in 1996, but moved on to other careers due to a lack of pro playing options.
Jones and Stewart were also products of an era where there wasn't a fully professional outdoor option in the United States for American players. Stewart had his own unique struggles as the son of an American serviceman growing up in Holland and working his way up that country's professional ranks. Jones graduated college in 1991, using the 1994 World Cup as a springboard for contracts in England and Brazil.
Pope made the transition from college directly to Major League Soccer through the first MLS draft. His chronology is an example of the steps American soccer has taken at club and country levels. Still, there is work to be done.
"Soccer in the US is growing in general, and therefore it's growing amongst African-Americans as well," said Pope. "Having said that, we can do more to get African-American kids involved in the sport. I think that more is done for the Hispanic community simply because it's an easier sell. I don't want soccer to leave African-American kids behind like baseball has done."
One of Pope's US teammates, Tony Sanneh said it's "great" that African-American players have been recognized for their past achievements, but echoed Pope's concern that more can be done on the grassroots level to ensure that more black kids play the game in the future. He said the goal of his charity, the Tony Sanneh Foundation, aims to get blacks involved in the game at a young age.
"We try to get kids exposed to soccer as early as six and add support in the school system so they stay in it," Sanneh said. "I think the strength of MLS and our National Team is that they are also great ways to increase visibility and market (the game) to African Americans."
Clemente Lisi is a New York-based writer. Contact him at: CAL4477@yahoo.com. Follow him on Twitter at: http://twitter.com/ClementeLisi