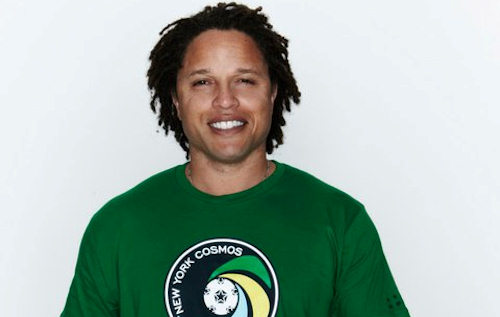 By Cesar Diaz – NEW YORK, NY (Apr 1, 2011) US Soccer Players — On Monday, March 29, 2011 the United States Soccer Federation announced that US National Team all-time leading cap winner Cobi Jones has been elected to the National Soccer of Hall of Fame Class of 2011. Recognized for participating in the three World Cups (1994, 1998, 7 2002) and a long-time member of the Los Angeles Galaxy where he was a player and a coach, Jones picked up votes from an outstanding 87 percent of the ballots in his first year of eligibility.
If remove his accomplishments and achievements, Cobi is still the Southern Californian that he's been most of his life. A conversation with Cobi Jones is similar to running into a classmate you knew in high school or college. You may have not been the best of buds but you were still "cool" with each other. He's the kind of individual you can't help but feel proud for and happy that you knew him.
Nowadays, Cobi Jones is the Associate Director of Soccer for the New York Cosmos. I spoke with him by phone where we talked about his experience with the National Team and the Los Angeles Galaxy as well as his recent move to New York.
How does it feel knowing that you will be part of the National Soccer Hall of Fame Class of 2011?
To be honest, it's a little of a shock for me. Growing up in Southern Cal  it wasn't on my mind that I'll make it to the National Soccer Hall of Fame. I was just a kid who loved playing the game and kicking the all around. It's great to see that 30-something years later I make it to the National Soccer Hall of Fame.
What was your experience like in representing the United States in the 1994, 1998, & 2002 World Cups?
There's nothing like it. Being part of a World Cup experience is something special. Now that soccer is more popular in the United States, I think every soccer player here aspires to be part of a World Cup team. I've competed in the Olympics, a couple of Gold Cups, and different tournaments. While there's something special for each and every tournament but for a soccer player, there's nothing like the World Cup. To be representing your country and the people of the United States. It was a great honor for me and it's something I'll never forget.
What are one of your favorite memories as a member of the National Team?
I'll give you two that pop into my head right away. During the 1994 World Cup, I remember walking out to the field in my first start against Brazil. Knowing that I was facing off against Romario, Bebeto was simply amazing because I was a young kid from Southern California. The next thing you know that I'm walking out in front of 90,000 fans knowing that the whole World is watching us.
My second memory is the 2002 World Cup celebrating our 2-0 victory against Mexico. In all my years and experience, coming up through the Olympic and National Team, Mexico has always been our nemesis. Knowing that they're our biggest rival in CONCACAF and to face them in the biggest stage of the World Cup and to win 2-0 is something no one can ever take away from us.
How about a favorite moment as a member of the Los Angeles Galaxy?
As a Galaxy player, scoring the first goal in Galaxy history against the New York Metrostars. That was very special because they were expecting somewhere between 20,000-30,000 fans at the Rose Bowl and then noticing during the game that over 70, 000 fans attending. What was also impressive after the game was over, we found out that there were still fans who were still trying to make to the Rose Bowl but were stuck in the freeway. We knew that we had done the right thing and the soccer fans were ready for soccer in America.
Another memory I have was winning my first championship in 2002 against the New England Revolution in New England. We had worked long and hard trying to win a few championships prior but we were unable to win a championship. Our win in 2002 let everyone know that the Los Angeles Galaxy had arrived to MLS.
How was your transition from player to coach like?
It was an interesting transition. I'm sure it's an experience not people go through. After I had finished playing my last game in 2007, we had our postseason trip with the new staff and everything coming in. Literally, I had three days to decide what I was going to do. So I decided to coach. So it was hectic, and quick and very strange to go from being a player one day and a couple days later you're a coach.
Walking into the locker room, I had to remind myself that I no longer turned left, I now turned right because that's where all the coaches were at. That was an odd situation but it was fulfilling because I was able to see the other side of the game. From this perspective, I was able to see how the coaching and management side when you're dealing with the league and other behind the scenes scenarios and learning how everything works.
It was very telling because I don't think the average fans knows what's that like and I definitely know that the average player doesn't know how it's like.
How would you describe your experience as the interim head coach for the Galaxy?
It was brief but enjoyable. My first game was against Chivas USA because the responsibility fell upon me, but I passed with flying colors. I really enjoyed the experience because it touched something within me. Being a head coach is something I would enjoy doing because I would be able to match my wits against an opposing coach. With all the experience I have as a player and all the learning I've received as an assistant coach under Rudd Gullit and Bruce Arena. I feel have enough knowledge I can tap into.
Considering that majority of your soccer career was in California, how difficult was it for you to leave the Los Angeles Galaxy to become the Associate Director of Soccer with the New York Cosmos?
It was a very difficult decision because of all the time I spent with the Galaxy. I still have a great relationship with them. When it comes down to it, I think it was a good decision for me to open up my horizons to get into the management side while going to next stage of my career with the Cosmos in helping this organization strive forward with everything we're trying to be in the Untied States.
As I've said before, I know I have a lot to offer. I know some people want to confine me by saying that I'm a Southern Californian and LA Galaxy but when they have to realize that I've played for the this country and the National Team for quite some time. For over 10 years, I represented the United States all over the World. I'm pretty confident I can touch the soccer world in the United States.
What are your responsibilities as Associate Director of Soccer for the New York Cosmos?
Helping the New York Cosmos organization moving forward in achieving their goals in the United States. Our goal is to be part of Major League Soccer and there's a process behind that. Right now, I'm helping out with both the Cosmos Academy East & West. Evaluating players, helping the players, and making sure our coaching philosophy and style of play is set. Along with my traveling on both Coasts, I'm also representing the Cosmos as an Ambassador by getting the name out nationwide.
If and when the New York Cosmos becomes part of Major League Soccer, will you be part of the Coaching Staff?
Once the New York Cosmos is part of Major League Soccer, there's definitely a consideration for me to be part of the Coaching Staff.
Any final comments for your fans?
I just want to say to everyone that's supported me as a player and a person, thank you. You've been there with me through the good times and hard times. As I move forward in my career, I hope those fans continue to follow me. Whether you're in New York, LA, or Arkansas, it's all about building that support within the United States, I hope I can reach people.
This induction to the Hall of Fame gives me more credibility with all the fans. I'm very happy that it's happened. It's an honor and it's something that'll stay with me for the rest of my life.
One last thing. West Coast fans want to know, when you go to In-N-Out Burger, what do you order?
(Laughing) Double-Double everything with fries and a shake.
No fully loaded animal-style fries?
(Still laughing) Just regular nowadays because I'm a little bit older and I have to watch my weight.
Cesar Diaz covers Soccer for Latino Sports. You may follow him at Twitter at @CoveringSoccer. Please email your questions and comments to Cesar at cesar@latinosports.com.